Nitrate For Improved Cognition in Team Sports
Success in competitive sports is not all about physical ability. The speed and accuracy of decision-making plays a crucial part; particularly in team sports. Working on the basic assumption that if nitrate can improve blood flow to muscles, then it should also improve blood flow to the brain, a recent study published in the European Journal of Applied Physiology sought to determine for the first time what benefit nitrate (in the form of beetroot) might provide to cognitive, physiological and performance aspects of performance in a team sports experimental model.
While there have been previous studies looking at the same issue, most have employed short duration type protocols that have little practical relevance to your average team sport, where there is intermittent high-intensity activity over 2 x 40 minute halves. The study in question was seen as the first valid one to explore nitrate's effect on team sport performance.
A total of sixteen males who were recreational team-sport players for hockey, football and rugby were recruited for the study. Using a double-blind, randomised, crossover design the subjects were assigned to receive either nitrate-rich beetroot juice for seven days or nitrate-depleted beetroot juice for 7 days. On day 7 of each supplementation period, subjects reports to the laboratory to perform their specialised intermittent sprint test, which is illustrated below.
In short, each 40-min simulated half was divided into 2-minute segments that consisted of a 6-s all-out sprint, 100 s of active recovery and 14 s of passive recovery. During each 100 s of active recovery, subjects undertook a cognitive task that assessed elements of information processing speed, executive abilities, and selective attention. As such, 18 cognitive tasks were performed during each half in addition to 15 min before, at 7.5 min during the half-time interval and at 15 min following the IST.
All testing was performed on stationery cycle ergometers which had specialised computer monitors place in front of them and buttons on the handlebars that allowed subjects to perform their cognitive assessments with minimal disruption to their riding position.
In terms of the nitrate supplementation, subjects took two 70ml concentrated beetroot shots each day (one in morning & evening) that contained 410mg of nitrate each. This was done for a period of 6 days and on the 7th day (i.e. day of testing) subjects took two shots together in the morning; 2.5 hours before testing (as is standard practice with nitrate/beetroot supplementation).
Compared with when subjects were taking the nitrate-depleted beetroot shots, they performed significantly more work after taking the nitrate-rich beetroot shots, as seen below.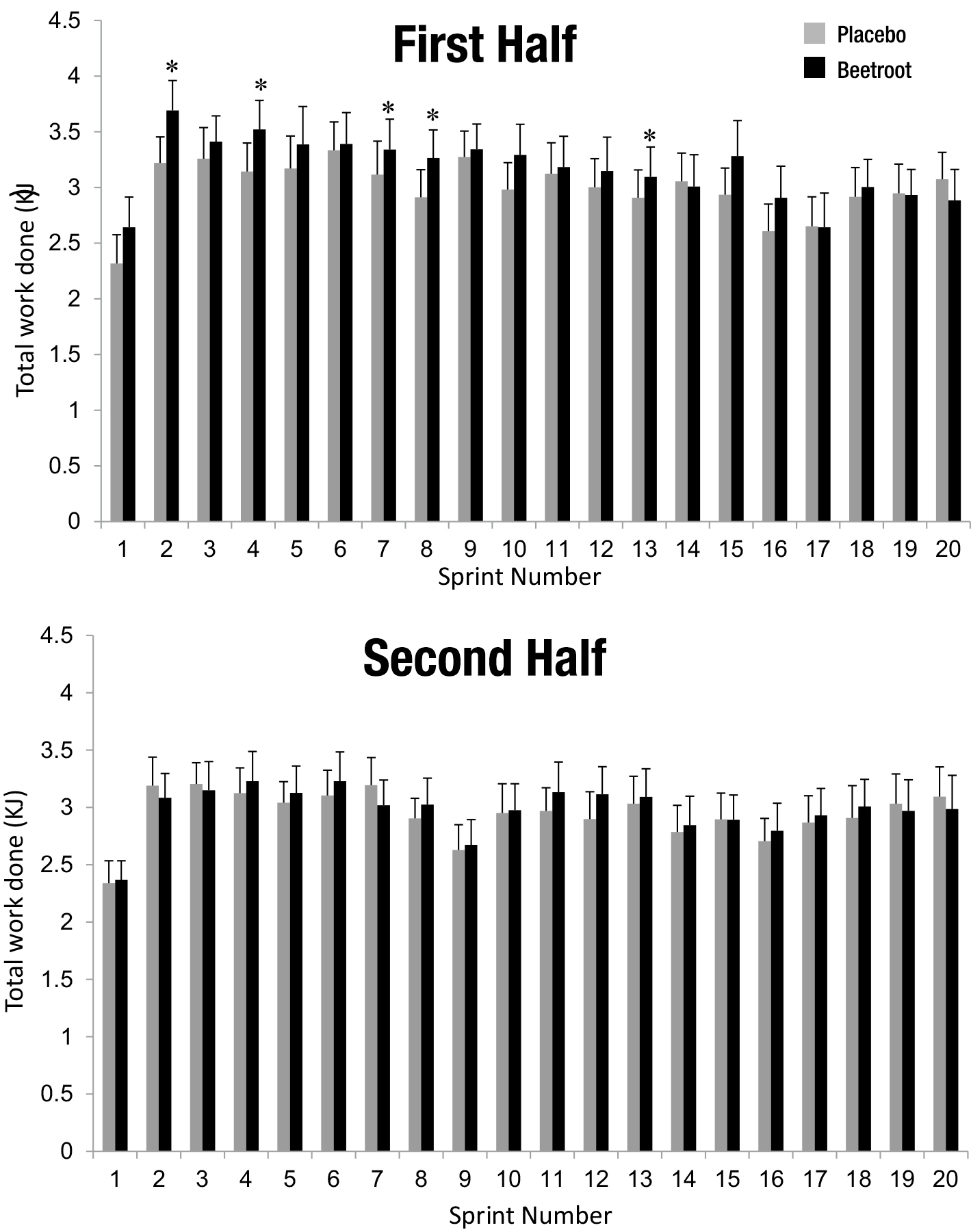 As far as cognitive performance was concerned, the nitrate-rich beetroot supplement was also found to significantly reduced the decline in reaction time in the second half compared to the first half. Previous studies have shown that dietary nitrate can improve neurovascular coupling in response to visual stimuli and also cerebral perfusion so it's reasonable to assume these mechanisms were at play in helping to reduce aspect of mental fatigue during the second half. It's important to note that nitrate supplementation did not seem to make a difference to response accuracy.
In their discussion, the researchers make the important point that the nitrate-nitrite-NO pathway that dietary nitrate works through may take on increased importance under conditions of low oxygen levels and high muscle acidity (such as occurs during intermittent high-intensity exercise in team sports), when the activity of the oxygen-dependent nitric oxide synthase (NOS) pathway is reduced. This could be another key reason to explain dietary nitrate's performance and cognitive benefits in team sport activities.
Thompson C, et al. Dietary nitrate improves sprint performance and cognitive function during prolonged intermittent exercise. European Journal of Applied Physiology. 2015;115:1825-1834.