BSN NO Xplode Pre Workout Igniter Review
BSN also known as Bio-Engineered Supplements and Nutrition are one of the biggest names in the sports supplements world and have recently touted a move that will change the face of the sports supplement industry. It has since been revealed that this game changing move was the release of their latest supplement, the revamped NO Xplode known as the new NO Xplode Pre-Workout Igniter or as many are calling it, the new NO Xplode 3.0

New NO Xplode Pre Workout Igniter Highlights
Reformulated and Re-Engineered Pre-Workout
5 matrices of ingredients to support a comprehensive boost to training capacity
Push yourself further in terms of focus, attention, endurance, strength and pump
Well researched and innovative use of ingredients
New NO Xplode Pre Workout Igniter Pros & Effectiveness
BSN have again created an amazingly comprehensive pre workout formula covering almost every aspect related to training and performance such as energy production, power, strength, endurance and cognitive support. The majority of the ingredients used in the new NO Xplode Pre Workout Igniter are backed by research, with some ingredients more valid than others. Perhaps one of the best things about BSN's new product is their use of stimulant extenders. The use of PURENERGY; the joint pterostilbene and caffeine compound is ideal in boosting and prolonging the effects of caffeine, meaning they don't need to use as much. As the industry trends towards the use of stronger and more plentiful stimulants, BSN have taken an alternative and innovative approach by making the most out of their included stimulants.
The other highlight of the new BSN NO Xplode is the removal of arginine in favour of citrulline, which is now considered to be more effective than arginine at raising nitric oxide levels.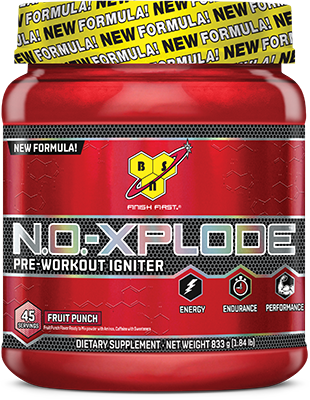 New NO Xplode Pre Workout Igniter Cons
One of the most glaring issues with BSN's new NO Xplode is the sheer number of ingredients used in a matrix that measures 10.4g. While many of the ingredients they use don't require large amounts, just as many are underdosed if you're taking only a single serve. While there is the possibility that the ingredients work extremely well together, providing an additive effect, BSN should not be relying on this possibility as a reason to include as many ingredients as they have.
The other obvious negative is the use of a proprietary formula. For a company as big as BSN, they've really failed to respond to the fact that trainers are becoming increasingly wary of proprietary formulas. Even Muscletech has grown out of it and that's saying something.
New NO Xplode Pre Workout Igniter Taste & Mixability
The new NO Xplode 3.0 Pre-Workout Igniter will be available initially in 5 flavours including: Blue Raz, Fruit Punch, Grape, Green Apple (USA Only) and Watermelon. There will also be a caffeine free version of the new NO Xplode, but will only be in a Fruit Punch flavour and only in the US. The new BSN NO Xplode mixes just as easily as the original and is now also slightly effervescent, meaning it's best to avoid mixing the product via shaking. The new NO Xplode tastes just like the previous version with the Blue Raz and Watermelon being the most pleasing out of the lot.
New NO Xplode Pre Workout Igniter Verdict
BSN's new NO Xplode Pre-Workout Igniter or BSN NO Xplode 3.0 is an interesting new addition to their expansive range of supplements. While many of the ingredients used are well researched, some of them are slightly under dosed. The new re-engineered NO Xplode should prove an excellent pre-workout for those new to the category, but more frequent users of pre workouts will require a double dose for it to be worthwhile. Overall BSN's new NO Xplode is a solid supplement and should please the masses, but one hopes their next release actually matches the hype of their marketing.
New NO Xplode Pre Workout Igniter Ingredients List
The new re-engineered NO Xplode will collect together a range of old and new ingredients to be included in their new proprietary blend known as the N.O.-Xplode Master Performance Blend, which measures 10.4g. Within this blend are 5 matrices of ingredients including:
Matrix

Ingredients

Myogenic Matrix (5.5g)

Creatine Blend (Creatine Monohydrate, Creatine Anhydrous, Creatine Peptides [Hydrolyzed Whey Protein Isolate, Creatine Monohydrate] (CREActivate™)[MILK])
Taurine
Di-Calcium Phosphate
Di-Sodium Phosphate
AstraGIN® Proprietary Blend [Astragalus membranaceus Extract (root)
Panax notoginseng Extract (root)]

Endura Shot (2.8g)

BETA Composite (CARN+™ Blend [Beta-Alanine (as CarnoSyn®) & Beta-Alanine HCl]
Betaine Anhydrous (BetaPower®))
Potassium Bicarbonate
Sodium Bicarbonate
Magnesium Oxide
Cholecalciferol

N.O. Alpha Fusion (850mg)

L-Citrulline Malate
Danshen Extract (Salvia miltiorrhiza) (root)
Grape Skin Extract
Phyllanthus emblica Extract (fruit) (CAPROS®)
Hawthorn Extract (aerial parts) (1% Flavonoids)
Folate

Thermic Energy (745mg)

N-Acetyl-Tyrosine
Caffeine Anhydrous
Grapefruit Bioflavonoids
Pterostilbene:Caffeine Cocrystal (PURENERGY™)

Shock Composite (375mg)

DMAE Bitartrate (2-Dimethylaminoethanol) (USA only)
L-Lysine HCl
DL-Phenylalanine
Niacin
Calcium D-Pantothenate
Toothed Clubmoss Extract (aerial parts) (1% Huperzine A)
Pyridoxine HCl
Thiamin HCl
Cyanocobalamin.
Other ingredients within the new N.O.-Explode are to support the products taste, mixability and shelf life. This new pre-workout will be available in an 833g or 1.84lb container which offers 45 serves of roughly 18.5g. This is almost a 4g reduction in serving size from the NO Xplode 2.0.
New NO Xplode Pre Workout Igniter Ingredients Analysis

As with the original and NO Xplode 2.0, the new re-engineered NO Xplode Pre Workout Igniter contains a massive range of 35 active ingredients, some with greater function than others. Let's examine each matrix in detail and how the ingredients stack up:
Myogenic Matrix (5.5g)

Creatine Blend

An interesting blend of typical creatines as well as the novel creatine peptides to assist with strength and power performance.
It is unknown whether or not the creatine is bonded to the peptides, but regardless whey protein peptides can boost insulin levels1 driving creatine absorption.

Taurine

Amino acid commonly used to boost cognitive function and works synergistically in conjunction with caffeine and BCAAs.
1-2g is helpful as a pre-workout to assist with aerobic performance and increased fat metabolism during exercise2,3.

Phosphate Salts (Sodium and Calcium)

Phosphate levels in the body are crucial for the regulation of energy metabolism and endurance performance including rate of ATP production and acid-base balance.
Ideally, loading with phosphate is the best way to reap its benefits4.
Sodium and calcium are also important as electrolytes and for muscle contraction.

AstraGIN

Combination of the two herbs astragalus membranaceus and panax notoginseng – it is purported to support increased absorption of various nutrients.
Endura Shot Matrix (2.8g)

Beta-Alanine Compounds

Common endurance support ingredient commonly used as a pre-workout but works best when loaded over time.
Assists in buffering capacity to delay fatigue and works best for more explosive training sessions5.
Works synergistically with creatine supplementation.

Betaine Anhydrous

Also known as trimethylglycine (TMG), betaine is also another anti-fatigue compound, which can also affect power output. General dosing of betaine lies at the 1.25g level6.

Bicarbonates (Sodium and Potassium)

Another excellent endurance ingredient which can assist with performing extra reps during resistance exercise, but tends to require a large dose7.

Magnesium Oxide

Magnesium is thought to be reduced in those training at high intensities, which may affect recovery ability8. As such, its supplementation can help support exercise performance thanks to its ability to reduce glycogen loss.

Cholecalciferol

Better known as Vitamin D3, this ingredients helps to support vitamin D levels in the body, which is beneficial for those who are vitamin D deficient9 (a figure which seems to be rising)
N.O. Alpha Fusion Matrix (850mg)

L-Citrulline

Seen as the better nitric oxide ingredient to arginine, citrulline turns into arginine once ingested10.
Can also boost ATP synthesis efficiency and muscle protein synthesis11.

Danshen Extract

Also known as Salvia miltiorrhiza, it is one of the most popular supplements for heart health and is often used to treat angina, a condition relieved via vasodilation12.

Grape Skin Extract

This ingredient has been shown to support vasodilation via increases in nitric oxide levels13.

Phyllanthus emblica

Also known as Amla, this traditional Ayurvedic herb has been used to help with heart disease and regulating glucose metabolism.
There's some research suggesting increase nitric oxide formation, but only in certain cells14.

Hawthorn Extract

While it is said that Hawthorn Extract can decrease blood pressure via NO mechanisms, there is no conclusive research to support this case15.

Folate

Folate is added as an ingredient to prevent any negative effects of high nitric oxide synthesis16.
Thermic Energy Matrix (745mg)

N-Acetyl Tyrosine

More soluble than regular tyrosine, N-Acetyl Tyrosine offers all the cognitive support benefits of regular tyrosine including improved attention and wakefulness with decreased mental stress17,18,19.

Caffeine Anhydrous

Perhaps the most common pre-workout ingredient, caffeine is a wonder ingredient that can support multiple facets of exercise performance including endurance, cognitive function and energy metabolism.
The new NO Xplode is said to contain 200mg worth of caffeine per serve.

Grapefruit Bioflavonoids

This ingredient has been included as it is commonly believed that naringin; a bioactive compound in grapefruit can prolong the time that caffeine stays in our system.
Current studies on naringin and grapefruit juice however have not shown this to be the case. Naringin however, can prolong the time that it takes some drugs to metabolise in our body20,21.

Pterostilbene PURENERGY

Another ingredient that combines pterostilbene (a compound found in blueberries and grapes) and caffeine, which is said to deliver more caffeine into the system and prolong caffeine's half life.
In essence, more pronounced and longer effects of caffeine with this compound22.
Shock Composite Matrix (375mg)

DMAE Bitartrate

Known as dimethylaminoethanol, this ingredient is actually banned for use in Australian supplements & has been removed from the Australian version of the new NO Xplode.

L-Lysine HCl

An amino acid that decreases protein breakdown or catabolism during exercise, but does not appear to have any acute ergogenic effects.

DL-Phenylalanine

As a precursor to tyrosine, phenylalanine is an amino acid that contributes to the production of the hormones adrenalin and noradrenaline, which affects multiple facets of exercise performance.

B Vitamins (Niacin, Thiamine, Pyridoxine, Cyanocobalamin, Calcium D Pantothenate)

Thiamine (Vitamin B1), Pyridoxine (Vitamin B6) and Cyanocobalamin (Vitamin B12) are all essential vitamins for energy production and metabolism. Athletes and frequent trainers tend to have increased requirements for all these vitamins23.
Niacin (Vitamin B3) is another essential vitamin that can support focus, concentration and reduced fatigue from exercise24.
Similarly Pantothenate (Vitamin B5) can support improved endurance through an increase in time to fatigue25.

Toothed Clubmoss Extract

A plant which provides the compound Huperzine A, which has been shown to support cognitive performance26.

1. Xu Q, Wang J, Liu Y, Xue C. '[Hydrolysis method for whey protein and the hypoglycemic activity of its peptides in diabetic KKAy mice]' Wei Sheng Yan Jiu. 2011 Sep;40(5):624-7.
2. Rutherford JA, Spriet LL, Stellingwerff T. The effect of acute taurine ingestion on endurance performance and metabolism in well-trained cyclists. Int J Sport Nutr Exerc Metab. (2010)
3. Balshaw TG, et al. The effect of acute taurine ingestion on 3-km running performance in trained middle-distance runners. Amino Acids. (2012)
4. Kreider, R.B., et al., 'Effects of phosphate loading and myocardial responses to maximal and endurance exercise.' INT J SPORT NUTR, 1992;2:20-47
5. Hobson RM, et al. Effects of β-alanine supplementation on exercise performance: a meta-analysis. Amino Acids. (2012)
6. Hoffman JR, et al. Effect of betaine supplementation on power performance and fatigue. J Int Soc Sports Nutr. (2009)
7. Carr BM, Webster MJ, Boyd JC, Hudson GM, Scheett TP. 'Sodium bicarbonate supplementation improves hypertrophy-type resistance exercise performance.' Eur J Appl Physiol. 2013 Mar;113(3):743-52.
8. Nielsen FH, Lukaski HC. 'Update on the relationship between magnesium and exercise.' Magnes Res. 2006 Sep;19(3):180-9.
9. Bunout D, Barrera G, Leiva L, Gattas V, de la Maza MP, Avendaño M, Hirsch S. 'Effects of vitamin D supplementation and exercise training on physical performance in Chilean vitamin D deficient elderly subjects.' Exp Gerontol. 2006 Aug;41(8):746-52.
10. Dhanakoti SN, et al. Renal arginine synthesis: studies in vitro and in vivo. Am J Physiol. (1990)
11. Le Plénier S, et al. Effects of leucine and citrulline versus non-essential amino acids on muscle protein synthesis in fasted rat: a common activation pathway. Amino Acids. (2012)
12. Zhou L, Zuo Z, Chow MS. Danshen: an overview of its chemistry, pharmacology, pharmacokinetics, and clinical use. J Clin Pharmacol. (2005)
13. Belviranlı M, et al. Effects of grape seed extract supplementation on exercise-induced oxidative stress in rats. Br J Nutr. (2012)
14. Chularojmontri L, Suwatronnakorn M, Wattanapitayakul SK. Phyllanthus emblica L. Enhances Human Umbilical Vein Endothelial Wound Healing and Sprouting. Evid Based Complement Alternat Med. (2013)
15. Asher GN, Viera AJ, Weaver MA, Dominik R, Caughey M, Hinderliter AL. 'Effect of hawthorn standardized extract on flow mediated dilation in prehypertensive and mildly hypertensive adults: a randomized, controlled cross-over trial.' BMC Complement Altern Med. 2012 Mar 29;12:26.
16. Gori T, Burstein JM, Ahmed S, Miner SE, Al-Hesayen A, Kelly S, Parker JD. 'Folic acid prevents nitroglycerin-induced nitric oxide synthase dysfunction and nitrate tolerance: a human in vivo study.' Circulation. 2001 Sep 4;104(10):1119-23.
17. Magnusson I, et al. N-acetyl-L-tyrosine and N-acetyl-L-cysteine as tyrosine and cysteine precursors during intravenous infusion in humans. Metabolism. (1989)
18. Neri DF, et al. The effects of tyrosine on cognitive performance during extended wakefulness. Aviat Space Environ Med. (1995)
19. Lehnert H, et al. Neurochemical and behavioral consequences of acute, uncontrollable stress: effects of dietary tyrosine. Brain Res. (1984)
20. Maish WA, Hampton EM, Whitsett TL, Shepard JD, Lovallo WR. 'Influence of grapefruit juice on caffeine pharmacokinetics and pharmacodynamics.' Pharmacotherapy. 1996 Nov-Dec;16(6):1046-52.
21. Ballard TL, Halaweish FT, Stevermer CL, Agrawal P, Vukovich MD. 'Naringin does not alter caffeine pharmacokinetics, energy expenditure, or cardiovascular haemodynamics in humans following caffeine consumption.' Clin Exp Pharmacol Physiol. 2006 Apr;33(4):310-4.
22. PURENERGY™ Caffeine-pTeroPure® Co-crystal https://chromadex.com/Ingredients/PurEnergy.html. Last accessed 1st July 2014
23. Woolf K, Manore MM. 'B-vitamins and exercise: does exercise alter requirements?' Int J Sport Nutr Exerc Metab. 2006 Oct;16(5):453-84.
24. National Health & Medicine Research Council. 'Niacin' Last Accessed. 1st July 2014. http://www.nrv.gov.au/nutrients/niacin.htm
25. Smith CM, Narrow CM, Kendrick ZV, Steffen C. 'The effect of pantothenate deficiency in mice on their metabolic response to fast and exercise.' Metabolism. 1987 Feb;36(2):115-21.
26. Sun et al (1999), Huperzine-A capsules enhance memory and learning performance in 34 pairs of matched adolescent students. Zhongguo Yao Li Xue Bao, 20: 601-603