Gaspari MyoFusion Advanced Review
Gaspari is an innovative company that often takes customer feedback into consideration as well as following the latest industry trends. Their newest product is will soon be a replacement for their existing blended whey protein, MyoFusion Elite. Although it takes a few cues from the Elite, it does have some notable improvements worthy of exploring.
MyoFusion Advanced Highlights
Blend of 5 quality protein sources for sustained protein release
No added amino acids
Very user friendly and flexible formulation
MyoFusion Advanced Ingredients
Similar to the previous MyoFusion, MyoFusion Elite contains a blend of fast and slow digesting proteins. These include, whey protein concentrate, milk protein concentrate, whey protein isolate (WPI), micellar casein, and whey protein hydrolysate. In addition it also includes a small lipid complex made up of MCTs and CLA. Each serve of MyoFusion Advanced contains 140 calories, 25 g protein, 5 g carbs, and 2.5 g fats.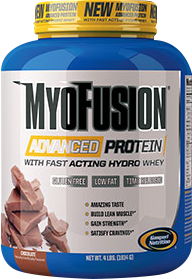 MyoFusion Advanced Effectiveness & Pros
MyoFusion Advanced, like all its predecessors provides a good blend of proteins that range in speed of digestion from extremely fast to extremely slow. This makes the protein powder very user friendly and flexible, suitable for anyone from beginners to advanced trainers who have elevated protein requirements from weight trainer. It can be used successfully to build lean mass and improve recovery.
The biggest improvement from MyoFusion Elite is the removal of the Amino Blend which included things like taurine and glycine. The adding such aminos into protein powders has come under fire recently and both customers and members of industry have started to frown upon the practice. It is therefore fantastic to see that Gaspari is a company with ears, willing to listen to demand and make products accordingly.
In addition to the above, Gaspari have also added whey protein hydrolysate into MyoFusion. This ultra-fast absorbing protein source was an ingredient noticeably absent from the previous formulation and is most definitely a welcomed addition.
MyoFusion Advanced Cons & Negatives
With the improvements, Gaspari have also made some formulation changes as a way of keeping costs down. With the increasing cost of whey protein, this move is understandable. However, it should be acknowledged that milk protein isolate has now been replaced by milk protein concentrate. This would inevitably bump up the lactose content of the powder, which may make it slightly less suitable for those who are lactose sensitive.
Like many American manufacturers, Gaspari have made a claim that MyoFusion Advanced is gluten free. This is all well and good, but we caution coeliac disease suffers, that despite the claim, the product is manufactured in a facility that also handles wheat. So trace amounts of gluten is expected to be found in the powder. If you do suffer from coeliac disease we would instead recommend a protein powder from Australia which is more stringent with gluten free claims.
MyoFusion Advanced Taste & Mixability
The new MyoFusion Advanced has a very similar taste and texture to the current MyoFusion Elite. It is a milky textured shake which mixes well and is easy to drink. The flavour is not over powering, sweet, nor artificial tasting, which are issues that can occur with some American protein powders.
MyoFusion Advanced Verdict
MyoFusion Advanced is taking a step back to basics, with a purer product and no added aminos. This welcomed change will help give consumers more confidence in brands like Gaspari. So if you are after a sustained release protein powder with fantastic flexibility and no extra ingredients, then Gaspari MyoFusion should be among the top contenders.