Mutated Nation Albutarex V2 Review
Mutated Nation are one of the more colourful supplement brands in the industry and one that definitely has an inflated presence. However, you can't deny that the products they have released are extremely popular and definitely deliver in terms of strength and effectiveness. Their flagship fat burner Albutarex (commonly misspelled as Albuterex) was one of the most sought after fat burners around. Since being taken off shelves, it has since gone through a reformulation and has been released recently as Mutated Nation Albutarex V2.
Mutated Nation Albutarex V2 Highlights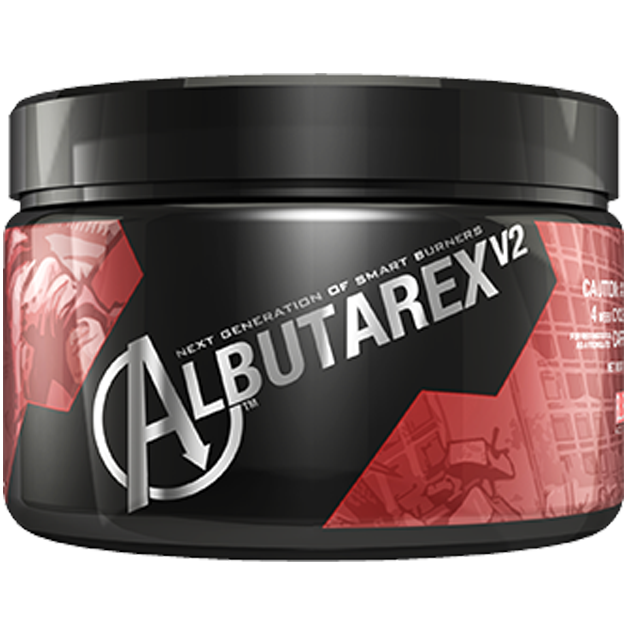 Next generation fat burner
Potent new formula that focuses on boosting enegry levels and suppressing appetite
Added diuretic ingredients to support that ultra dry look
No unexpected crashes
Mutated Nation Albutarex V2 Ingredients & Dosage
Albutarex V2 contains a proprietary blend of a range of ingredients including:
Amino Acids – Taurine, Glycine, L-Tyrosine
Vitamins & Minerals – Ascorbic Acid (Vitamin C), Potassium Aspartate, Niacin (Vitamin B3), Manganese Chelate
Stimulants – Caffeine, Theobromine, Higenamine, Citrus Aurantium, 1-Amino-2-Phenylethene (PEA), N-Methyl Tyramine HCL and Theacrine
Diuretic - Dandelion Root Extract
Other ingredients include some flavours, sweeteners and miscellaneous ingredients for mixability and shelf life. Each 135g tub of Albutarex contains 30 servings of 4.5g and does not contain any calories.
Mutated Nation Albutarex V2 Pros & Effectiveness
The formula for Mutated Nation Albutarex V2 has changed slightly from the original, but is still just as potent if not more so. It has kept a very similar vitamin and electrolyte matrix, but has added some extra stimulants and nootropic amino acids as well as the diuretic; dandelion root extract. Albutarex's strong points are it's ability to boost energy levels, suppress appetite and support metabolism; all important aspects during a fat loss period.
If you're tackling a diet to support your weight loss, you might find that your energy levels are down due to the decrease in energy intake. This can often leave your performance throughout the day and in your workouts lacklustre. This is where Albutarex works its magic. It will help you maintain energy levels throughout the day and maintain focus so you can comply with your diet and avoid any bad food decisions you might make if you were tired. The addition of the diuretic will also help to support that dry look that is sought after so that your muscles pop out. Another pro of the new Albutarex is the lack of a crash that was felt after the original by some users. Instead, the comedown is smooth and seamless.
Mutated Nation Albutarex V2 Cons
Perhaps the biggest issue with Mutated Nation's Albutarex V2 is its use of a proprietary blend. This makes it incredibly hard to figure out if they've included enough of each ingredient. However with the amount of stimulants in the product, you'll find that the product will definitely provide plenty of energy, even if the dose isn't known. Albutarex doesn't include a lot of more common metabolism boosters such as green tea extract, green coffee bean extract and others, however stimulants are one of the most effective ingredients for fat loss, and Albutarex V2 has plenty of it.
Mutated Nation Albutarex V2 Flavours, Taste & Mixability
The new Albutarex V2 comes in the one flavour; Frozen Watermelon. It's not the greatest tasting supplement and it's slightly bitter due to the presence of the stimulants, however it's still quite easy to drink. There's a slight lingering aftertaste, which easily dissipates with a couple of gulps of water. The powder mixes extremely smooth though and has minimal residue or grittiness. It's a little bit on the sweet side, but that's most likely because of the amount of sweeteners used to mask the bitterness of the stimulants. If it's too sweet, simply add some extra water.
Mutated Nation Albutarex V2 Verdict
It's a welcome move from Mutated Nation that they've decided to bring back their original and flagship product Albutarex. The fat burner is as strong if not stronger than the original and will most likely please fans of the original. If you're looking for a product to help support fat loss and keep you energised and motivated throughout the day and at your gym session, then this is the product for you. Make sure you don't exceed more than one dose per day though because this supplement is not for beginners.