MuscleTech #Shatter SX-7
Muscletech, makers of Hydroxycut, one of the top selling weight loss formulas on the market, have recently come out with a new product range. Flagship fat burner SX-7 was premiered in November 2013, and Muscletech have been adding products to the SX-7 range since then, having so far released a second, stim-free fat burner under the SX-7 banner. #Shatter is a pre-workout, and to our knowledge the first supplement on the market to sport a hashtag in its name. It is the next release in the SX-7 series alongside a two-product combo called the Pro Clinical Muscle Stack.
MuscleTech #Shatter SX-7 Highlights
*Unique formulation
*Energises mind and body
*Botanical ingredients from traditional medicine
MuscleTech #Shatter SX-7 Ingredients & Dosage
While this unconventionally punctuated supplement is sure to speak to tech-savvy youngsters who know their way around a keyboard's symbol row, those who are on the lookout for a pre-workout formula with something a bit different are likely to be impressed by the ingredients Muscletech have selected for inclusion in #Shatter. Per serve, 1200mg of CarnoSyn beta alanine and 200mg peak ATP support strength and endurance, while caffeine anhydrous, nutmeg extract, higenamine, holy basil and grains of paradise extract make up one of the most unique energy and focus matrices we have seen in a while. On top of this, each 6g serve of #Shatter contains 3g of carbohydrate.
MuscleTech #Shatter SX-7 Pros & Effectiveness
#Shatter is a simple, unique formula which does not confuse things with a huge ingredient list, yet covers all bases. Carnosyn is a top quality product, and Beta Alanine has repeatedly been proven to enhance muscular endurance. Ingestible ATP is a very new technology, and including this ingredient puts MuscleTech right at the cutting edge. While these ingredients provide the physical means to push harder, the Extreme Energy & Focus Complex takes care of the mental battle, providing the motivation and drive to take things to the limit.
While many of the ingredients may sound unfamiliar, #Shatter's Energy & Focus complex has been formulated using a number of powerful botanical ingredients that have a prominent history of usage in a number of ancient medicine traditions. Nutmeg Extract has been known for its psychoactive properties, including CNS stimulation, for many years, while Sacred Lotus is used in Chinese Medicine as a tonic for the circulatory system and energy booster. The active ingredient, higenamine, is also a vasodilator, so Sacred Lotus can also enhance pump. Holy Basil can reduce stress and enhance concentration, on top of boosting testosterone levels, and Grains Of Paradise, or Melegueta Pepper, has a long history of use in Western Africa.
MuscleTech #Shatter SX-7 Cons
Many people may find the dosage of particular ingredients in #Shatter to be quite low. Most people use Beta Alanine in the 3-5g range, yet the recommended double serving size only comes in at 2.4g.
Many of the botanical extracts do not have recommended doses, but the 80-90mg daily dose of higenamine that is often cited as consensus standard when administering this ingredient is a far cry from the 0.8mg which is contained in each double serve. As a double serving size provides a whopping 320mg of caffeine, caffeine sensitive individuals may have to take a single serve, further diluting the effects of these active ingredients.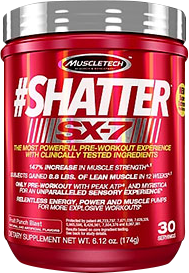 The inclusion of nutmeg is interesting and controversial. While nutmeg has been reported to stimulate the central nervous system, it has also been reported to have psychotropic effects, which can include hallucination and delirium, in addition to causing headache and nausea. A dosage of 1-2mg of nutmeg extract per kg of bodyweight is said to produce effects on the central nervous system. For most people, the 200mg in each double serving of #Shatter exceeds this range, increasing the likelihood of negative effects.
MuscleTech #Shatter SX-7 Taste & Mixability
#Shatter is available in five flavours – Watermelon Fusion, Strawberry Daquiri, Orange Splash, Icy Pink Lemonade and Fruit Punch Blast. MuscleTech are known for flavouring their products well, and #Shatter is no exception. Everyone is bound to find a flavour that suits in this diverse range. #Shatter mixes very easily in a shaker, leaving very little residue, and producing a refreshing and palatable drink.
MuscleTech #Shatter SX-7 Verdict
#Shatter is quite a unique pre-workout. Containing ingredients that cover all bases, this product aims to physically and mentally optimise your training. While this product might not be for everyone, we predict that #Shatter is going to win some very loyal fans.