Muscletech Platinum Pure CLA
Muscletech Platinum Pure CLA 95 Facts
Muscletech Platinum Pure CLA 95 is one of the highest concentration conjugated linoleic acid capsule supplements on the market. As part of the new Essential Series of supplement from Muscletech, this is the higher strength version of the Muscletech Platinum Pure CLA.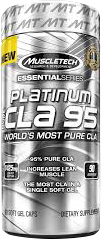 Muscletech Platinum Pure CLA 95 Review & Ingredients
The new Platinum Pure CLA 95 from Muscletech is an ultra high dose formulation containing safflower seed oil derived conjugated linoleic acid. CLA as a compound has a variety of forms, two of which are commonly used in studies of CLA and these are the two that are included in Muscletech's product. There is some research to support CLA use for fat loss and the preservation of muscle mass whilst on a weight loss diet. Supplementation with CLA may also help to support lean muscle mass gains in certain trainers.
Muscletech Platinum Pure CLA 95 Release Date
Platinum Pure CLA and Platinum Pure CLA 95 have both been released overseas in the United States. It is unknown whether or not these products will make their way into Australia with the most likely scenario being that the Muscletech Platinum Pure CLA Powder is the CLA supplement that is distributed.