Muscletech Platinum Multivitamin
Muscletech Platinum Multivitamin Facts
The new Essentials Series of supplements from Muscletech are a huge range of basic supplements required for any trainer. These include protein powders, fish oil, creatine and also the new Muscletech Platinum Multivitamin.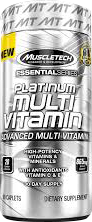 Muscletech Platinum Multivitamin Review & Ingredients
Muscletech's Platinum Multivitamin is a straightforward and comprehensive multivitamin and mineral complex which also provides added aminos, digestive enzymes and an herbal complex. While many people can achieve their recommended daily intakes of vitamins and minerals, a large proportion don't. Trainers especially may find it harder to meet some of their requirements simply because they require more. Busy lifestyles resulting in poor diet patterns are also a huge culprit and a good multivitamin is an excellent and cheap way to make sure you're adequately consuming these essential nutrients and maintaining optimal health.
Muscletech Platinum Multivitamin Release Date
Platinum Multivitamin from Muscletech has already been released overseas in the United States and should make its way through to other countries including Australia within the next few months. This should mean a debut sometime before October 2014.
Muscletech