Muscletech Platinum Fish Oil 4X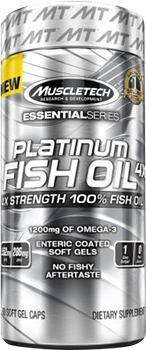 One of the worse things about supplementation with fish oil is that oftentimes you might need to take a handful of these pills and capsules to get the results you want. This can often be more hassle than its worth and most likely you'll end up forgetting to take the supplement itself. This is why Muscletech's Platinum Fish Oil 4X was created, to make things easy and to give you the nutrients you need without the fuss.
Muscletech Platinum Fish Oil 4X Review & Ingredients
Muscletech's Platinum Fish Oil 4X contains 4 times the amount of fish oil in their Platinum 100% Fish Oil supplement. Each single capsule provides a whopping 1600mg of fish oil, 1200mg of omega 3 fatty acids and 736mg and 380.8g of eicosapentanoic (EPA) and docosahexanoic acid (DHA) respectively. Common recommendations for heart health and joint health often recommend up to 9 capsules of regular strength fish oil a day. The Platinum Fish Oil 4X condenses the ingredient so you would only ever need maximum 3 capsules per day. This is a great way to easily support high intensity training periods where you're most likely already supplementing with a range of other supplements and don't need the hassle of remembering to take more. Fish oil and omega 3 supplementation can assist with muscle breakdown, muscle growth, muscle recovery and performance in cardio based activities.
Muscletech Platinum Fish Oil 4X Release Date
The new Platinum Fish Oil 4X from Muscletech is out for sale in the US and should make its way down to Australia before October 2014.