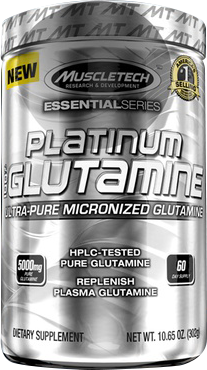 Muscletech's Platinum 100% Glutamine is one of the newest supplements in the new Essential Series Range and is one of the many foundation supplements that are part of a larger collection of protein powders, single and double ingredient supplements and the crucial multi and omega 3 supplement.
Muscletech Platinum 100% Glutamine Review & Ingredients
Platinum 100% Glutamine contains as its title suggests, 100% glutamine. Each tub offers 60 x 5g serves of fast absorbing, micronized glutamine. Glutamine is by far the most abundant amino acid in our body and intense exercise will tend to deplete levels of glutamine in our body, which can result in a depressed immune system. In addition, glutamine helps to support cell volume, glycogen replenishment and protein synthesis. While not as popular as a supplement as it once was, glutamine is still an excellent supplement to have, especially for those trainers who go hard.
Muscletech Platinum 100% Glutamine Release Date
The new Platinum 100% Glutamine from Muscletech is currently already out for sale in the United States with a potential release in Australia of around September or October 2014.