Muscletech Platinum 100% Fish Oil
Muscletech Platinum 100% Fish Oil Facts
One of the latest supplements from Muscletech's new Essential Series of supplements is the Muscletech Platinum 100% Fish Oil. This product is one of the three omega 3 fatty acid supplements from their Platinum range of supplements.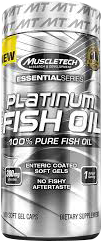 Muscletech Platinum 100% Fish Oil Review & Ingredients
Muscletech's Platinum 100% Fish Oil provides a standard 1000mg dose of fish oil per capsule. This provides 300mg of omega 3 fatty acids with 180mg of the sub-fraction eicosapentanoic acid (EPA) and 120nmg of the sub-fraction docosahexanoic acid (DHA). Omega 3 supplements are the ideal essential supplement for any trainer and non trainer and has had thousands of studies performed on it on a variety of health issues. For the active individual, fish oil supplementation may be able to assist with maintaining and building lean muscle mass by slowing down muscle breakdown. In addition it is often helpful for reducing muscle soreness and can even support cardiovascular performance.
Muscletech Platinum 100% Fish Oil Release Date
While Platinum 100% Fish Oil from Muscletech is already out in the US, it's not sure when the supplement will hit Australia as the market is already saturated with Fish Oil supplements. If it does hit Australia, it'll most likely happen sometime before October 2014.