Quick Summary Points for NitroTech Casein Gold
Nitro Tech Casein Gold is a blend of micellar casein consisting of milk protein isolate, calcium caseinate and micellar casein

Delivers high quality protein with 24g of protein per serving, 10g of branch chained amino acids, and only 1g of sugar
Casein Gold is recommended to be taken before bed time and can be stacked with MuscleTech's Nitro Tech protein powder during the day
Suitable for all types of trainers that are looking to increase protein intake for better muscle growth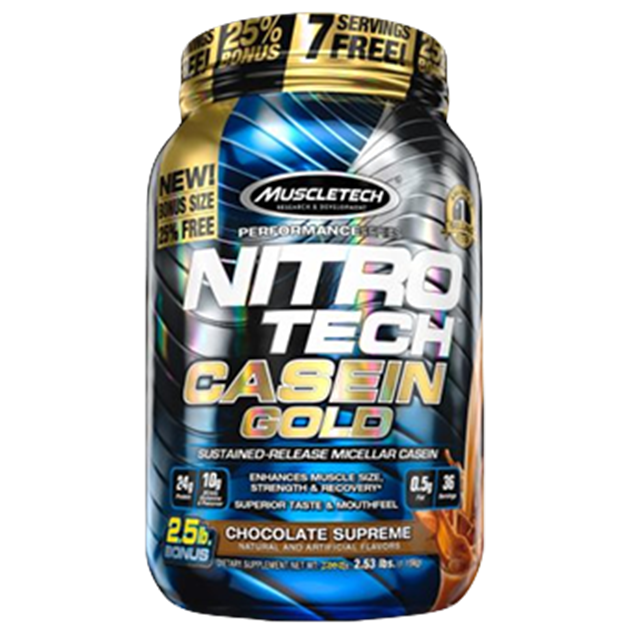 MuscleTech are the ongoing leaders of science and innovation especially with their protein range. Known for their renowned and best-selling product Nitro Tech, MuscleTech have released a premium casein formula with optimum branched chain amino acids for sustained muscle growth. This product will be known as MuscleTech Nitro Tech Casein Gold. Let's look at our review on Nitro Tech Casein Gold. 
MuscleTech Nitro Tech Casein Gold Highlights
24g of protein per serving
Sustained release – 8 hours of branch chain amino acid delivery
Enhances muscle strength and recovery
Great texture – without any grittiness
Fully disclosed label
Gluten free
MuscleTech Nitro Tech Casein Gold Ingredients & Dosage
The formulation of Casein Gold is a blend of micellar casein consisting of milk protein isolate, calcium caseinate and micellar casein.
Each 32g serving of Nitro Tech Casein Gold provides 24g of protein, 2g of carbs and 0.5g of fat for a total of 110 calories. Nitro Tech Casein Gold will be available in two sizes the 1kg and 2.3kg alternative. 
MuscleTech Nitro Tech Casein Gold Benefits, Pros & Effectiveness 
MuscleTech know the importance of incorporating casein protein to help those who are training. Casein Gold is made up of a blend of micellar casein which allow a steady release of amino acids into the bloodstream.  The mixture of casein protein provides an 8-hour sustained release of amino acids to prevent the body from muscle breakdown. One study has shown a comparison between whey protein or casein protein and made several measures of the anabolic and catabolic effect for 7 hours after consumption.1 MuscleTech have thoroughly done their research which have been proven effective. The product is also gluten free suitable for those who have gluten intolerances. 
MuscleTech Nitro Tech Casein Gold Negatives & Cons 
The overall product is fundamentally a great product without many negatives. Casein protein is more ideal to be taken during the day or before bed as opposed to close to workout times because micellar casein is digested too slowly to assist with the muscle building process. 
MuscleTech Nitro Tech Casein Gold Taste, Flavour & Mixability 
Specifically engineered to cater for mixability, Casein Gold does mix well leaving little grittiness. Casein Gold will be available in two flavours including Chocolate Supreme and Creamy Vanilla. If you're a lover of milkshakes, MuscleTech has succeeded in bringing out that texture. As MuscleTech was awarded for their great tasting proteins without the extra carbs and sugars, this product speaks for itself. 
MuscleTech Nitro Tech Casein Gold Verdict 
MuscleTech Nitro Tech Casein Gold is suitable for all types of trainers that are looking to increase protein intake for better muscle growth, staying fuller or as a snack before bed time. It is an effective casein supplement that tastes good, mixes well and can add value to your training routine.
References
Lacroix et al., 2006. The American Journal of Clinical Nutrition. 84:1070–9.

Nutrition Express. (2017). Whey vs. casein protein - Nutrition Express Articles. [online] Available at: https://www.nutritionexpress.com/showarticle.aspx?articleid=787 [Accessed 27 Jul. 2017].