Having recently brought out the new Sport Series, MusclePharm have already released a range of new products including Assault Sport, Amino 1 Sport, Combat 100% Whey and Combat XL. The updated packaging has also proven to be a successful venture for the company. To further add to their line, MusclePharm will soon bring out a new pump pre workout formula known as MusclePharm VasoSport.
MusclePharm VasoSport Review & Ingredients
As with most pump support pre workouts, VasoSport is going to be a caffeine and stimulant free product making it easily stackable with other pre workouts you may use and a supplement you can easily have a larger serve of. The supplement is incredibly simple with really only 4 key active ingredients including:
L-Citrulline Malate (3g)
Nitrosigine (Inositol Stabilized Arginine Silicate) (750mg)
Agmatine Sulfate (750mg)
Taurine (500mg)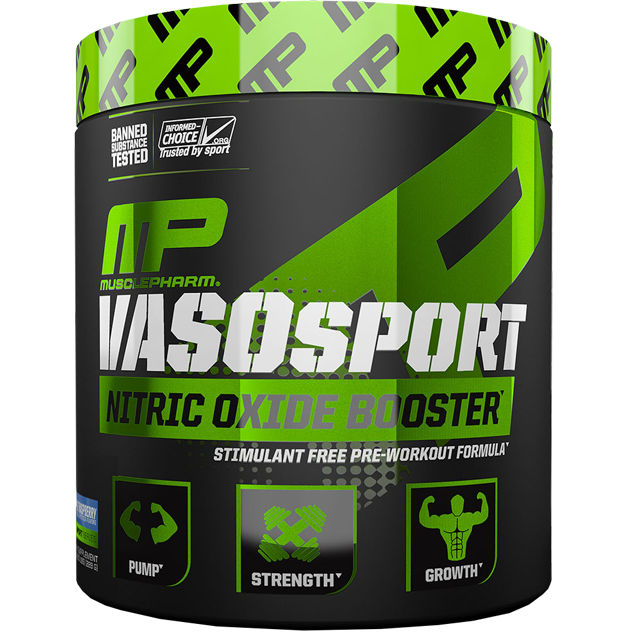 Each serve of the product measures only 6g, but you can easily double up the serve for a more powerful effect. The formula isn't anything too revolutionary, but it will get the job done. As with a majority of the new Sport Series, VasoSport is also banned substance free.
MusclePharm VasoSport Flavours & Taste
MusclePharm will be keeping the flavours traditional for the VasoSport pump pre workout with Blue Raspberry and Fruit Punch. With such a small ingredients list, the supplement is almost guaranteed to taste decent and mix quite easily as well. We'll of course be sure to update these details as soon as the supplement is released.
MusclePharm VasoSport Release Date
The new VasoSport from MusclePharm is pretty much ready for release and is scheduled to be on shelves sometime in July 2016, at least in the US. It probably won't make its way to international territories though till about September or October 2016.