Quick Summary Points
MusclePharm Grass-Fed Whey is a highly purified whey protein that delivers 25 grams of protein per serve, low in fat and is gluten free

Grass-Fed Whey is free of hormones, antibiotics, non-GMO & contains no artificial flavours

Benefits of taking MusclePharm's Grass-Fed whey include improving overall health, promoting muscle growth & supporting weight loss

It is suitable for anyone looking for a clean, natural source of protein to maintain a healthy lifestyle, build muscle or looking for a post-workout recovery protein

Best time to take this protein is after training to maintain muscle mass & fasten recovery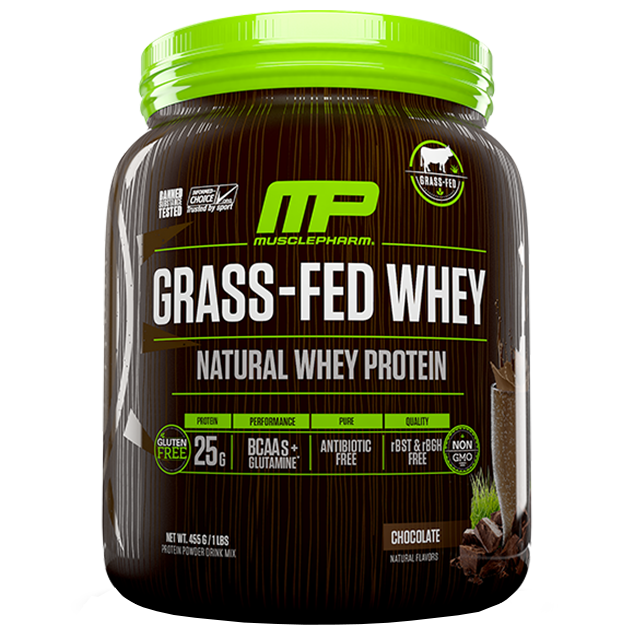 Many supplement companies are introducing a natural series to their supplement range, MusclePharm is no different. The MusclePharm Natural Series offers consumers the choice of getting their hands on supplements that are clean, pure and utilise a range of wholesome ingredients. New to their naturals line is MusclePharm's Grass-Fed Whey Protein. Due to the high demand of natural proteins, what does MusclePharm's Grass-Fed Whey have to offer?
MusclePharm Grass-Fed Whey Highlights
25g of 100% Whey Protein per Serve

Ireland Grass-Fed Whey – Healthy Pasteurised Cows

Gluten Free & Non-GMO

Informed Choice - Banned Substance Tested
MusclePharm Grass-Fed Whey Ingredients & Dosage
As with most protein supplements the nutritional profile is fairly straightforward but here are the nutritional details for the product.
Serving Size: 14 Serves

Protein – 25g

Calories – 120kcal

Sugar – 1g
As you can see, the formula is relatively simple. Each serving contains 25g per serve, 120 calories and is gluten free certified.
MusclePharm Grass-Fed Whey Benefits & Pros
MusclePharm Grass-Fed Whey incorporates a few key features that may benefit you. As the name suggests, the protein is mainly made up of grass-fed whey protein. This protein is sourced from milk produced by grass fed cows. These cows are fed only grass and provided plenty of room for movement. This allows the cows to undergo a natural diet that is suitable for their digestive system and reduces the risk of unnecessary complications. Each serving of MusclePharm's Grass-Fed Whey delivers 25 grams of natural whey protein which is perfect for those looking for a cleaner source of protein. MusclePharm have gone out of their way to use a specific processing method known as cross cold filtration to remove unwanted fat, cholesterol and lactose.
Utilising grass-fed whey protein allows users to gain additional benefits like increasing protein and BCAA intake for muscle growth and recovery. Aside from being a pure protein, grass fed whey isolate is also antibiotic, non GMO and hormone free. More importantly, this product is 100% certified and free of banned substances.
MusclePharm Grass-Fed Whey Negatives & Cons
For those who prefer more of a sweeter taste, this protein is not particularly sweet so if you're someone that usually prefers sweeter protein this may not be the one for you. Moreover, in terms of cost, grass-fed whey proteins do have a higher price tag compared to regular whey proteins but for the health benefits it is worth investing in if you want to reap the full benefits of using a grass-fed whey protein.
MusclePharm Grass-Fed Whey Taste, Flavour & Mixability
MusclePharm Grass-Fed Whey is available in two classic flavours. These being Chocolate and Vanilla. MusclePharm have kept it original and simple so you can't go wrong with traditional flavours. In terms of taste and mixability, it is consistent and does not leave any clumpy residues.
MusclePharm Grass-Fed Whey Verdict
Overall, MusclePharm's Grass-Fed Whey is a highly purified natural grass-fed whey that is nutritional, low in fat, low in lactose and is completely free of hormones, antibiotics and artificial flavours. It is the perfect protect for those wanting a 100% pure whey protein to fuel performance, deliver results, naturally.