MusclePharm Combat Crunch Review
MusclePharm's newest product additions expands the Hybrid Series of supplements with a whole range of different proteins and bars. One of these new supplements is a gluten free protein bar known as MusclePharm Combat Crunch, which is the company's first foray into edible protein products.

MusclePharm Combat Crunch Protein Bars Highlights
Gluten Free Protein Bar
20g of Highly Bioavailable Protein Per Serve
Low in Carbohydrates and Sugars
Ideal pre- or post- workout energy or recovery snack
MusclePharm Combat Crunch Protein Bars Ingredients & Dosage
There isn't a whole lot of information on the actual ingredients included in the bars, however we do know a few key details:
Each bar contains 20g of protein
The product is completely gluten free
Each bar is low in carbohydrates and sugar
To make the bar taste any good, the bar will most likely contain a fair bit of fat with estimates of up to 8-10g per serve. Each box of Combat Crunch comes with 12 protein bars.
MusclePharm Combat Crunch Protein Bars Pros & Effectiveness
Protein bars are one of the handiest ways to increase protein intake throughout the day and also act as a filling meal or snack replacement for weight loss. Physical snacks are often more satiating than drinks, even with the same nutritional content, so having a protein filled bar can help you stave off hunger for even longer. MusclePharm have made a smart decision in making the bars gluten free as it now caters to a growing population of people aiming at avoiding gluten. Being low in carbohydrates and sugar will also appeal to many trainers.
MusclePharm Combat Crunch Protein Bars Cons
With few details released for MusclePharm's Combat Crunch Bars, it's hard to tell if there are any negatives. While some people tend to be worried about the high fat contents in protein bars, it's important to realise that most of these fats tend to be unsaturated, healthy fats. Diets high in unsaturated fats such as the Mediterranean diet are well known for their ability to reduce the risk of chronic diseases and increase life expectancy.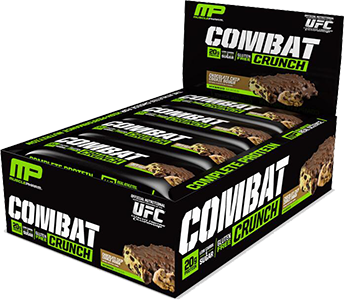 MusclePharm Combat Crunch Protein Bars Taste & Mixability
MusclePharm's Combat Crunch Protein Bars will eventually be available in a range of flavours, however the one confirmed flavour is Chocolate Chip Cookie Dough. As this is MusclePharm's first edible protein supplement, it's hard to say just how good it tastes. But MusclePharm's excellent track record of good tasting products should prove a positive precedence for the Combat Crunch Bars.
MusclePharm Combat Crunch Protein Bars Verdict
Combat Crunch Protein Bars are one of a series of new supplements from MusclePharm as part of their expansion of a Combat Series of products. High in protein, low in carbohydrates and sugar and free from gluten, the bars should be a hit with trainers looking at increasing their protein intake but not wanting to have the same old protein shake every day. Perfect as a snack or meal replacement throughout the day, the Combat Crunch Bar is an excellent and useful addition to the MusclePharm range.