MusclePharm Combat 100% Casein Review

MusclePharm appear to be a company that just powers through with new releases. Having already released the Arnold Schwarzenegger line of products in the second half of 2013, the iconic supplement company aren't resting on their laurels and have started rolling out a new Combat Series range of products in the first half of 2014. One of the first supplements to be detailed is the Combat 100% Casein.

MusclePharm Combat 100% Casein Whey Highlights
100% Micellar Casein
28g Protein, 2g of Carbs and 1g of Fat per serve
Versatile protein for use throughout the day and before bed
MusclePharm Combat 100% Casein Ingredients & Dosage
The new MusclePharm Combat 100% Casein is a fairly basic casein protein powder and similar to the original Core Series Casein, which it replaces. The Combat 100% Casein contains:
Micellar Casein – One of the two most popular casein sources, micellar casein is slower digesting than calcium caseinate and therefore provides a longer period of amino acid delivery to the muscles.
Each 34g serving of Combat 100% Casein provides 28g of protein, 2g of carbohydrates and 1g of fat for a total of 110 calories. Instead of the original 3lb (1.36kg) tub, MusclePharm's Combat 100% Casein will be available in a 2lb (908g) and 4lb (1.8kg) variant.
MusclePharm Combat 100% Casein Pros & Effectiveness
Casein proteins are always going to be popular and may even surpass whey protein as time goes by. This is because it is a more suitable protein for general trainers and non-trainers alike thanks to its slower digesting profile. Ideal for dieters looking at increasing their protein intake, it has been shown in studies that a mixture of casein, whey and soy protein may be better for muscle growth than either of the proteins alone1. Micellar casein is an excellent casein protein ideal for use throughout the day and before bed to help support increased fullness and provide plenty of muscle building amino acids.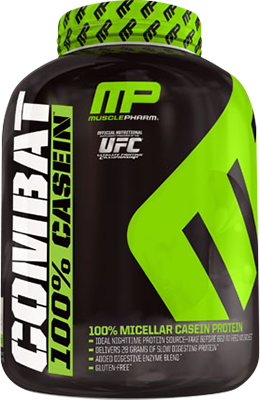 MusclePharm Combat 100% Casein Cons
While casein protein is an ideal protein to be used throughout the day and before bed, it's not the best protein to use around workout times, especially as a post-workout. This is because you want a quick hit of amino acids to drive muscle building processes straight after a workout and the digestion rate of micellar casein is much too slow for this to happen. As such, it's ideal to stack something like Combat 100% Casein with a regular blended protein such as Combat.
MusclePharm Combat 100% Casein Taste & Mixability
MusclePharm's Combat 100% Protein will be available in the same flavours as Core Series Casein and include: Chocolate, Vanilla and Cookies and Cream. The original MusclePharm Casein was delicious and with no major changes to the formula should mean Combat Casein is just as delicious. As with most casein proteins, there is a slight grittiness to the product, but the powder mixes well.
MusclePharm Combat 100% Casein Verdict
MusclePharm's new Combat Series range is an excellent idea of grouping all their protein powders together and keeping it standardised. Combat Casein is a simple, effective and tasty casein protein and should be part of any serious trainer's supplement stack.
Reidy PT, Walker DK, Dickinson JM, Gundermann DM, Drummond MJ, Timmerman KL, Cope MB, Mukherjea R, Jennings K, Volpi E, Rasmussen BB. 'Soy-Dairy Protein Blend and Whey Protein Ingestion After Resistance Exercise Increases Amino Acid Transport and Transporter Expression in Human Skeletal Muscle.' J Appl Physiol (1985). 2014 Apr 3. [Epub ahead of print]