Musashi Elevator Review
Musashi are one of Australia's largest and most trusted supplement manufacturers. Recently they have made some significant changes to their product like-up. Among these includes a complete overhaul of their intra workout supplement, Musashi Elevator.
Musashi Elevator Highlights
Caffeinated intra workout supplement
Contains 6 g BCAAs in 4:1:1 ratio and low carb
Delicious cooling taste and flavours
Musashi Elevator Ingredients
Musashi Elevator is built on a foundation of BCAAs in a 4:1:1 ratio, totalling 6 g, plus 2 g of glutamine, and 2 g of taurine. In addition there is 100 mg caffeine, and a blend of electrolytes. Each serve only has 1 g of carbs and is fat free.
Musashi Elevator Effectiveness & Pros
Elevator is one of the few intra workout supplements on the market that is caffeinated. It provides a mild boost of energy to assist when you need it most, that is, when things are winding down towards the end of the session.
The remainder of the ingredients are fairly bulletproof. The generous serve of BCAAs, glutamine, taurine, and electrolytes assist with minimising muscle damage and assisting with hydration, which in turn, may improve recovery and lean muscle gains. The recovery benefits of this product are particularly noticeable after a DOMS inducing workout.
Elevator uses four parts leucine to every part of isoleucine and valine. This ratio is higher than average, and may have benefits for protein synthesis, as it is known that leucine is the keen stimulator of this process (Koopman et al, 2004).
Finally, in true Musashi attention to detail, they have gone to the trouble of registering the product with the TGA. Elevator is therefore one of the few intra workout supplements on the market that has its own AUST L number. What this means is that you are guaranteed a product that is made from safe and high quality ingredients. Another benefit of having an AUST L number is complete labelling transparency, so that you know exactly how much of each ingredient you are getting.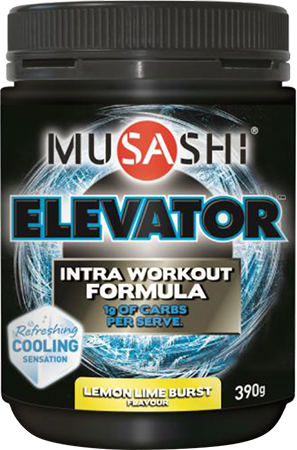 Musashi Elevator Negatives & Cons
Although the amount of caffeine in Elevator is not excessively high, it does make it less stackable with high stimulant pre workouts. For example, if you are consuming two scoops of Cellucor C4, you would be getting around 320 mg of caffeine. Another 100 mg on top of this may be a bit on the higher side for most people. However, the addition of caffeine makes it perfect for those who are not using high stim pre workouts.
Musashi Elevator Taste & Mixability
Musashi have put in a lot of effort recently to make products that are not only effective, but which are also delicious. This is no exception with Elevator, which dissolves very well into a clear cordial-like beverage. The taste of Elevator is just as promised, "refreshing and cooling", with a minty cool aftertaste, much like the Sensacool system previously used by Ronnie Coleman.
Musashi Elevator Verdict
Once again Musashi have released a high quality product which does as it promises. If recovery is important to you, Musashi Elevator is a delicious intra workout supplement that is a fine addition to your stack, as long as you are not using a high stimulant pre workout.
Koopman R, Wagenmakers AJ, Manders RJ, Zorenc AH, Senden JM, Gorselink M, Keizer HA, van Loon LJ. 'Combined ingestion of protein and free leucine with carbohydrate increases postexercise muscle protein synthesis in vivo in male subjects.' Am J Physiol Endocrinol Metab. 2005 Apr;288(4):E645-53. Epub 2004 Nov 23.