Muay Thai Training
Muay Thai & MMA
When looking into all the different aspects of MMA, Muay Thai could be seen as one of the most significant. Not only is it the national sport of Thailand, it also has a large amount of similarities in both style and technique to MMA. One of the most significant similarities between the two is what is referred to as the amount of "Points of Contact." Boxing has 2 points of contact, (two hands), kickboxing, 4 (two hands, two feet), but both Muay Thai and MMA incorporate 8 (hands, elbows, feet and knees). The other similarity between the two is the ability to fight within the clinch, although the referee will not allow the combatants to maintain the clinch as long as they would be allowed to in MMA, it is still a refreshing change from the constant stopping and starting that is seen in boxing and kickboxing when clinching becomes constant in the later rounds. Finding states that allow the training and competition of this sport is not an easy task. Due to the increased risk of injury when taking hits by unpadded parts of the body such as elbows and knees. Although it could be seen as an exaggeration labelling the art as a "blood sport," one this is for sure. This style of fighting is not for the weak at heart, or body for that matter.
Training for Muay Thai
The strength and conditioning of Muay Thai is almost as unique as the sport itself. Not only must these athletes work on their cardiovascular conditioning, muscular strength/endurance, and technique, but adaptation must be made by their skeletal structure as well, namely the shin bone. The process of the conditioning is basically hitting the shin on hard objects to make it harder, the more technical term is "Cortical Remodelling." The cardio and muscular conditioning aspect of the training, depending on the trainer, isn't too different to that of other combat sports. Most of the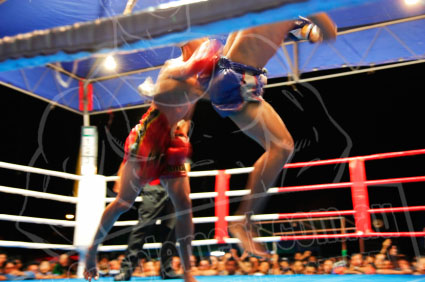 strength training is done with body weight, i.e. chin ups, push ups, lunges, etc. The reason being is, when weight training, most Machines you will see in a gym when part taking in resistance training cut out the use of the main core muscles. The core muscles are important for stabilisation and are utilised constantly during combat sports. Weight machines work to isolate muscles, but body weight exercises help the body to learn to use the muscles in unison.
Flexibility & Muay Thai
Flexibility is also a fitness aspect of high importance when training for Muay Thai. Tight muscles will result in a lack of explosiveness. This also reduces risk of cramping, and 'loose' muscles will allow more fluid movements on the feet.
Muay Thai for Fitness & MMA
Whether you are seeking a way to build up your skill level to enter into the broader field of MMA, or looking to improve your overall fitness, Muay Thai (Thai boxing) is an ideal choice. In fact Muay Thai sessions are now commonplace in many gyms. In case they aren't, there's many dedicated facilities now offer this type of training, so chances are there will be a facility close to you so that you can give it a try as part of your training.