Meal Frequency rather than Size Increases Liver Fat
A new study published in the journal of Hepatology has challenged the long-held notion that eating smaller, more frequent meals is more effective for blood glucose control and weight management. Headed up by scientists from the Netherlands, the study was very carefully designed to detect the specific effect of the timing and frequency of food intake in the context of hypercalorie diets high in fat and/or sugar.
The key aim of the study was to test the independent effect of consuming snacks high in sugar and fat between meals as opposed to with main meals. In their introduction, the authors cite research in their study suggesting that American children consume up to 27% of calories from high-fat and high-sugar snacks. The key question was whether there are additional detrimental effects (in terms of fat accumulation in the abdomen and liver) when sugary and fatty snacks are consumed apart from meal time as opposed to with main meals.
To test their hypothesis, the researchers devised 4 diets that all contained a 40% caloric surplus in addition to the weight-maintaining diet calculated for each individual based on their resting energy expenditure. Each diet, however, differed in its macronutrient composition (i.e. fat and sugar) as well as the timing and frequency of food intake. The researchers also included a control group of 5. The different macronutrients ratios were designed to test whether there were any independent effect of fat and sugar on fat accumulation. The four groups were as follows:
HFHS-S (High Fat High Sugar-Size) – Hyper calorie diet high in fat and sugar and consumed as part of three meals a day. Eight people in this group.
HFHS-F (High Fat High Sugar-Frequency) – Hyper calorie diet high in fat and sugar and consumed over three meals, plus three additional snacks per day, consumed 2-3 hours after each meal. Eight people in this group.
HS-S (High Sugar-Size) – Hyper calorie diet with high sugar consumed as three meals a day. Seven people in this group.
HS-F (High Sugar-Frequency) – Hyper calorie diet with high sugar consumed over three meals, plus three additional high sugar snacks per day, 2-3 hours after each meal. Eight people in this group.
The subjects of the study consisted of 37 Caucasian men who were classified as lean based on an average BMI of 22.5. What's more, none had a family history of type 2 diabetes and also displayed normal results for their oral glucose tolerance test, which is a major predictor of type 2 diabetes risk.
The extra calories for the high fat high sugar group were administered in the form of commercial liquid meal drinks. On average, the drinks had a nutritive value of 240 kcal/100ml with 16% energy from protein, 49% carbohydrates and 35% fat. Subjects consumed on average 1000ml 3 times per day. The high sugar groups received additional sugar in the form of commercial soft drinks, which on average contained 43.3 kcal/100ml and 10.3 g/100ml of sucrose. Similar to the high fat high sugar group, participants consumed on average 1,00ml 3 times per day.
While there were a multitude of measures such as abdominal fat, insulin, BMI, leptin, REE, insulin, plasma triglycerides and free fatty acids, the main measure was hepatic triglyceride content or more simply put – levels of fat in the liver. The other was insulin sensitivity. Together, these markers are among the most sensitive and powerful predictors of risk for diabetes and obesity. A table of the results is displayed below.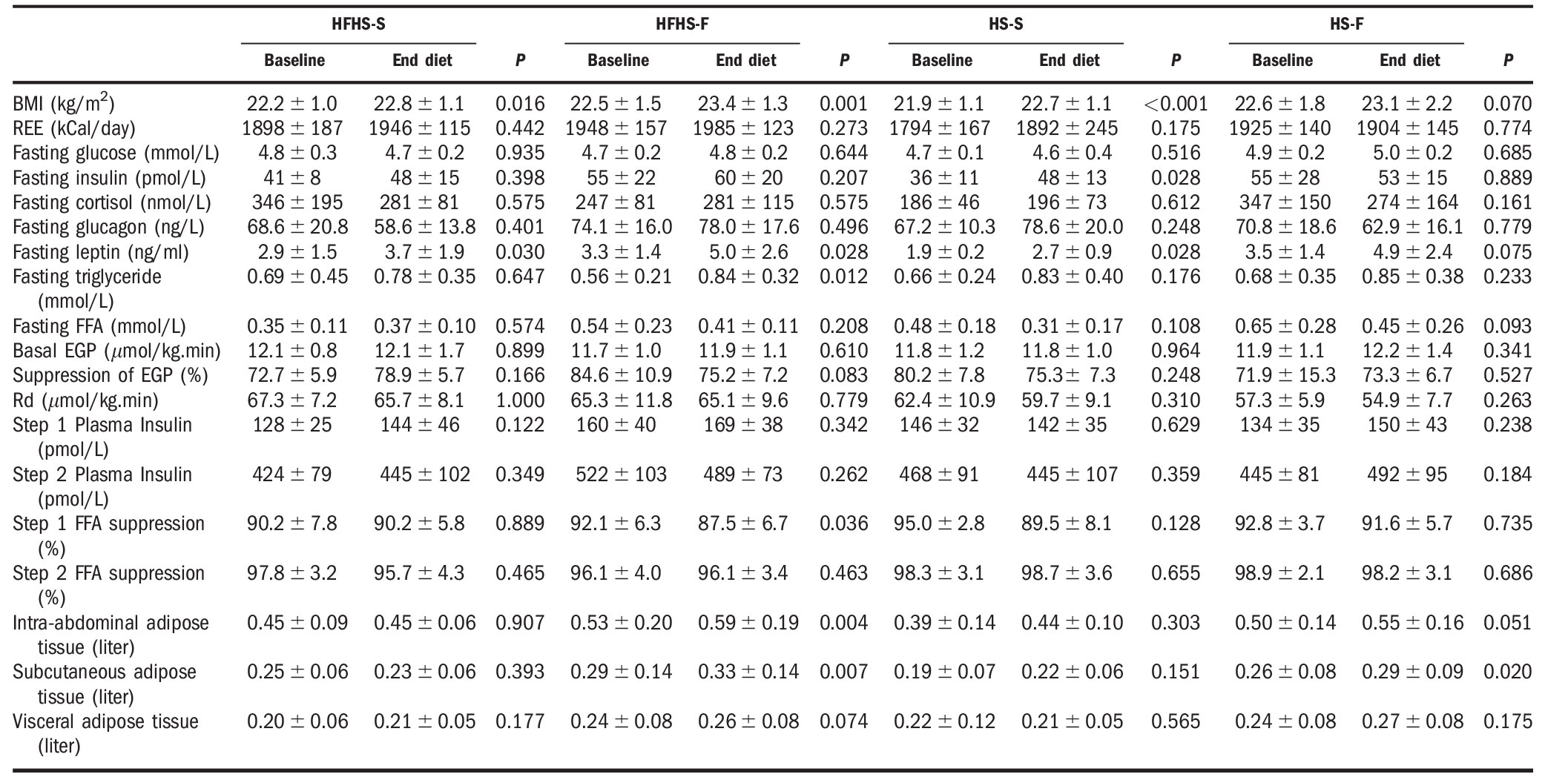 As you would expect all subjects gained weight, with an average weight gain of 2.5 +/- 1.7kg. This was also associated with a group-wide increase in BMI. Plasma leptin levels also increased in all groups.
Even when accounting for these basic changes across all groups, there were some important changes that were unique to the high frequency meal groups. For example, only increasing meal frequency significantly increase intrahepatic and abdominal fat and reduced insulin-mediated suppression of circulating fatty acids.
Fasting plasma levels increased significantly only in the high sugar group that ate three meals a day without snacking. This seems to suggest that the frequency of sugar intake may not be as important as the total daily intake when it comes to improving insulin sensitivity. But these results might have been skewed by the fact that the high sugar group (with no snacks) had the lowest average fasting insulin to begin with.
Both the high fat-high sugar and high sugar frequency groups displayed significant increases in intrahepatic (i.e. liver) triglyceride content. Interestingly, this phenomenon did not occur in the two groups with increased meal size. Similarly, both high frequency groups displayed a significant increase in abdominal fat, while levels did not change for the size groups.
While it is hard to explain some of the subtle differences highlighted above, this study is important in that it is the first one to provide objective evidence that overeating by consuming frequent meals, and not large meals, contributes to fat accumulation in the liver independent of body weight gain. Another important insight provided by this study is that irrespective of the macronutrients in the diet, snacking on both sugar and fat tends to result in similar increases in liver and abdominal fat. However, the increase in liver fat tended to be higher in the high sugar frequency group, suggesting that frequent snacking of sugar is most dangerous for liver fat accumulation.
Given that snacking is a common practice in obese children and adults, this study suggests that policy and guidelines aimed at preventing abdominal and liver fat accumulation should pay attention to diet patterns besides caloric intake in general. It seem that reducing snacking behaviour and encouraging 3 meals per day might have favourable metabolic consequences in the long term.
Koopman KE, et al. Hypercaloric diets with increased meal frequency, but not meal size, increase intrahepatic triglycerides: a randomized controlled trial. Hepatology.