Max's Transformation Series Lean Review
The Max's supplement brand is an institution in Australia, having been around for almost 20 years. Their Max's Challenge has also become one of Australia's most popular transformation challenges in recent years and they've decided to release a range of brand new products to coincide with the Challenge. One of these new supplements is the Max's Transformation Series Lean.
Max's Transformation Series Lean Highlights
100% Whey protein blend of whey protein isolate and concentrate
Added BCAAs (branched chain amino acids), glutamine and creatine for further muscle building and recovery
Fat loss ingredients including conjugated linoleic acid (CLA), green tea extract, L-carnitine and raspberry ketones
High in protein, low in carbs and fat

Max's Transformation Series Lean Review & Ingredients
The new Transformation Series focuses on extremely simple products with only a handful of ingredients. Lean is a typical blended whey protein with a few additions that make it more of a fat loss protein. The specially designed formula contains:
Whey Protein Blend – Whey Protein Concentrate and Whey Protein Isolate
Added Amino Acids – Including leucine, glutamine, isoleucine and valine
Creatine Monohydrate
Fat Loss Ingredients – Conjugated linoleic acid, raspberry ketones, green tea extract and L-carnitine
There are some extra ingredients, but they're used for taste and mixability purposes. Each 30g serve of Max's Lean contains 24g of protein, 2.4g of carbs, 0.7g of fat for a total of approximately 112 calories.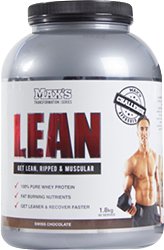 Max's Transformation Series Lean Benefits, Pros & Effectiveness
Max's Lean is exactly as it is advertised, a good quality protein powder that helps to support muscle building and recovery, but also fat loss. It's a solid everyday protein and can be used multiple times a day without issue. The added creatine and branched chain amino acids further help to benefit exercise performance, recovery and muscle protein synthesis. The addition of some fat loss compounds is a smart way to provide you with a bit of an extra kick to support a better body composition with less fat and more muscle.
Max's Transformation Series Lean Negatives & Cons
There aren't a whole lot of negatives with Max's Lean. The choice to use Raspberry Ketones isn't the best. While there is some research supporting its use as a fat loss ingredient, the evidence base is poor, so it might have been better for them to exclude this ingredient in favour of higher doses of the other fat loss ingredients. The doses of the other fat loss ingredients are also quite low and you would require a few serves of the protein in order to build up a decent dose of them. Having more than one serve is part of their program, so the lower doses is most likely a calculated decision.
Max's Transformation Series Lean Flavours, Taste & Mixability
Currently Max's Transformation Series Lean is available in two flavours including Swiss Chocolate and Vanilla Milkshake. Max's have always been excellent at creating delicious tasting protein powders and other supplements and the Lean is just as delicious as their original protein Super Whey. It mixes extremely well with very minimal clumping or residue and one can easily drink two or three serves of this daily. One good idea is to actually mix in half a scoop of chocolate and half a scoop of vanilla to give the shake an even better taste profile.
Max's Transformation Series Lean Verdict
The new Max's Lean is an extremely solid protein and is a crucial product of their new Transformation Series. It's high in protein and branched chain amino acids (BCAAs) to help boost recovery and also muscle growth. The addition of creatine and some fat loss ingredients will further help you achieve a leaner, more ripped physique along with your training. While it would be better if they forewent the addition of glutamine and raspberry ketones, overall Max's Lean is a tasty and effective way to help you look more muscular and lean.