Maxs
The Gear is a high potency testosterone stimulating formula, which was designed to optimise free testosterone levels in the body to support the ideal environment for muscle growth and recovery after tough exercise sessions. Testosterone is an essential hormone for both men and women to help regulate normal functions in the body and support libido, but is especially important when it comes to building muscle. Unfortunately, testosterone levels decline as you age, making it harder for you to maintain progress in the long term.
Max's The Gear is a comprehensive and cutting edge formula which aims to bring back these levels to your natural highs so you can keep on making progress in the gym week after week, month after month and year after year. In order to do so, The Gear includes both testosterone boosting ingredients as well as estrogen suppressing ingredients so that it tackles the issue of free test levels from both ends of the spectrum. This is because your body will naturally turn testosterone into estrogen, which can limit free test levels. Whether you want to support your libido, enhance muscle growth or simply feel more healthy every day, Max's The Gear may just be the answer for you.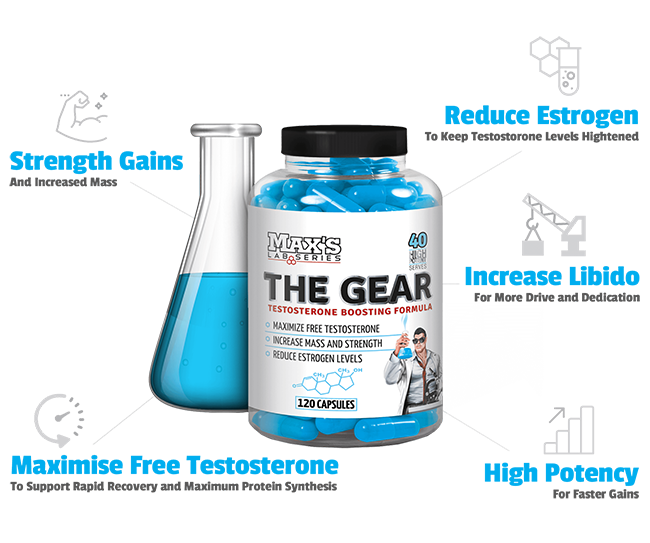 Product Highlights
Added botanical compounds studied to maximise natural testosterone levels
Suppress estrogen conversion to maintain higher free test levels
Help boost size, strength and power gains
Support libido
Maxs The Gear Information
Ask a question about
Maxs The Gear
Can you stack this with GAT nitraflex. For example use nitraflex before training and then a serving of Max's at another time.
Because Nitraflex already contains ingredients that increase test levels it may not be as effective to take another test supplement results may vary so it ultimately depends on how low your test levels are. If you decide to go ahead, I would suggest leaving about a few hours gap before taking The Gear or take it before bed.
will this benefit someone at the age of 19 because my testosterone hasn't started declining yet but will it still have all the same effects and bring my test levels up to the highest they can be naturally
As you are still young your test levels have not hit peak just yet. Normally your natural test levels hit peak when you're at the age of 21. Test supplements are recommended to work for those whose test levels who are starting to decline. This normally occurs when you're at the age of 30. So I would suggest taking a test supplement when you're older.
Hi mate, Wondering if this will shut down natural test production, ie; will I get low test if I stop taking it after a while? Could there be a rebound effect with estrogen? Thanks for your time mate Mark
The levels of your natural testosterone will not completely shut down. Most test boosters are recommended to be cycled so that you do not burn out your adrenals, and ensure androgen sensor receptivity to prolong the positive benefits. Testosterone boosters include many estrogen blockers which increase testosterone while simultaneously lowering estrogen, as well as compounds which just work by boosting testosterone. This should not give you a rebound effect of estrogen.
Is it crucial that i have this at least one hour before working out? By the time i get home from work I'm at the gym in half an hour. Can i take it and workong 30 mins later and it still be effective?
It is just a recommended guideline that is beneficial, however if you do take it half an hour later I don't think it will be less effective.
Do I take three caps twice a day or one cap three times a day? Thanks. Matt.
It is recommended to take 3 capsules twice a day depending on your training. If you are training, I would recommend taking it twice a day and on non-training days take 3 capsules once a day.
how long before you get maxs the gear in stock thank you
At this stage, I don't have an ETA on when it's going to be back in stock but if you want to be notified I can add your email onto the list of when it will be available.
Will it show up in a random drug test? I get them frequently at work and am a bit worried about trying new thing because I have failed before on certain pre workouts. It shows up as clean once sent to the labs but I have a week waiting to see if I have a job or not... thanks nathan
Legally, we aren't allowed to be selling any of the banned ingredients that some of the USA products may have so you shouldn't have any issues with drug tests with this supplement.
How many capsules are taken daily?
It is 1 capsule 3 times a day.
I just want to know this product is natural or steroid
It is a supplement that optimises testosterone naturally so it is not a steroid.
Do you have to cycle of the gear?
No you do not need to cycle Max's The Gear.
If I train in the morning would I just use the one serve or have another serve that night ?
You could take a serving before training and another serving 1-2 hours after training.
Is it safe to take Maxs The Gear and Creobol at the same time?
Yes you can take Max's the Gear together with Max's Creobol.
Could I take this with pre workout?
Yes, you can take The Gear with pre workouts.
Is this effective and safe for women over 40 and what are the benefits to fat loss and lean muscle gain in women please?
Hi Sylvia, Thanks for your enquiry. This is a product that is safe for you to take. As this is a testosterone booster, for women it helps to maintain muscle growth and the functions of the body as opposed to fat loss. If you have any further questions, please feel free to email me. Kind Regards, Rachel Product Disclaimer: The information in this email is for informational purposes only and is not intended as a substitute for advice from your physician or other healthcare professional or any information contained on or in any product label or packaging. You should not use the information in this email for diagnosis or treatment of any health problem or for prescription of any medication or other treatment. You should always speak with your physician or other healthcare professional before taking any medication or nutritional, herbal or homeopathic supplement, before starting any diet or exercise program or before adopting any treatment for a health problem