Maxs T-Dex is an advanced thermogenic, fat burning and energy amplifying formulation designed to get you lean, hard and shredded. As a thermogenic, T-Dex raises body temperature by promoting lipolysis or fat breakdown. This increase the use of fats a fuel source and stokes your metabolism fires throughout the day, boosting energy levels and eliminating fat stores. T-Dex also contains an energy amplifying matrix which will keep you focused and mentally alert throughout the day and ensures you're using the extra energy wisely. Finally, to help you achieve the leanest figure possible, each serve of T-Dex comes with diuretic ingredients to remove bloat and excess water weight, giving you that tight and toned feeling. Ramp up your metabolism and fat burning all day long with Max's T-Dex.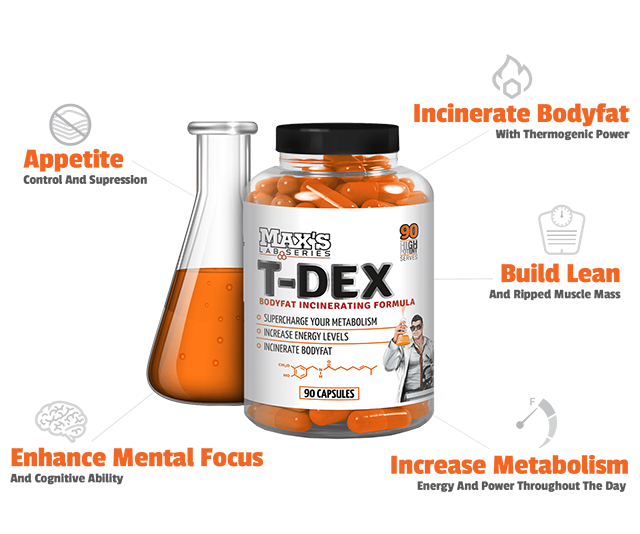 Product Highlights
Supercharge your Metabolism to help Burn through Stubborn Fat Stores
Increase Energy Levels, Mental Focus & Highlight Lean Muscle
Support Alertness & Intensity throughout the day and during workouts
Keep Hunger Pangs & Appetite at Bay
Build a Lean, Hard & Muscular Physique
Fat Burning Formula with Energy & Focus Complex
Thermogenic agents promote Lipolysis – the breakdown of stored fat for energy. They also stimulate your central nervous system to increase overall metabolism, further increasing energy while boosting focus and drive. Max's Lab Series T-Dex is a powerful fat burning formula that will keep your metabolism high all day. The addition of a strong cognition extender will also help to keep you sharp and mentally alert.
Thermogenic supplements are one of the most common types of weight-loss supplements. They increase the metabolism for a number of hours after taking them, causing the body to burn more calories from fat. The following are the ingredients in T-Dex that work synergistically to create this effect.
The Science Behind Max's T-Dex
Fat Incineration Complex
L-Carnitine 60mg L-Carnitine is a key transport agent that shuttles circulating fat from your blood stream into the cells where it can be burned up for energy.
White Willow Bark Extract (25% Salicin, Salix alba) 50mg - Salicin is an anti-inflammatory compound that activates enzymes your body associates with calorie restriction to increase the effectiveness of fat burning nutrients.
Ginger Root Powder (Zingiber officinale) 50mg - Ginger Root helps inhibit appetite and improve digestion.
Cayenne Pepper Powder (Fruit Capsicum annuum) 30mg - Cayenne Pepper is a strong thermogenic stimulator that increases fat burning and boosts energy.
Dandelion Root PE 4:1 (Taraxacum officinale) 20mg - Dandelion root is a well-regarded detox nutrient. It works by helping your body shed excess fluid which will help flush toxins from your system.
Raspberry Ketones (Rubus ideus) 15mg - Raspberry Ketones increase your body's levels of a hormone called adiponectin that helps regulate your fat metabolism
Energy Amplifying Complex
Caffeine Anhydrous 325mg – Caffeine has a synergistic effect with many other compounds to stimulate fat burning and boost energy and endurance. It is also a strong appetite regulator and can boost mental alertness and focus.
Niacin 20mg - Vitamin B3 (Niacin) is an important Co-Factor in the regulation of Insulin sensitivity and the conversion of fat to energy.
Tyramine 15mg - Tyramine is an amino acid that stimulates increased adrenalin secretion to boost energy and accelerate your metabolism.
Kelp Powder (Whole Plant, Ascophyllum nodous) 10mg - Kelp powder is a natural source of Iodine that helps support optimum Thyroid function and keep your metabolism in balance.
Focus & Intensity Complex
N-Acetyl L-Tyrosine 75mg - NALT is an amino acid that has a very positive effect on cognitive function. It helps regulate Adrenal hormones (norepinephrine, epinephrine and dopamine) to enhance mood and is also a great at reducing the negative effects of stress on your body.
Beta Phenylethylamine 50mg - BPEA is another amino acid that improves cognition, mood and your sense of well-being. It naturally boosts and maintains higher dopamine levels to keep you positive even while dieting.
Maxs T-Dex
Serving Size
Servings Per Container
Nutritional Info
Per Serve
Fat Incineration Complex
L-Carnitine 60mg, White Willow Bark Extract (25% Salicin, Salix alba) 50mg, Ginger Root Powder (Zingiber officinale) 50mg, Cayenne Pepper Powder (Fruit, Capsicum annuum) 30mg, Dandelion Root PE 4:1 (Taraxacum officinale) 20mg, Raspberry Ketones (Rubus idaeus) 15mg
Energy Amplifying Complex
Caffeine Anhydrous 325mg, Niacin 20mg, Tyramine 15mg, Kelp Powder (Whole Plant, Ascophyllum nodosum) 10mg
Focus & Intensity Complex
N-Acetyl L-Tyrosine 75mg, Beta Phenylethylamine 50mg.
Magnesium Stearate, Di-Calcium Phosphate, Gelatine
Take 1 serving (1 Capsule) per day with meals to maximise fat burning. Do NOT consume on an empty stomach.
Keep in cool dry place out of direct sunlight. Store below 30°C.
This product is not a sole source of nutrition and should be used in conjunction with an appropriate physical training or exercise programme. Not suitable for children under 15 years of age or pregnant women. Should only be used under medical or dietetic supervision.
General Product Warning
Users should seek medical advice prior to beginning any supplementation program. This especially applies to individuals taking prescription medication or those with pre-existing medical conditions. Always read the label prior to consuming any supplement, always follow the manufacturer's directions & never exceed the recommended dose. In the event of experiencing any unwanted effects discontinue use immediately & seek medical advice if symptoms persist. Keep out of reach of children.
Copyright
Copyright MrSupplement.com.au Pty Ltd 2010-2018. This website, and the images, text and tables on it are subject to copyright under the Australian Copyright Act 1968 (Cth), as well as under the copyright law of other countries by virtue of worldwide treaties, belonging to MrSupplement.com.au Pty Limited and to its suppliers & or product manufacturers. Reasonable portions of this website may be printed out solely insofar as is necessary to order products from the MrSupplement.com.au web site. Any other reproduction or communication in whole or in part is unauthorised and may result in legal proceedings being taken to protect the intellectual property rights of MrSupplement.com.au Pty Limited and/or suppliers & product manufacturers.
Maxs T-Dex Information
Ask a question about
Maxs T-Dex
should I take this fat burner on rest days
You can use it for energy purposes & to boost your metabolism but it is recommended to take it no more than 4 times a week.
Can I take this while I'm also taking creatine daily?
Yes you can take the T-Dex along with the creatine.
When and how is it best to take this product?
Maxs T-Dex is best taken with a meal in the morning. Because it has caffeine in it and a fat burner it is recommended to be taken earlier on the day.
With this promo price ($49.95), does it contain 60 or 90 capsules? Thank you.
60 capsules
I am overweight and doing my best to get in shape, I currently run in the morning and do mixed exercises at night. Will this product assist me?
Maxs T-Dex does contain appetite suppressants and carb blockers to help you suppress appetite as well as lose weight. It can help support your weight loss journey.
Is it suitable for women? If not which is the most suitable one to your knowledge? Cheers
Yes, Maxs T-Dex is suitable for both men & women.
is there a recommenced time to wait between finishing 1 bottle and starting a new one? or can i keep taking my one cap a day?
Due to the fact that most fat burners contain stimulants, this makes it a good idea to cycle them over time because overtime your body will adapt to the energy-boosting effects of stimulants, making them less effective. Just as you should be taking a break from your calorie-restricted diet in order to prevent a metabolic slow down, you should use this time to take a break from your fat burners, so I would suggest about a week or two before starting a new bottle.
How much should you take each day
Take 1 serving (1 Capsule) per day with meals to maximise fat burning. Do NOT consume on an empty stomach.
Is this a good product to use as a pre workout boost?
Yes, Maxs T-Dex may be used successfully as a pre workout supplement aiding energy & focus. We recommend taking your serving 30 minuts pre workout.
Hello When it says to take with food, can i literally have a couple mouthfuls of my meal and then take a serving of this?
Yes, as long as you have had something to eat before taking the serving.