Maxs SuperShred Low Carb Cookie Review
Maxs are possibly Australia's most successful protein specialists. They are known best for making delicious high quality protein powders, and of course their muscle-bound mascot. After a recent rebranding, Maxs have released a brand new protein cookie called SuperShred Low Carb Cookie. Fans of Maxs would already be aware of Maxs Muscle Meal Cookies, which are designed for bulking. However, these new Super Shred Cookies are for just the opposite – getting ripped.
Maxs Super Shred Low Carb Cookies Highlights
Packed full of protein and fat burning ingredients
Ideal for use as a meal replacement or after a workout
Fantastic taste
Maxs Super Shred Low Carb Cookies Ingredients and Dosage
Super Shred Cookies contain a blend of four quality protein sources – whey protein concentrate, soy protein isolate, whey protein isolate, and calcium caseinate. Other notable active ingredients include:
Each 75 g cookie provides 306 calories, 25 g protein, 16.2 g fat, 14 g carbs, and 5.3 g fibre.
Maxs Super Shred Low Carb Cookies Effectiveness and Pros
Despite the Super Shred name, these cookies are actually quite flexible and can be used by a variety of people. A cookie after a workout or as a snack during the day can provide a delicious way to help build lean muscle. This is particularly true if you are looking for a leaner alternative to the popular high calorie Maxs Muscle Meal Cookie.
For those looking to burn fat, Super Shred Cookies make a suitable meal or snack replacement that provides a sensible number of calories and enough protein to help maintain muscle mass. This protein, together with the 5 g of dietary fibre, also goes a long way to help you feeling fuller for longer. In addition, the added fat metabolisers, carb blockers, and thermogenics are an extra bonus to help drop fat.
Maxs Super Shred Low Carb Cookies Cons & Disadvantages
Super Shred Cookies are higher in fat, carbs, and calories than the typical fat loss bar or cookie. This is because Super Shred Cookies are designed to be a gentle fat loss aid without being too extreme, or to the detriment of your gym performance. Although this ma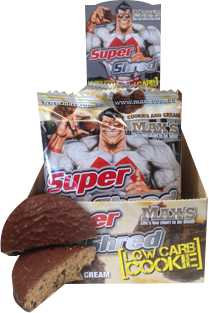 y disappoint some, many may find this a welcome change to help improve diet compliance. Regardless, if you follow the directions outlined by Maxs, that is, to replace one meal a day with the cookie, you should see results.
Although the cookie is designed to be a meal replacement, it is unusual to see that it does not actually contain a vitamin and mineral blend. This is particularly unusual for Maxs as all their protein powders contain this addition.
Maxs Super Shred Low Carb Cookies Taste & Flavour
Anyone familiar with Maxs products would be well aware of their excellent flavouring technology. Super Shred Cookies are no exception. Much like Muscle Meal Cookies, if no one told you, you can barely tell these are actually protein cookies. Although they are noticeably less sweet than Muscle Meal Cookies, they are still packed full of flavour.
The texture is also enjoyable. Gone are the days of rubbery or chalky textures associated with protein snacks. In short, these guys certainly know how to make a protein cookie, and Super Shred Cookies can be recommended on taste alone.
Maxs Super Shred Low Carb Cookies Verdict
Maxs SuperShred Low Carb Cookie are a delicious way to help you build lean muscle or burn fat. Out of all the existing protein cookies around, these definitely rank among the best in regard to flavour. Although they may not be the lowest calorie option around, they are still effective as a fat loss supplement if used correctly.