Maxs Nitetime Protein Review
In business for fifteen years, Max's have grown to become one of the most popular Australian sports nutrition brands. Keeping in step with the times is vital for a company that wants to maintain its competitive edge, and that is exactly what Max's have done in reformulating and revamping their range.

There is a lot of evidence to support the use of a night time protein. Slow release proteins have been shown to maintain a positive nitrogen balance and supply amino acids to the body during sleep, or between meals. This has been shown to prevent muscle breakdown, and to create an anabolic environment where the body can lay down new muscle.

Nitetime Protein Ingredients
Despite Max's range being reformulated, Nitetime protein was left almost completely unchanged, implying that Max's feel they're are onto a great product. This is something we agree with.
Max's Nitetime consists of sustained release micellar casein and calcium caseinate blended with faster acting whey protein concentrate. This low-fat, low-carb formula is one of the purest sources of protein on the market, clocking in at over 80%, and will supply muscle building amino acids to the body for up to seven hours. The relatively simple Nitetime protein also contains Scullcap and Chamomile, to assist with sleep, along with an array of free amino acids, vitamins and minerals that support muscle growth.
Nitetime Protein Pros & Effectiveness
Max's have formulated a simple but very effective protein. The casein is the key to the success of this product in delivering amino acids for the duration of sleep. When casein meets stomach acid, it clumps into an insoluble mass that then digests slowly over a number of hours. This is a property unique to casein, and you would be very unlikely to find a night protein that is not casein based.
The addition of faster digesting whey helps to kickstart the muscle building process, which happens while you sleep. Casein is known as the "anti-catabolic protein", but the addition of whey goes one better and pushes this product into the anabolic realm.
Chamomile and Scullcap are gentle and effective herbs that are well known for their ability to promote healthy sleep, without side effects. Sleep is when recovery and muscle building takes place, so it is of vital importance that anyone looking to make muscle gains gets the rest they need.
Nitetime Protein Cons
Max's Nitetime is one of the best night proteins on the market because it is designed and formulated with a single use in mind – promoting growth during sleep. Casein is widely known as a night protein, but it is commonly used at other times of the day to supply the body with amino acids over an extended period of time. While Nitetime, with the addition of sleep promoting herbs, excels at promoting sleep, this specialisation means it is less versatile than some other night proteins on the market.
Max's Nitetime is a premium product, and the price reflects this. However, in terms of protein quality, content, and formulation, particularly the inclusion of the night time herbs, paying slightly more for this product does represent good value.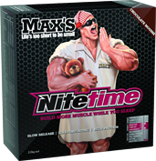 Nitetime Protein Taste & Mixability
Casein based proteins are generally very palatable, and Max's Nitetime is one of the better tasting offerings on the market. Casein proteins can be very thick and some people can find them difficult to drink due to the texture. Thanks to the addition of whey and caseinate, Max's Nitetime is a little bit thinner than some of the other caseins on the market, and mixes relatively well. Max's Nitetime is currently available in vanilla and chocolate flavours, both of which have received good reports.
Nitetime Protein Verdict
Max's Nitetime is a well formulated, high quality, premium product. If you are looking for an effective night time protein with all the nutrients you could possibly ask for, and the best ingredients, this is an excellent choice.