Max's IntraBoost Review
Max's are one of the oldest, most well known and trusted supplements companies in Australia with popular products such as Supersize, Superwhey and Super Shred just to name a few. Max's latest development is their Lab Series; an entire new range of supplements to join their current line. One of these products will be their intra workout supplement Max's Lab Series IntraBoost.

Max's IntraBoost Highlights
2:1:1 ratio of Branched Chain Amino Acids for muscle recovery and muscle building
Ideal blend of ingredients for mental focus and concentration
Electrolytes for hydration and to maintain ideal muscle contraction
Help sustain high intensity exercise performance
Max's IntraBoost Ingredients & Dosage
Max's IntraBoost contains three matrices of ingredients in a proprietary blend of 12g, which includes flavours, colours and other ingredients for taste and mixability. In terms of active ingredients, IntraBoost contains:
Max's Lab Series Recovery Complex – Micronised BCAA Complex (2:1:1), HICA, Instantized Glutamine Peptide, L-Glutamine, L-Taurine, Magnesium Glycinate Glutamine Chelate, Glucose Polymers
Max's Lab Series Energy Complex – Beta Alanine (as Carnosyn), Caffeine Anhydrous, L-Tyrosine, Vinpocetine.
Max's Lab Series Electrolyte Complex – Calcium Phosphate Dibasic, Magnesium Gluconate, Sodium Chloride, Potassium Bicarbonate.
Each tub of Max's IntraBoost measures 540g and contains 45 serves of 12g each.
Max's Intraboost Pros & Effectiveness
Intra workout supplements are tremendously useful for more experienced trainers and trainers who find themselves very sore after workouts, even with adequate protein intake. With the right type of intra workout, you can also enhance your performance during the latter stages of the workout. Max's Lab Series contains some of the absolute essentials of any good intra workout including branched chain amino acids to slow down muscle breakdown, caffeine for improved focus, attention and fatigue reduction, glutamine for immune system support and muscle protein synthesis as well as a range of electrolytes for hydration and proper muscle function.
Other ingredients such as taurine, tyrosine and vinpocetine also aid in workout performance by acting as nootropics or mental performance support compounds and work well together with caffeine to maintain high intensity training. Max's IntraBoost does positively influence workout motivation and concentration, especially for longer sessions, but doesn't provide any other acute effects. Rather, you'll notice that recovery times are shortened helping you to get back to the gym more often.
Max's Intraboost Cons
Two of the ingredients used in IntraBoost; beta-alanine and HICA are more effective when taken long term over a couple of weeks, but are both very common ingredients used in pre and intra workout supplements. Beta alanine is a well studied ergogenic ingredient which helps to buffer against acidosis during high intensity exercise, while HICA is thought to assist with muscle protein synthesis. Both ingredients do have research supporting its role as sports supplements, but requires between 4-10 weeks of continuous supplementation for the best effects.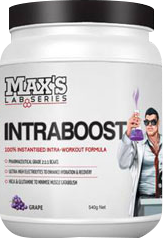 Max's Intraboost Flavours, Taste & Mixability
The new Max's IntraBoost comes in two flavours; Green Apple and Grape. Both flavours are well-balanced without being too sweet and easy on the palate without too much tang. Tasting like a sugar-free cordial, with a slight after taste. It has clearly been developed for the Australian pallet and we find it to be better tasting than American intra workouts. The powder mixes extremely easily with shaking or just with a stir and without frothing. Max's has always done well with their supplement flavours and IntraBoost is no different, providing a tasty wake up call during your workouts.
Max's Intraboost Verdict
Max's IntraBoost is a fine intra workout supplement which provides all the necessary ingredients to support performance during a workout and also recovery post workout. It's not the most innovative of supplements, but innovation in the intra workout category is extremely hard as research into this area isn't exactly booming. Overall though, Max's IntraBoost provides a good alternative to other intra workout supplements and will help the company gain some new fans.