Maxine's XT Burn Review

As one of the premier female oriented brands in Australia, Maxine's has forged a small but successful line of products over the years. Recently though, they've decided to expand their line with the introduction of three other supplements, one of which is the fat burner Maxine's XT Burn Thermogenic Fat Burning Energy Drink.
Maxine's XT Burn Highlights
Comprehensive fat burning and focus and energy support complex
Low stim, so perfectly combines with Maxine's Burn protein powder to offer effective weight loss support
Support fat loss and training capacity
Gluten FREE
Maxine's XT Burn Review & Ingredients
Maxine's new XT Burn is a comprehensive fat burning and energy boosting supplement that provides transparently dosed ingredients in two complexes. These include:
Fat Burning Complex – Acetyl L-Carnitine (1600mg), CLA (conjugated linoleic acid) (900mg), Garcinia Cambogia Extract (400mg), African Mango Seed (200mg), Raspberry Ketones (200mg), Green Tea Leaf Extract (200mg) and Green Coffee Bean Extract (150mg)
Focus & Energy Complex: L-Taurine (300mg), D-Glucuronolactone (300mg), Dandelion Root (200mg), Guarana Seed Extract (200mg) and Caffeine Anhydrous (50mg)
All other ingredients include flavouring agents and other ingredients for shelf life and mixability. Each 180g tub comes with 30 serves of 6g, which contains 0 calories.
Maxine's XT Burn Benefits, Pros & Effectiveness
Maxine's XT Burn is a very solid formula including some of the most popular and topical fat burning ingredients around. It packs in a range of metabolism boosting ingredients including acetyl-l-carnitine, CLA and green tea and green coffee extracts. In addition, they've utilised the popular combo of taurine, glucuronolactone, guarana and caffeine to help support and boost energy levels. Energy levels are important, especially when you're trying to lose weight and on a low calorie diet. Maintaining high energy levels are not only going to help you train better and more effectively, it's going to help you stay on top of cravings and your diet.
XT Burn is also low in caffeine, which combines perfectly with Maxine's Burn Protein, so you can take multiple serves a day without having to worry about stimulant overload. The supplement is a good pick me up anytime of day, especially before your training sessions. Expect a boost in energy and a little bit of heat thanks to the metabolism boosting ingredients.
Maxine's XT Burn Negatives & Cons
XT Burn packs quite a lot of ingredients in a small serve, which has left some ingredients slightly underdosed. This isn't an issue as you can easily have 2 or even 3 serves throughout the day, which will offer a better hit of those fat metabolism and energy boosting ingredients. This will reduce the amount of serves you get from the tub, which will increase the cost of the product, but as you're only using it for a short period of time, this isn't such a big issue.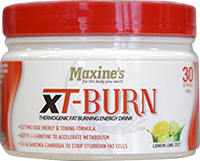 Maxine's XT Burn Flavours, Taste & Mixability
The new thermogenic from Maxine's will be available in two distinct flavours including Lemon Lime and Strawberry Kiwi. Both flavours are fruity, sweet and tangy which further adds to their pick me up nature. It's a tasty formulation which mixes easily with no clumping, little residue and offers a refreshing hit of flavour. Strawberry Kiwi is the quick favourite, but they both taste great for a fat burner.
Maxine's XT Burn Verdict
Maxine's XT Burn is a great entry level fat burner and thermogenic drink and perfect for first time users of this category. However, even experienced trainers can make good use of this supplement by having a couple of extra serves. It's the perfect accompaniment to the Maxine's Burn Protein Shake and Maxine's Night Time Casein. While the supplement is a little milder than most other fat burners on the market, it's still offers a decent metabolism and energy kick which will help you to train harder and lose those stubborn kilos.