Maxine's Recover Review
Maxine's is known for some excellent female orientated supplements. But looking beyond the marketing, Maxine's supplements are actually ideal for any trainer thanks to some excellent formulas. One of their newest supplements to be introduced will be an intra/post workout product known as Maxine's Recover.

Maxine's Recover Highlights

Branched Chain Amino Acids (BCAAs) for recovery and muscle building
LipoPhase matrix to help supercharge fat burning, metabolism and weight loss
Added creatine, glutamine and taurine
Help speed up recovery and decrease length of muscle soreness
Maxine's Recover Review & Ingredients
The new Maxine's Recover isn't a complicated formula, but it does provide a range of excellent ingredients to help support recovery and fat loss at the same time. The ingredients include:
Branched Chain Amino Acids (BCAAs) – Leucine, isoleucine, valine
LipoPhase Matrix – Acetyl L-carnitine, choline, inositol, garcinia, phaseolamin and green tea.
Amino Acids – L-Glutamine and L-taurine
Creatine Monohydrate
In addition, each serve also contains some magnesium, vitamin C and vitamin E. Each 180g tub contains 30 servings of 6g each.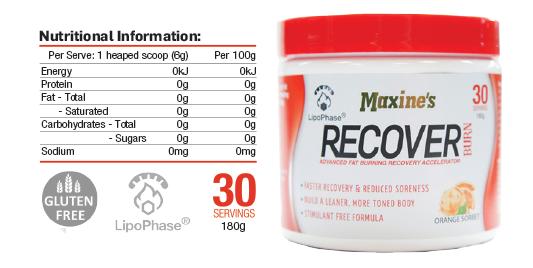 Maxine's Recover Benefits, Pros & Effectiveness
Besides a fat loss protein powder, the Maxine's range hasn't really had a stand alone supplement that was designed for recovery, so the Recover is definitely a good addition. The BCAAs will help decrease muscle breakdown, whilst also kick starting protein synthesis, which helps to minimise recovery time and get you back in the gym faster. The addition of the LipoPhase matrix is also excellent, providing a bunch of ingredients to help support fat burning, fat metabolism and block carbs. Add to that some creatine, which helps to boost performance and more lean muscle mass and you have a pretty powerful supplement to help you repair and re-energise.
Maxine's Recover Negatives & Cons
As negatives go, there aren't too many. The dosing could have been more transparent so trainers would be able to know just how much of each ingredient they're consuming. This is especially helpful when you're taking a stack of fat loss/weight loss supplements, so you can avoid over-consuming on any one ingredient. The glutamine and taurine, while good in and of itself, will most likely be too underdosed to offer any significant benefits. The same story stands for creatine. While it's one of the best supplements around, unless you're consuming Maxine's Recover everyday, you might not experience the full benefits of the creatine.
Maxine's Recover Flavours, Taste & Mixability
Maxine's Recover is available in two flavours including a Natural flavour and Orange Sorbet. We do think that more flavours will be added quickly once it is released though. Maxine's most recent supplements including their fat burner XT Burn have been extremely easy to mix. The new Maxine's Recover is also easy to mix and while it is easy to drink, it isn't the tastiest recovery supplement. It does go down easily, but probably not something you crave. Overall though, it's a decent drink that should please most fans.
Maxine's Recover Verdict
Maxine's Recover is a decent and quite unique intra workout recovery supplement and fat burner rolled into one. For this, kudos should be given to the company who are ready to innovate and provide their customers with a very well rounded and comprehensive approach to fat burning. Stacked with their other products, the Recover will help you recuperate faster and get back to the gym sooner. While the dosing could be improved and made transparent and some ingredients left out, it's a tasty and effective drink in general and definitely a good addition to your supplement routine.