Maxine's is one of most popular female orientated supplement brands on the market and they're constantly reinventing themselves by adding new supplements to their range. The last two years in particular has seen plenty of activity in terms of new products and new promotions such as the rising popularity of the Maxine's Challenge. One of their most exciting new items to pop up in recent times is their all natural protein Maxine's Pure.
Maxine's Pure Highlights
Low in carbs, low in fat, high in protein
Dairy free, soy free, gluten free and lactose free
Added plant based fat burners
Naturally sweetened with Stevia
Vegan and Paleo friendly
Maxine's Pure Review & Ingredients
Maxine's Pure is an all natural plant based protein which contains also contains a unique blend of grains and plant based fat burning ingredients. Some of the key highlights include:
Plant based protein (pea and rice)
Ancient Grains (amaranth, buckwheat and quinoa)
Plant based fat burning ingredients (guarana, cayenne pepper extract)
The formula is naturally sweetened with stevia and contains no other artificial sweeteners. In addition, the protein is gluten free, lactose free, dairy free and soy free. Each 900g packet of Maxine's Pure comes with 30 serves of 30g, with roughly 24g of protein per serve.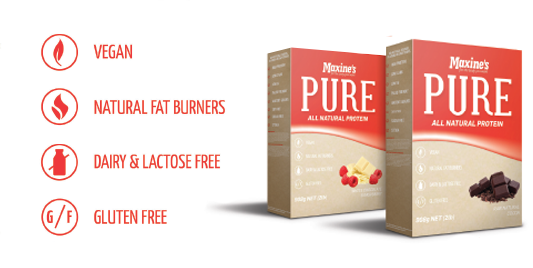 Maxine's Pure Benefits, Pros & Effectiveness
Maxine's Pure is a great addition to their current range. As a protein powder, it still provides plenty of protein per serve and is still extremely bioavailable thanks to excellent processing methods. It also provides a strong blend of all natural plant based fat burners, which will help to support fat loss and a leaner body composition along with the protein. While natural proteins aren't for everywhere, it's great to see Maxine's taking note of the increasing number of trainers concerned about what they put into their bodies and also the amount of trainers with certain intolerances and allergies. Maxine's Pure is an ideal hypoallergenic product ideal for those who have dairy and soy allergies along with gluten and lactose intolerance. It's a well made protein that will help you boost your protein intake to help support recovery and building lean muscle, while the fat burners will help you tone up and reduce body fat.
Maxine's Pure Negatives & Cons
There aren't a whole lot of negatives with Maxine's latest product. As with most fat loss proteins, the dose of fat burning ingredients isn't super high, but taking 2-3 serves a day can definitely get the levels up to a decent level. The protein is a little bit more grainy than the regular Maxine's Burn, but is still quite tasty.
Maxine's Pure Flavours, Taste & Mixability
Maxine's Pure currently only comes in 2 flavours; White Chocolate Raspberry and Raw Natural Cocoa. Both are semi-sweet and while it does mix well, without any significant clumps, there is a bit of grittiness to the shake simply to the ingredients. However as mentioned above, it doesn't really detract from the taste too much. As natural proteins go, it's a solid competitor.
Maxine's Pure Verdict
The new Pure from Maxine's is an extremely well thought out and formulated natural protein that is suitable for a wide variety of trainers. With natural plant based fat burners, it's a great supplement for those wanting to boost their protein intake whilst also helping burn fat. To get the most out of the product, it's best to have two or more serves and mixing it with dairy or a plant based milk will really turn it into a filling meal replacement.