Maxine's Yumm Bars Review
Quick Summary Points
Maxine's Yumm Bars are high protein, low carb bars that are naturally sweetened and gluten free
They can be taken as an on-the-go snack to support weight loss or as a healthy snack before or after a workout
Contains no more than 184 calories per serve
Available in four mouth-watering flavour combinations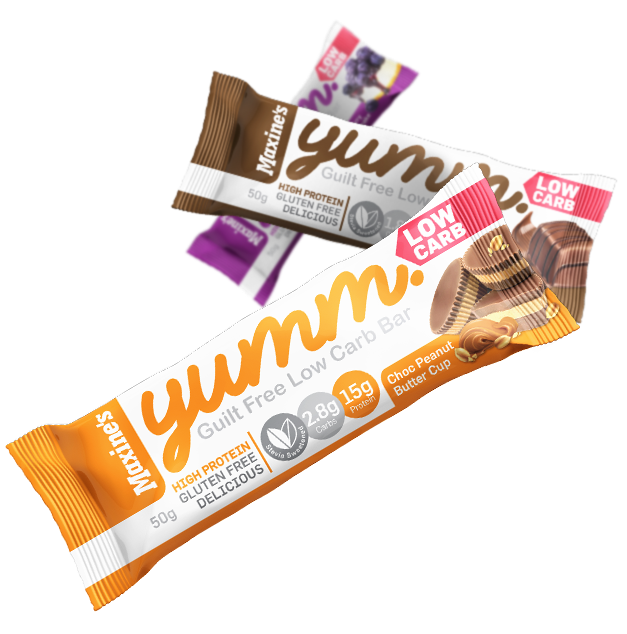 Maxine's is a brand that is popular for their nutritional products like Maxine's Burn Protein and Maxine's Skinny Pills. As one of the best-selling women's supplement brand, Maxine's continue to expand their range by developing Maxine's Yumm Bar a quality snack for anyone looking for a low carb protein bar without feeling guilty.
Maxine's Yumm Bars Highlights
Less than 184 calories
Low in sugar & fat
Delicious range of flavours
Guilt free low carb bars
Gluten free
Maxine's Yumm Bars Ingredients & Dosage
Maxine's Yumm Bars is a simple formula that contains the following ingredients:
Protein Blend (Soy Protein, Whey Protein Isolate, Whey Protein Concentrate, Soy Protein Nuggets, Calcium Caseinate) – 15g*
Low in fat – less than 1 gram per serve
Low in carbs – 2 grams per serve
Naturally sweetened with Stevia
Each bar weights 50g with each standard box containing 12 bars.
*The total amount of protein may vary due to various flavours.
Maxine's Yumm Bars Benefits, Pros & Effectiveness
Maxine's Yumm Bars are made up of a simple combination of ingredients for appetite control and improved metabolism. Each bar contains about 15 grams of protein per bar which is made up of quality sources of protein including whey protein isolate, whey protein concentrate, calcium caseinate. These sources of protein include both fast and slow digesting proteins that can keep you feeling fuller for longer. Additionally, these protein sources can also help provide the essential amino acids required for muscle growth and repair.
The bars are also low in carbs and fat making it an excellent option for those who are watching their weight. Each bar is also naturally sweetened with stevia and is gluten free making it suitable for individuals suffering from gluten intolerance.
Maxine's Yumm Bars Negatives & Cons
Although Maxine's Yumm Bars make a clean option in healthy snacking, the ingredients cannot replace all the nutrients from whole food sources. As the ingredients listed ticks the boxes, there is not much to fault about this protein snack.
Maxine's Yumm Bars Taste & Flavour
Maxine's Yumm Bars are available in a variety of delicious flavours including Blueberry Cheesecake, Choc Peanut Butter Cup, Double Chocolate Fudge and Salted Caramel. The bars have a soft and chewy texture that is not overly sweet. They are also available in convenient 50-gram size.
Maxine's Yumm Bars Verdict
Being gluten free, with low carb and fat, Maxine's Yumm Bars are great tasting bars that are suitable for anyone looking for a healthy snack. Yumm protein bars can also help to reduce the desire for sweets which is ideal for those watching their weight. Overall, Maxine's have made an attainable bar that is filling, tasty and convenient.