Maxine's Challenge Supplements 2018
The Maxine's Challenge is one of Australia's best and most famous transformation changes, requiring women to reach their ideal health and physique goals over 12 weeks. Whether you want to tone or lose weight, the Maxine's Challenge is one of the best programs to help you tackle the task at hand thanks to its plentiful support and detailed training and nutrition plans. Challenge is going to be bigger than ever and is ideal for fist timers and returning challengers to put their tenacity to the test and achieve their best body yet. To get a head start on Maxine's Challenge, here are some crucial details, information and supplements to get you started.
Maxine's Challenge Supplements 2018
Participants in Maxine's 12-week challenge are required to use products from the Maxine's supplement range. If you do not know already Maxine's is one of Australia's leading female supplement brands that carry a huge range of supplements to help women get lean, toned and in shape. Keep reading for more information on Maxine's Challenge supplement stacks we have on offer.
Maxine's Challenge Diet & Nutrition
Diet and nutrition is crucial if you want to succeed in Maxine's 12-week challenge. Participants will be provided with advice on healthy diet as well as nutrition plans specifically designed to help them slim down and tone up during this crucial period. They also take into consideration that gluten intolerance is a common dietary intolerance in many people, so all their nutritional meal plans are all predominantly gluten free. Additionally, there are also vegetarian and vegan meal plans available also.
Maxine's Challenge Supplement Range 2018
Maxine's supplements are nutrition-packed with all the essentials including protein and other snacks to help you curb appetite. Without further ado, let's take a look at this year's Maxine's Challenge supplement range.
Maxine's Challenge Supplement Stack Essentials 2018
Whether you're new to the Maxine's Challenge or a returning participant, you can still benefit from using Maxine's Challenge supplement stack.There are a few stacks available each containing a variety of supplements depending on your goals and training level.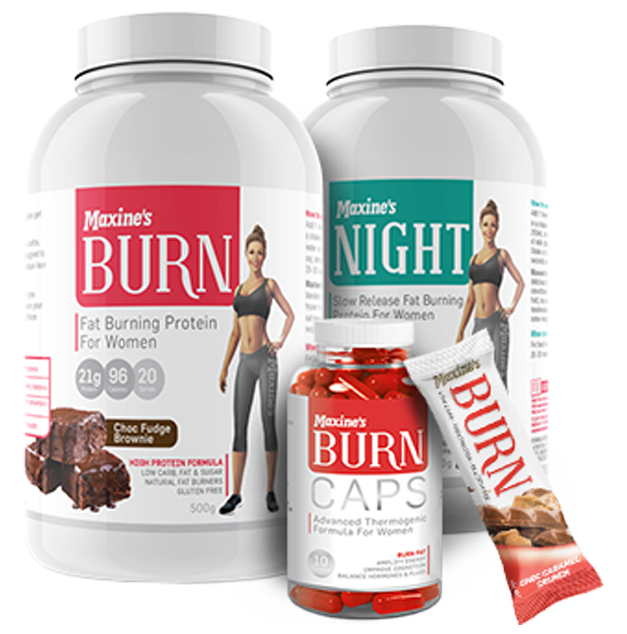 Maxine's Basic Pack (Starter pack for beginners)
1 x 500g Maxine's Burn Protein
1 x 500g Maxine's Night Protein
1 x Maxine's Burn Bar
1 x 10 Maxine's Burn Cap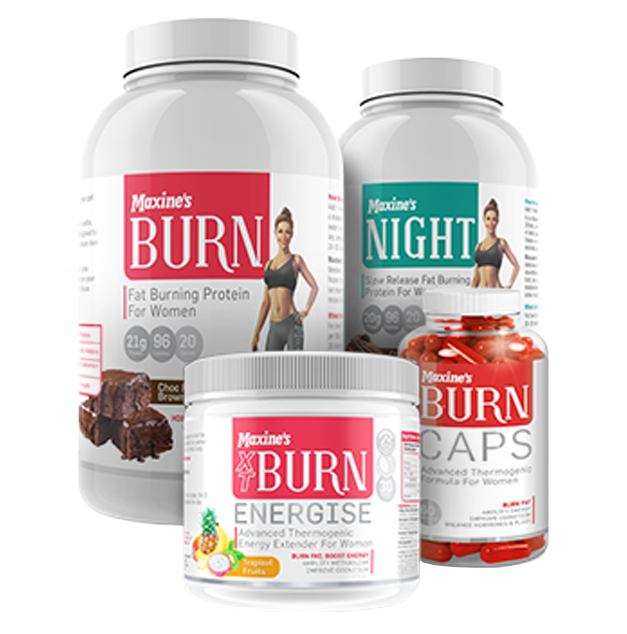 Maxine's Energise Pack (Intermediate/Advanced pack)
1 x 1.25kg Maxine's Burn Protein
1 x 1kg Maxine's Night Protein
1 x 150g Maxine's xT Burn Energise
1 x 60 Maxine's Burn Caps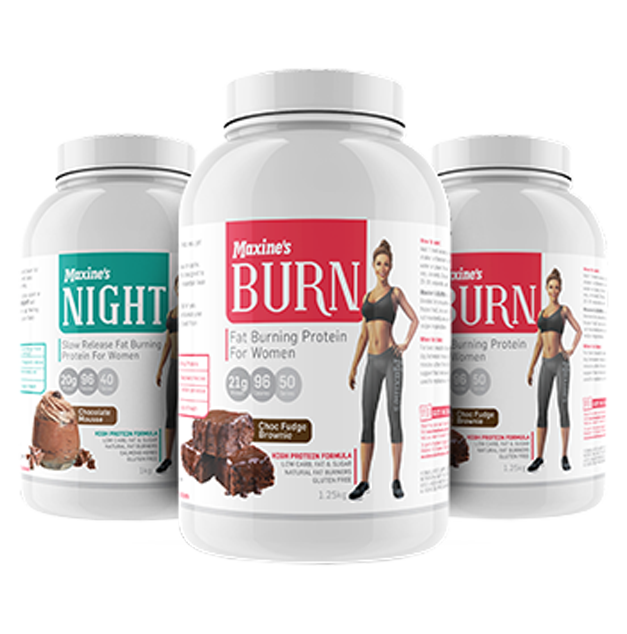 Maxine's Tone & Shape Refill Pack
2 x 1.25kg Maxine's Burn Protein
1 x 1kg Maxine's Night Protein







While Maxine's Shape Up challenge places an emphasis on muscle toning, it places the greatest influence on weight loss, something which is reflective of the goals of many women. Of course, both exercise and a healthy diet are required to achieve weight loss goals in a healthy and sustainable way. The above supplements can work together with diet and exercise to maximise results. For those who want to utilise more supplements, you certainly can. While you can still complete the Challenge without the use of these supplements, you won't be eligible for the prizes.
Maxine's Challenge Review 2018
Each supplement apart of the Maxine's range of products is ideal for participants in the 12-week Maxine's Challenge or for anyone else who is looking to improve their diet, make the most of their workouts and strive toward to a lean and toned body. Although supplements are great sources with your regime, make sure that it is used in conjunction with a healthy and balanced diet together with proper exercise. With solid training and the correct nutrition, you'll build a strong physique like never before. To all women participating, train hard and best of luck!