Mars Protein Powder Review
Quick Summary Points
Mars Protein Powder contains 135 calories, 24 grams of protein, 5.4 grams of Branched Chain Amino Acids (BCAAs), 4 grams of carbs with 2.5 grams of sugar, 2.6 grams of fat (0.9g saturated fats) and 0 grams of trans fats.
Mars Protein Powder can be consumed during the day or after training.
The shake has a distinct Mars bar flavour and a thick consistency just like a milkshake.
Formulated for Mars bar lovers and for those looking for a great-tasting recovery protein.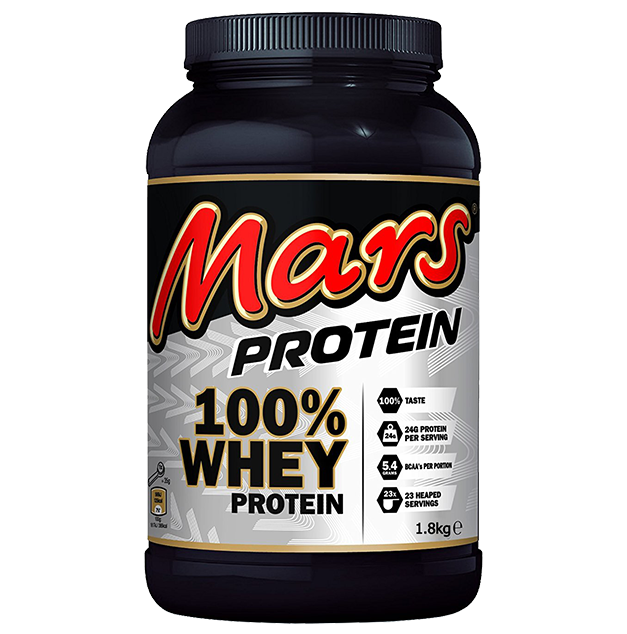 Mars is one of the most iconic confectionery brands in Australia. For the lovers of Mars bar, Mars have released a Mars Bar flavoured protein powder known as Mars Protein Powder. Is it worth the hype? Does it have all the traditional flavours of a Mars Bar? Without further ado, let's review the product.
Mars Protein Powder Highlights
24 grams of Protein per serving
Branched chain amino acids (BCAAs) – 5.4g
Low in calories – 135 kcal
Delicious tasting protein powder
Mars Protein Powder Nutrition
The ingredients in the protein blend is very clear and relies solely on three protein sources (whey protein concentrate, whey protein isolate & hydrolysed whey isolate).
Here is the breakdown of Mars Protein Powder formula:
Serving Size: 2 scoops (35g)
Servings Per Container: 51
Protein – 24g
Total Carbohydrates – 4g (Sugars – 2.5g)
Dietary Fibre – 0g
Fats – 2.6g (Saturated fats – 0.9g)
Trans Fats – 0g
Branched Chain Amino Acids (BCAAs) – 5.4g
Salt – 0.34g
Total Calories – 135kcal
The full ingredients list is as follows:
Protein Blend (83%) (Whey Protein Concentrate (Milk), Whey Protein Isolate (Milk), Hydrolysed Whey Protein Isolate (Milk), Emulsifier (Soya Lecithin)), Sunflower Oil Powder (Milk), Fat-Reduced Cocoa Powder, Flavourings, Barley Malt Extract, Thickeners (Sodium Carboxymethyl Cellulose, Xanthan Gum, Carrageenan), Salt, Sweetener (Sucralose).
Mars Protein Powder Pros & Benefits
For a confectionery company, Mars have put together a decent protein powder that consists of quality protein sources like whey protein concentrate, whey protein isolate and hydrolysed whey isolate. With 24 grams of protein per serve, Mars protein powder provides the essential amino acids your body requires to build lean muscle and sufficient enough to hit your daily protein requirements. The protein is also extremely low in calories and includes 5.4 grams of Branched Chain Amino Acids (BCAAs) to assist muscle building and maintenance.
Compared to other whey proteins on the market, the main stand out point is the taste of the protein. This protein powder blends in well and has a nice thick consistency much like a milkshake, so if that's the type of protein consistency you're after then Mars Protein Powder is the one for you to add to your regime.
Mars Protein Powder Cons
Some great tasting whey protein powders can be a vehicle for sugars, sweeteners or flavourings to make it more palatable and enhance the taste. Thus if you are a trainer looking for an natural or a nutrient dense whey protein that contains more dietary fibre, amino acids, vitamins or digestive enzymes, supporting lean muscle growth & recovery, then this may not be the protein for you.
Mars Protein Powder Taste, Flavour & Mixability
When it comes to taste and flavouring the Mars Protein Powder is very close to the confectionery brand that makes Mars bar. The flavour delivers a smooth caramel taste with a combination of light chocolate flavour. Additionally, the flavours blended together are quite consistent. You will notice more of the caramel flavour compared to chocolate. Through our in-house trials, Mars protein powder does taste better when mixed with milk as opposed to water. As far as mixability goes, the proteins blend well as long as you give it a good shake there should be no excess residue.
Mars Protein Powder Verdict
For lovers of Mars chocolates, Mars Protein Powder may be the one for you. Delivering authentic flavour and a nice blend of whey proteins, it is a shake that you can enjoy during the day and can be used by the all type of trainers or for that matter non-trainers who just want a great tasting protein powder.