Mars Protein Bar Review
Quick Summary Points
Mars Protein Bars are delicious protein bars that contains half the sugar & fat to the conventional Mars Chocolate Bars.
Each protein bar contains only 200 calories, 19 grams of protein, 22 grams of carbohydrates (13g of sugar) and 4.6 grams of fat (2.6g of saturated fat) and 0 grams of trans fat.
Flavour & texture resembles closely to Mars Chocolate Bar.
Can be taken as a post-workout snack or as a low-fat meal replacement snack during the day.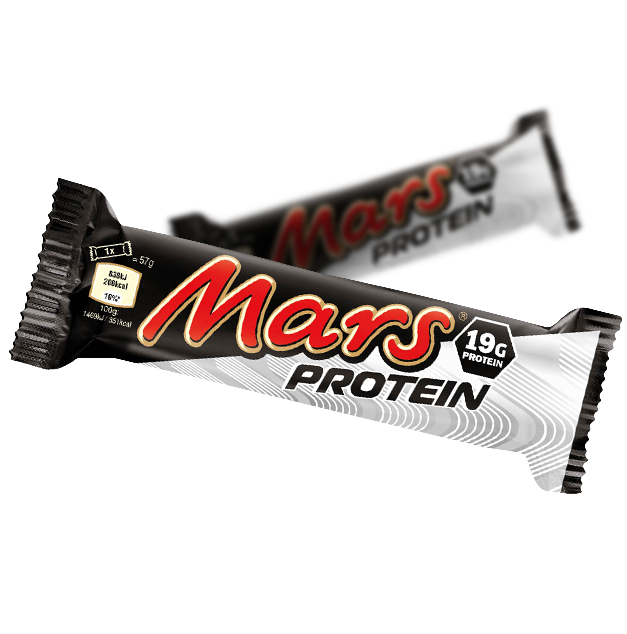 We all have our favourite sweets or sugar cravings, but they can be hard to give up when it comes to your health and fitness goals. Mars Protein Bars are the answer to your prayers. If you're looking for a tasty way to enjoy protein in your diet without adding the extra kilos, be sure to read our review on Mars Protein Bars.
Mars Protein Bar Highlights
Easy & Convenient snack to take on-the-go
Contains 19 grams of protein per bar
Only 200 calories
Delicious tasting solid protein bar
Mars Protein Bar Nutritional Information
Each Mars Protein Bar contains a simple list of ingredients. The ingredients for Mars Protein Bar goes as follows:
Serving size – 1 bar (57g)
Calories – 200kcal
Carbohydrates – 22g (where it contains 13g of sugar)
Fats – 4.6g (where it contains 2.6g of saturated fat)
Trans Fats - 0g
Protein – 19g
Salt – 0.39g
Mars Protein Bar Benefits & Pros
Mars Protein Bars are definitely great additions to the market. Let's take a look at some of the main highlights of this highly anticipated protein bar. Mars Protein Bar contains 19 grams of protein per bar, which is the same protein percentage for most leading protein bars on the market. Certain studies suggest that the higher the protein level, the longer your satiety or fullness lasts. This satiating effect helps prevent overeating and keeping you on track with your diet by helping you avoid traps of unhealthy snacking. This means that Mars Protein Bars can also be used as a low-fat meal replacement snack for those managing their weight. They are not only delicious protein bars but they contain half the sugar and half the fat compared to the conventional Mars Bars.
On top of this, Mars have combined the bars with moderate levels of carbs (mix of slow & fast releasing carbs) together with sufficient protein in order to promote muscle recovery but also fuel performance. Overall, Mars Protein Bars have a simple yet well-rounded macronutrient ingredient list that fits in well with anyone looking for a sweet snack or as a post-workout snack.
Mars Protein Bar Cons & Price
Whilst Mars protein bar have received positive reviews, Mars protein bars have not yet perfected the standard for protein bars in the supplement industry. This is due to the high amount of carbohydrates and sugars. We would classify this protein bar as an energy bar as opposed to traditional protein bars like Quest. In terms of price, the Mars protein bars are available in a box of 18 at $79.95 per box and are not sold individually.
Mars Protein Bar Taste & Flavour
The Mars Protein Bars resemble very closely to the regular Mars Chocolate Bar. Each bar has a decadent delicious caramel and chocolate coating that really brings out the flavours of a true Mars Bar. If you're a real chocolate lover who doesn't want to put on additional kilos, Mars Protein Bars are definitely mouth-watering treats worth snacking.
Mars Protein Bar Calories
As mentioned above, each protein bar contains only 200 calories per 57 gram bar. Many protein bars have a good balance of carbohydrates, protein and fat, making them a nice choice for a snack or post- workout recovery boost. Some protein bars are higher in sugar while others use sugar alcohols. In this case, the calories contained in Mars Protein Bars is specifically designed for snack purposes or on-the-go meal replacement snacks. With only 200 calories and a superior nutritional profile, this is the perfect treat for anyone to enjoy no matter what their goals may be.
Mars Protein Bar Verdict
Mars Protein Bar answers the calls for chocolate lovers who can still enjoy a decadent bar without feeling guilty. Whether you're on your way to the gym or looking for a low-fat meal replacement snack; these protein bars are convenient snacks that ticks all the right boxes. What more can you ask for?