https://www.mrsupplement.com.au/lenny-larry-s-the-boss-cookie?variation=14763
Lenny & Larry's The Boss Cookie (12 x 57g Chocolate Chunk)
Lenny & Larry's
Supplements > Protein Powders > Bars & Snacks
https://cdn.mrsupplement.com.au/resources/imgs/products/lenny-larry-s-the-boss-cookie.1624254117573.png
http://schema.org/NewCondition
http://schema.org/OutOfStock
AUD
https://www.mrsupplement.com.au/lenny-larry-s-the-boss-cookie?variation=14763
49.95
AUD
https://www.mrsupplement.com.au/lenny-larry-s-the-boss-cookie?variation=14764
Lenny & Larry's The Boss Cookie (12 x 57g Peanut Butter Chunk)
Lenny & Larry's
Supplements > Protein Powders > Bars & Snacks
https://cdn.mrsupplement.com.au/resources/imgs/products/lenny-larry-s-the-boss-cookie.1624254117573.png
http://schema.org/NewCondition
http://schema.org/OutOfStock
AUD
https://www.mrsupplement.com.au/lenny-larry-s-the-boss-cookie?variation=14764
49.95
AUD
https://www.mrsupplement.com.au/lenny-larry-s-the-boss-cookie?variation=14765
Lenny & Larry's The Boss Cookie (12 x 57g Triple Chocolate Chunk)
Lenny & Larry's
Supplements > Protein Powders > Bars & Snacks
https://cdn.mrsupplement.com.au/resources/imgs/products/lenny-larry-s-the-boss-cookie.1624254117573.png
http://schema.org/NewCondition
http://schema.org/OutOfStock
AUD
https://www.mrsupplement.com.au/lenny-larry-s-the-boss-cookie?variation=14765
49.95
AUD

The Boss Cookie
High Protein Dairy & Plant-Based Cookie
6g of Prebiotic Fiber
Non-GMO Ingredients
18g of Dairy & Plant-Based Protein
No High Fructose Corn Syrup

(0)
Write a review
Product
Q&A's
Reviews
Add To Cart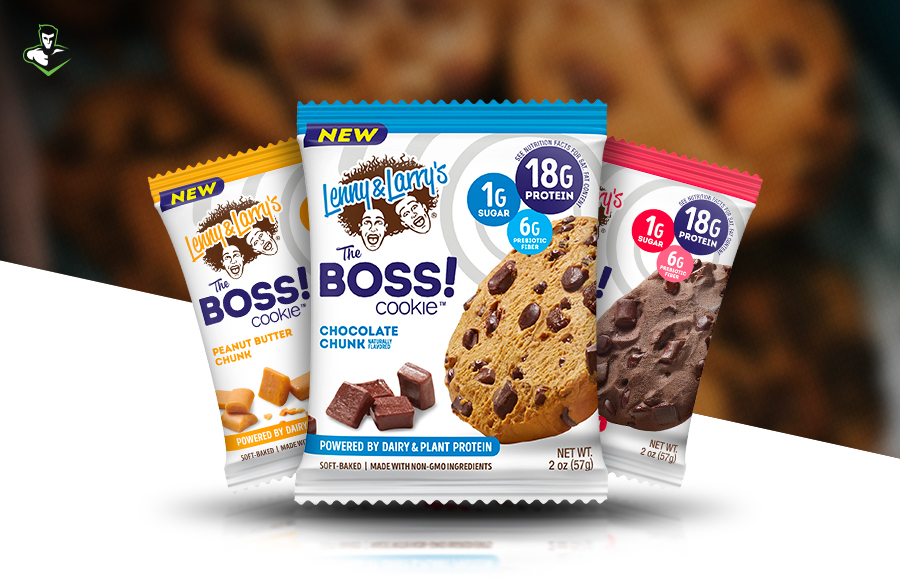 The BOSS! Cookie is a convenient source of dairy and plant-based proteins. Loaded with 18g of protein, but with 1g of sugar, this cookie will show your hunger who's The BOSS!
Chocolate Chunk includes a unique blend of creamy chocolate chips and chunks to give this soft, chewy cookie a rich flavor that is sure to satisfy your sweet tooth. Peanut Butter Chunk has real PB chunks and tastes absolutely delicious & for those seekimg the ultimate chocolate experience then you can't go past the Triple Chocolate Chunk flavour.
The BOSS! cookie is made with non-GMO ingredients and includes 6g of prebiotic fibre to help support gut health.
Q&A's
Ask a question about
Lenny & Larry's The Boss Cookie
Reviews


Based on reviews collected by
&
Write a review

Contact Us