Quick Summary Points

Koala Freak is a strong stimulant pre-workout formulated to boost energy, increase focus, enhance strength, pump and endurance.
Contains 360mg of Caffeine & L-Theanine per serving.
Contains a full pump matrix of almost 8 grams.
Koala Freak is best for trainers who work out early in in the morning or workout for long hours.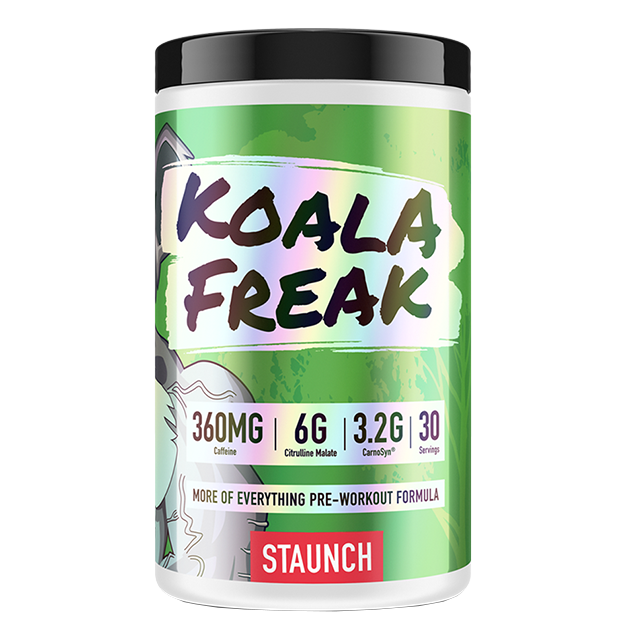 Staunch Nation is a brand created by Calum Von Moger, one of Australia's most popular bodybuilder. Here we will review one of Calum's signature supplements from his range, Koala Freak. Koala Freak is a strong pre-workout that contains a range of stimulants to keep your energy levels high and mentally focussed that will help you get more out of your workout. Without further ado, let's review this highly anticipated pre-workout, Koala Freak.
Koala Freak Highlights

360 mg of Caffeine & L-Theanine per serving
Incredible pump complex
Enhanced strength & endurance
Increased energy
Koala Freak Ingredients & Dosage
Koala Freak is made up of three major complexes. These include a pump complex, freak energy & focus matrix and a strength & performance complex.
Pump Complex
Citrulline Malate (2:1) – 6000mg
Arginine AKG – 750mg
Agmatine Sulfate – 750mg
L-Norvaline – 100mg
Strength & Focus Complex
CarnoSyn Beta Alanine – 3200mg
Betapure Betaine Anhydrous – 2000mg
Peak ATP (Adenosine 5'-Triphosphate disodium) – 450mg
Energy & Focus Complex
Choline Bitartrate – 1000mg
Caffeine Anhydrous – 360mg
L-Theanine – 360mg
Higenamine – 75mg
Hordenine – 50mg
Huperzine A – 300mcg
Koala Freak Benefits, Pros & Effectiveness
As shown above, the ingredients listed in Koala Freak contains a range of potent ingredients that provide users a number of benefits. Each ingredient in each complex are potent ingredients and are all scientifically backed ingredients that help deliver the results you want. Let's take a look at some of the highlights of this pre-workout. One of the most notable part of the product has to be its pump complex. The complex includes 6 grams of Citrulline Malate which is the optimal dose of Citrulline Malate. For most trainers, one of the key areas that trainers look out for is improved pump and Koala Freak not only provides a clinical dose of Citrulline, but it also includes 1500mg of Arginine AKG, 100mg of Agmatine Sulfate and 125mg of L-Norvaline which all contribute to better blood flow to the muscles and pump delivery.
Another major highlight of Staunch's Koala Freak is the stimulants component. The energy and focus matrix contain a whopping 360mg of Caffeine complimented by a 1:1 ratio with L-Theanine. Together, these two stimulants allow you to direct your attention strictly to your workout providing you a major supply of energy without giving you any jitters.
The final component incorporates the strength and focus complex which includes 4000mg of Carnosyn beta alanine for improved endurance and muscle growth. The complex not only contains beta alanine but betaine anhydrous to improve muscle cell hydration for better performance and improve the growth of lean muscles.
Koala Freak Negatives, Cons & Side Effects
Although the ingredients are at optimal dosages, beta alanine has been known to cause itchy and tingly skin, so this is always worth taking note of. With respect to stimulants, some individuals are sensitive to caffeine which may not be suitable for individuals who cannot tolerate caffeine as you may experience energy crashes.
Koala Freak Taste, Flavour & Mixability
Koala Freak comes in three flavours including Blue Raspberry, Peach Mango and Pina Koala. The flavours are all tasty and don't give off a bad aftertaste. Amongst the three flavours one of their most popular flavours has to be Blue Raspberry and Pina Koala. Although flavours may be subject to the individual, you can't go wrong with any of Koala Freak's flavours.
Koala Freak Verdict
All in all, Koala Freak pre-workout is definitely not for the faint hearted. For lovers of stimulants, Staunch's Koala Freak is a great choice. Koala Freak uses cutting-edge ingredients that help to deliver maximum performance for each training session. Koala Freak is a high-stimulant pre-workout that improves pump, increases energy and mental focus to power through your workout. Because of the large dosage of caffeine anhydrous, Koala Freak may not be suitable for everyone, aside from that Koala Freak is one of the highest rated pre-workouts on the market.