Jym Supplement Science is the brand created by the experienced and trusted exercise sports scientist Dr Jim Stoppani. And it's a brand that keeps on gaining traction. With popular supplements already released so far including Pre Jym, Post Jym and Pro Jym, another release is a fat burner titled Shred Jym. Let's take a look and see if it's as good as people make it out to be?
Jym Shred Jym Highlights
Simple 6 ingredient fat burner
Well studied and well dosed ingredients
Support fat and weight loss as well as the negative effects of caloric restriction and dieting
No proprietary blends
Jym Shred Jym Ingredients & Dosage
Jym's Shred Jym is a capsule based supplement which has only a small range of 6 ingredients. These include:
Acetyl L-Carnitine HCl (1.5g)
L-Tyrosine (500mg)
Green Tea Leaf Extract (500mg)
Caffeine Anhydrous (200mg)
Cayenne Pepper Fruit Extract (50mg)
Synephrine (20mg)
Shred Jym is available in a 240 capsule container with 60 servings of 4 capsules. However, you can take up to 2-3 servings per day which reduces the servings to 20-30.
Jym Shred Jym Pros & Effectiveness
Jim Stoppani's Jym supplements have always tended to be well dosed. Let's examine each ingredient to see how he did with dosing his latest fat burner:
Shred Jym uses plenty of ingredients which are already common in fat burners around today. While the majority of the ingredients are well dosed, the supplement is definitely one that is intended to be taken at least twice a day.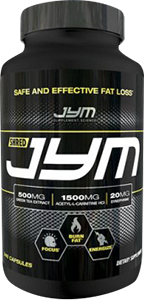 Jym Shred Jym Negative & Cons
As previously mentioned, to make best use of Shred Jym, you need to take at least 1.5-2 serves per day to get truly beneficial effects from all the ingredients. This tends to increase the cost per serve, but still allows you roughly a month's worth; which is ideal for fat burners. Overall Shred Jym has very few negatives other than the fact you might have a hard time trying to wean yourself off caffeine before starting it.
Jym Shred Jym Taste & Mixability
Jym Shred Jym will only be available in capsule form in the foreseeable future.
Jym Shred Jym Verdict
Jym's Shred Jym is another fantastic addition to the growing range of Jym Supplement Science supplements. While the supplement doesn't bring anything new to the market, ultimately it is a well dosed supplement which will help you get the results you want.
1. Wall BT, Stephens FB, Constantin-Teodosiu D, Marimuthu K, Macdonald IA, Greenhaff PL. 'Chronic oral ingestion of L-carnitine and carbohydrate increases muscle carnitine content and alters muscle fuel metabolism during exercise in humans.' J Physiol. 2011 Feb 15;589(Pt 4):963-73
2. Banderet LE, Lieberman HR. Treatment with tyrosine, a neurotransmitter precursor, reduces environmental stress in humans. Brain Res Bull. (1989)
3. Hursel R, et al. The effects of catechin rich teas and caffeine on energy expenditure and fat oxidation: a meta-analysis. Obes Rev. (2011)
4. Lejeune et al (2003), Effect of capsaicin on substrate oxidation and weight maintenance after modest body-weight loss in human subjects. British Journal of Nutrition, 90: 651-659
5. Examine.com, (2014). Synephrine - Scientific Review on Usage, Dosage, Side Effects. [online] Available at: http://examine.com/supplements/Synephrine/ [Accessed 7 May. 2014]
6. Stohs SJ, et al. Effects of p-synephrine alone and in combination with selected bioflavonoids on resting metabolism, blood pressure, heart rate and self-reported mood changes. Int J Med Sci. (2011)