Jym Supplement Science is a company created and founded by Dr Jim Stoppani who holds a PhD in exercise physiology. While many supplements are formulated by people who have little expertise in the area, Jym Supplement Science pride themselves on the fact that their products were created by a person who has a rather impressive resume in the sports nutrition and exercise science fields. We'll be taking a look at Jym's pre workout supplement – Pre Jym.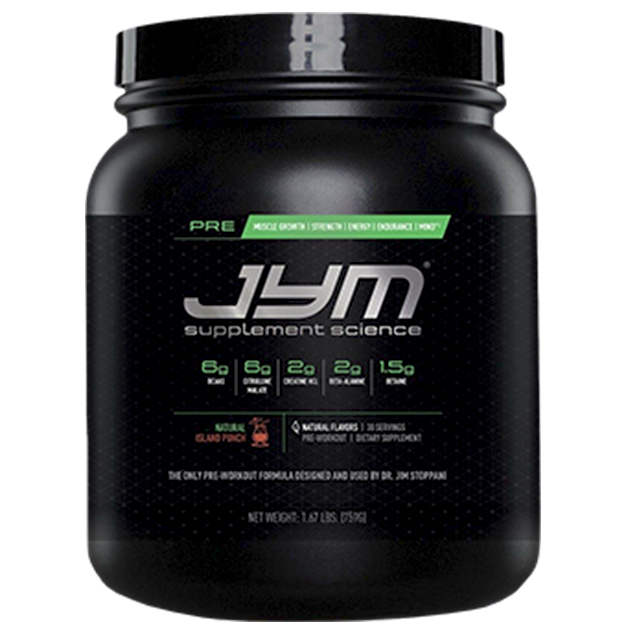 Jym Pre Jym Highlights
Boosts strength, endurance, stamina and power
Reduce fatigue
6g of BCAAs for muscle growth & recovery
Caffeine – 300mg
Researched ingredients and doses
Jym Pre Jym Ingredients & Dosing

Pre Jym is a non-concentrated pre-workout supplement which contains a range of ingredients focusing on all the major factors associated with workout performance. These ingredients include:
6g of BCAAs (Branched Chained Amino Acids)
6g of Citrulline Malate
2g of Creatine HCL
2g of Beta-Alanine
1.5g of Betaine
1g of Taurine
Absorption Enhancer (5mg) - BioPerine
Jym Pre Jym Benefits Pros & Effectiveness

Pre Jym is considered a well-rounded product for the variety of ingredients used that offers multiple benefits. In terms of the effectiveness of the product, every individual look for different things in their pre workouts. This could be the energy, the focus or the buzz of stimulants. What Pre Jym offers you are the bump in energy thanks to stimulants like caffeine and taurine but you won't be bouncing off the wall.
Pre Jym uses ingredients such as beta-alanine and betaine have long been known as endurance enhancers thanks to their ability to act as a buffer as well as improve muscle creatine concentrations and reduce muscular damage. Taurine and N-acetyl cysteine have also been studied for its benefits for aerobic performance, while alpha glycerol phosphoryl choline (Alpha GPC) has been shown in at least one known study to support power performance.
Citrulline is one of the most potent nitric oxide boosters and are becoming the amino acid of choice to increase vascularity over the traditional arginine, thanks to its improved absorption, while beet extract is one of the latest nitric oxide booster in the supplement industry thanks to its high nitrates content, which are well known for its ability to dilate blood vessels and increase blood flow. Branched chain amino acids have also long been known to support muscle protein synthesis and reduce muscle protein breakdown and are commonly used in pre- and intra- workout supplements for their ability to do so. Both tyrosine and caffeine have long been used as mental performance enhancers thanks to their ability to affect neurological attention, focus and ability to deal with stress. In addition, BioPerine is a well known supplement in itself which has been shown to enhance absorption of a large range of ingredients; thereby reducing the need for higher doses. Overall, Pre Jym utilises an excellent range of ingredients in well studied doses.
Jym Pre Jym Negative & Cons
While the majority of ingredients used in Pre Jym are well supported by research, a few ingredient inclusions are questionable. Jim's decision to use creatine HCL over creatine monohydrate seem to be counterintuitive to the idea of evidence based formulation practise due to the lack of studies associated with creatine HCL. Having said that, creatine HCL is far more soluble in solution and tends to work in similar doses to creatine monohydrate (only need about 2-3g); so dosing seems to be adequate. Although Huperzine A has been utilised to help with certain brain cognitive disorders such as Alzheimer's its ergogenic potential is relatively unknown, however as with creatine HCL, the dosing in Pre Jym is more than adequate.
Jym Pre Jym Taste, Flavour & Mixability
Pre Jym is currently available in four different flavours including Black Cherry, Island Punch, Melon and Strawberry Kiwi. The flavours give users a variety of choice and mixes well with little residue or clumping. Jym Supplements were smart in that they used some dextrose to avoid using large amounts of artificial sweeteners, which often leave a poor aftertaste mouth feel. Since it is a pre-workout, 2g of dextrose is not going to have any metabolic affects making the ideal flavour enhancer.
Jym Pre Jym Verdict
Pre Jym is a world class pre-workout that can be recommended to be used for all level of trainers. Jym Supplement Science has created a beast of a product with Pre Jym. Bodybuilding, exercise and sports supplementation is a science and with any science based discipline, the best practice is to use research to guide your choices. Jim Stoppani has used scientific evidence to create one of the best possible pre-workouts around and one that doesn't just jack you up with stimulants. If you want a pre-workout that supports strength, power, muscle growth and mental performance, then Pre Jym is one of the best options around and is definitely one to watch out for.