IsoPure Low Carb Whey by Nature's Best Review
IsoPure are a recent addition into the Australian supplement market, but have already fit right in with a range of products that are pure and free from many of the often unnecessary ingredients that you find in other protein powders. One of their more popular products in their range is the IsoPure Low Carb Whey.

IsoPure Low Carb by Nature's Best Highlights
High in protein, low in carbs and fat
50g whey protein isolate (WPI) per serve
Fortified with essential vitamins and minerals
IsoPure Low Carb by Nature's Best Review & Ingredients
IsoPure's Low Carb whey protein is extremely similar to their Zero Carb whey, but has simply been put under less processing. It's primary protein source is still ion exchange whey protein isolate (WPI). In addition, the Low Carb whey still contains the full spectrum of essential vitamins and minerals as well as taurine and glutamine.
Each 65g serve of Low Carb Whey from IsoPure contains 220 calories with 50g of protein, 1g of fat and 3g of carbs.
IsoPure Low Carb by Nature's Best Pros & Effectiveness
Just as with their Zero Carb Whey, IsoPure have created a protein powder that provides you with plenty of the essential amino acids required for muscle growth. It's great for those people who want to avoid carbs for either dietary or training purposes and is low in lactose and gluten. It's an excellent choice for those who want high quality protein with very little else added.
IsoPure Low Carb by Nature's Best Negatives & Cons
No real negatives regarding the product. While Low Carb Whey is high in protein per serve, the protein percentage isn't the highest at only 77% protein. While there is added vitamins, minerals and some amino acids, it still doesn't quite explain the low protein percentage of a predominantly whey protein isolate product.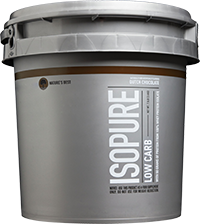 IsoPure Low Carb by Nature's Best Flavours, Taste & Mixability
IsoPure Low Carb comes in a similar variety of sizes and flavours as IsoPure Zero Carb whey, some of which are quite novel and interesting. Eleven flavours in total are available including Alpine Punch, Apple Melon, Banana Cream, Creamy Vanilla, Cookies & Cream, Dutch Chocolate, Toasted Coconut, Mango & Peach, Mint Chocolate Chip, Pineapple Orange & Banana and Strawberries & Cream. It's not a bad tasting protein, but does have a slight protein aftertaste and mouth feel, but nothing too significant. The Low Carb Whey mixes extremely well with negligible clumping or residue.
IsoPure Low Carb by Nature's Best Verdict
IsoPure's Low Carb Whey is a tasty protein powder that provides a clean, source of amino acids necessary for muscle growth and recovery. It's fortified with essential vitamins and minerals to help support optimal health and function, which is ideal for avid trainers as their needs are increased. The serve is quite large, so it might be a good idea to halve the serve to help extend its use.