Isatori Hyper Gro Review
Over the last decade, Isatori has steadily grown their following thanks to an excellent range of product releases over the years. While they're not as popular as some of the bigger companies such as MusclePharm, Optimum Nutrition and Muscletech, many of their products easily match the calibre of supplements from these bigger name brands. One of Isatori's latest supplement releases is a product known as Hyper Gro, a mass gain protein powder featuring added colostrum.

Isatori Hyper Gro Highlights
Lean mass gainer with 50:50 carbs to protein
Added muscle building matrix of creatine, betaine, Bio Gro colostrum and creatine HCL
5 stage sustained release protein matrix
Fast emptying, but slower digesting carbs for a more stable rise in blood sugar but less negative gastro effects
Isatori Hyper Gro Ingredients & Dosage
At its core, the new Isatori mass gainer is a fairly stock standard bulking formula featuring a 50:50 carbohydrate to protein ratio. However it does have some added ingredients which set it apart from most other mass gainers. Hyper Gro contains four key complexes of ingredients including:
5 Phase Instantized Protein Blend – Beef Protein Isolate, Whey Protein Concentrate, Whey Protein Isolate, Micellar Casein, Egg Albumin.
Clean Muscle Infusing Carbohydrate Complex – Highly Branched Starch (Amylopectin), Cluster Dextrin and Potato Starch.
Advanced Muscle Building Complex (5.75g) – Creatine Monohydrate, Bio Gro Colostrum, Betaine and Creatine HCL.
Enzyme Complex – Protease and Lactase.
Other ingredients include natural and artificial flavours, sweeteners and other agents to help support mixability and shelf life. Each recommended large 66g scoop contains 240 calories, 25g of protein, 24g of carbohydrate and 4g of fat.
Isatori Hyper Gro Pros & Effectiveness
Hyper Gro utilises an excellent blend of fast and slower digesting proteins, making it ideal as a post workout and throughout the day protein shake thanks to its sustained release of amino acids to the muscles throughout the day. The carbohydrate complex used is quite fast acting and will certainly help to replenish muscle glycogen at a fast rate. One of the highlights is the use of Cluster Dextrin also known as Highly Branched Cyclic Dextrin. This carbohydrate has shown some significant impacts on supporting exercise performance thanks to its fast gastric emptying ability. That is, it clears your stomach fast, which helps you to avoid symptoms such as bloating, cramps and fullness, which can hinder performance. It also offers a slower and more sustained release of energy.
Added creatine, colostrum and betaine also help to support recovery as well as strength and power whilst you are on the Hyper Gro. The added digestive enzymes will also ensure that the protein powder doesn't cause any uncomfortable digestive issues.
Isatori Hyper Gro Cons
Beef protein isolate has seen a resurgence in the past two years thanks to the rise in trainers following a paleo inspired diet. However, no research has shown it to be more beneficial than standard whey protein for eliciting the same muscle building and muscle recovery effects. There is also still not enough research on the use of Creatine HCL to suggest that it is any more effective than good old creatine monohydrate. While their inclusions don't really make much of an impact, they're also unnecessary and don't do much in terms of enhancing the effectiveness of Hyper Gro as a mass gainer.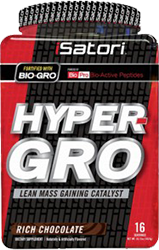 Isatori Hyper Gro Flavours, Taste & Mixability
Isatori's Hyper Gro mass gain protein powder will be initially available in three flavours including Rich Chocolate, Strawberry Swirl and Smooth Vanilla. The shake is semi thick, but still definitely goes down easily and has very little residue when mixed. Isatori have really invested a lot of time perfecting their flavours over the years, and Hyper Gro is definitely showing off this investment. All three flavours are delicious and creamy, with Strawberry Swirl being a particular standout.
Isatori Hyper Gro Verdict
The new mass gainer protein Hyper Gro from Isatori is a good lean mass gainer and provides a good dose of other ingredients to really help support recovery and also improved exercise performance. It's reminiscent of other all-in-one protein powders such as Optimum Nutrition Hydrobuilder, which also contains creatine and betaine as well as the Ultimate Nutrition Iso Mass Xtreme Gainer. It's a good addition to Isatori's growing range and should prove popular with Isatori fans.