Isatori Isa Test DA3 Review
testosterone booster designed to assist in boosting natural levels of testosterone. Products like this can really contain pretty much anything, so it would be interesting to see which way Isatori are going with this one.
Isatori Isa Test DA3 Highlights
Well dosed D-aspartic acid based testosterone booster
Contains a potent blend of herbal ingredients, vitamin D, zinc, and magnesium
No unusual left-field ingredients added just to be different
Isatori Isa Test DA3 Ingredients
The key ingredient in Isa Test DA3 is already hinted at in its name. Each scoop contains a full 3 g serving of D-aspartic acid, which has risen in popularity lately as a natural testosterone booster. In addition is the 900 mg Androgenic Testosterone Support Complex which consists of:
Combined with the above herbal ingredients is also three vitamins and minerals that are integral to optimal testosterone synthesis.
Isatori Isa Test DA3 Effectiveness & Pros
Isatori have created a testosterone booster that is worlds ahead of the more common and traditional tribulus based products. Isa Test DA3 appears to follow all the latest trends in testosterone boosting research and has included some of the most effective herbal ingredients. Unlike some of its competitors, none of the included ingredients are obscure and included purely for the sake of being different.
Besides the commendable list of ingredients, Isa Test DA3 contains the correct dose of D-aspartic acid, which is most commonly used in studies. All in all, the product contains almost 4 g of active ingredients, which is definitely a positive. It is therefore good to see that Isatori have not attempted to include such a dose into capsules, and instead have gone straight for powder. Otherwise users would be stuck with swallowing pill after pill, which would be unpleasant for some.
Isa Test is an effective product that is recommended for senior and more experienced trainers who wish to naturally boost their progress and gains through elevated testosterone levels.
Isatori Isa Test DA3 Cons & Negatives
Isa Test DA3 is a very focused product with all its ingredients geared towards boosting testosterone levels. This is definitely not a bad thing, but it also means that Isa Test DA3 is going into battle against more comprehensive products that also include other components such as oestrogen and DHT blocking. If you are also after these benefits, we would recommend stacking Isa Test DA3 with additional product such as Elemental Nutrition DIM.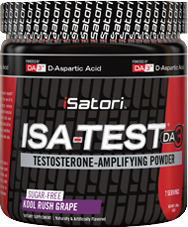 Isatori Isa Test DA3 Taste & Mixability
Testosterone boosters are extremely difficult to make taste good, because of the nature of the raw ingredients. Isatori have done a fairly solid job with Isa Test DA3 and masked most of the unpleasant flavours of the herbal ingredients. Mixability is good, with only a small amount of sediment remaining at the bottom of the shaker cup.
Isatori Isa Test DA3 Verdict
With an ingredient profile that is way up there with the best testboosters around, Isatori Isa Test DA3 is a modern and well formulated product. Although it lacks some of the added bonuses some have come to expect, it is focused entirely of boosting testosterone and nothing else. If you are an experienced bodybuilder looking for an edge, Isa Test DA2 could be it.