Iron Mass vs Serious Mass
Optimum Serious Mass has reigned supreme in the mass gainer category for quite a while. With its strong branding and extremely high number of calories, it is a favourite among hard gainers. As its name suggests, it really is for those who want to put on some serious mass. However, there is a new challenger for the throne from an unlikely candidate, Arnold Schwarzenegger Iron Mass, a completely new and novel mass gainer.
Iron Mass vs Serious Mass Ingredients
When it comes to ingredients, Iron Mass and Serious Mass could not be more different. Just check out the following table and you'll know what I'm talking about.
Iron Mass

Serious Mass

Carb Blend

Sweet potato powder

Barley starch

Maltodextrin

Protein Blend

Hydrolysed beef protein

Lactoferrin

Whey protein concentrate

Calcium caseinate

Egg albumen

Sweet dairy whey

Lipid Blend

Sunflower oil powder

Whipped cream powder

Coconut oil powder (MCTs)

Small amounts of MCTs

Added extras

Creatine,

Glycine

BCAA nitrates

Digestive enzymes

Prebiotics

Vitamins & minerals blend

Creatine

Glutamine
Serious Mass uses some fairly common ingredients including maltodextrin and whey protein concentrate, nothing out of the ordinary for a mass gainer. However, the exotic ingredients used in Iron Mass are not only unique, but they are also of high quality, expensive to manufacturer, and actually resemble real food. The same cannot be said for ingredients in Serious Mass. This is especially true when you consider that the vast majority of Serious Mass is made up of maltodextrin, a great ingredient for mass gainers, but not a very expensive one. To the credit of Serious Mass, the vitamin and mineral blend is fantastic. It is not simply put in for show, but rather, actually contains functional doses.
Winner: Arnold Schwarzenegger Iron Mass – Even though Iron Mass lacks a vitamin and mineral blend, it more than makes up for it with its beef protein, sweet potato powder, and whipped cream powder.
Iron Mass vs Serious Mass Dosing
Again, a quick table will highlight the differences between the two products.
| | | |
| --- | --- | --- |
| | Iron Mass | Serious Mass |
| Serving size | 95 g | 334 g |
| Calories | 485 Kcal | 1250 Kcal |
| Protein | 40 g | 50 |
| Carbohydrates | 34 g | 254 |
| Fat/saturated/trans | 21 g/1 g/1 g | 4 g/2.5 g |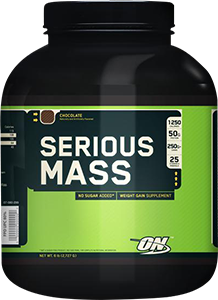 There are very few mass gainers that can match the number of calories Serious Mass can give (1250 cal). However, this calorie count is the result of a whopping serving size of 334 g, which comes mainly from carbohydrates. The more modest Iron Mass, although only weighing in at 95 g is able to provide a respectable 485 cal, which is amazing for its serving size. This high calorie count is largely thanks to its high fat content (21 g). Despite this, Iron Mass has been able to keep its saturated fat content to only 1 g, and of that, it is mostly from MCTs anyway.
Winner: Optimum Serious Mass – numbers don't lie, Serious Mass has more of everything.
Iron Mass vs Serious Mass Effectiveness
By looking at the macros, you may have noticed by now that Iron Mass and Serious Mass are actually targeted at very different people. Serious Mass is for the absolute hardgainer, who really needs an outrageous number of calories per day, just to put on a few kilos. However, Serious Mass would be the worst nightmare of endomorphs who will find that this product would make them fatter than they would like.
Iron Mass, on the other hand, is fine for the more carb conscious (if we look only at serving sizes). However, its very calorie dense formula is nothing to sneeze at. In fact, if calculated by calories per gram, Iron Mass actually provides 5.1 cal/g, which is more than that of Serious Mass (3.7 cal/g). So this means that if Iron Mass is taken more frequently, it can easily match Serious Mass for effectiveness for hard gainers. For those who "don't want to get too big", Iron Mass is still the better product as it provides more protein per gram. This means that having a smaller serve can still provide adequate protein for muscle building, whereas the same cannot be said for Serious Mass.
Winner: Arnold Schwarzenegger Iron Mass – For its much higher calorie density compared to Serious Mass. When it comes to mass gainers, this is really what you want.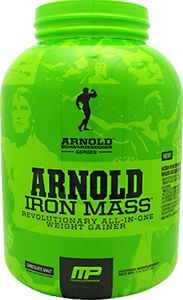 Iron Mass vs Serious Mass Taste & Flavour & Mixability
In this reviewer's opinion, Iron Mass (especially in chocolate flavour) is one of the best tasting mass gainers currently on the market. Although Serious Mass isn't a bad tasting product in its own right, it cannot come close to the creamy taste, texture, and smell of Iron Mass. If you're an éclair fan, you'll love Iron Mass.
Serious Mass has two mixing issues. First and foremost, its large serving size makes it far too big for even a 900 mL shaker bottle. Secondly, its high carb ratio also makes it more susceptible to clumping. In short, a blender is recommended. Iron Mass, also is not the best mixing powder, thanks to its high fat content. However, it will easily fit into a shaker cup. If you have a blender ball, a thorough shake is enough to mix it smoothly.
Winner: Arnold Schwarzenegger Iron Mass – Smells and tastes great, mixes okay too.
Iron Mass vs Serious Mass Value
When it comes to value, Serious Mass is tough to beat. It doesn't matter how you look at it, Serious Mass is easy on the wallet. First of all, a 2.3 kg tub of Iron Mass is close to $80, whereas a big 5.5 kg of Serious Mass only costs around $100. In other words $20 more gets you over double the amount of Serious Mass compared to Iron Mass.
If we work things out on a dollar per calorie basis, we can see that Serious Mass costs $5 per 1000 calories, while Iron Mass costs $6.86 per 1000 calories.
Winner: Optimum Serious Mass – Can't beat that value!
Iron Mass vs Serious Mass Overall Winner
If you're after a great value for money mass gainer that is seriously well dosed in calories, you can't look passed Serious Mass. However, with superior ingredients, effectiveness, and taste & mixability, Iron Mass is the overall winner 3 points to 2. Move over Serious Mass, the Governor has arrived.
Winner: Arnold Schwarzenegger Iron Mass
Although we try to be as objective as possible, we understand that opinions can vary between individuals. As such, the results of this comparison may not be agreed upon by everyone and should only be used as a guide.