Intramuscular Amino Acids After Weights & Whey Protein
A recent series of studies have established that elderly individuals (i.e. ~50-75y/o) tend to display a level of 'anabolic resistance' when it comes to protein intake. This is to say that they typically require more protein than a younger individual to achieve the same levels of muscle protein synthesis.
As such, when it came to a recent study which tested the effects of graded whey protein intake (i.e. 10g, 20g, 30g, 40g) on the muscle protein synthesis response in elderly subjects aged between 50 – 75, the scientists were more or less expecting to see greater levels of muscle protein synthesis as protein intake went up. But what made this study particularly interesting is that the graded whey protein intake was paired with resistance exercise and they were investigating intramuscular levels of amino acids, rather than the traditional extracellular or plasma/blood levels.
Essentially, the researchers were keen to see how intracellular levels of amino acids were altered in response to different levels of protein intake and how this compared with blood levels. The researchers also carried out specific gene and cellular measures of muscle protein synthesis, which they correlated with the changes in intracellular amino acids so as to see if there were any significant relationships.
The results of the study showed that resistance exercise on its own (i.e. without supplementation of whey protein) led to a reduction in intramuscular branched chain amino acids – thus emphasising the importance of BCAAs as an intra-workout. Naturally, supplementation with whey protein (even at 10g) prevented this fall. With regard the effect of the different doses of whey protein on intramuscular levels of amino acids, the study contained an informative figure that encapsulates the results.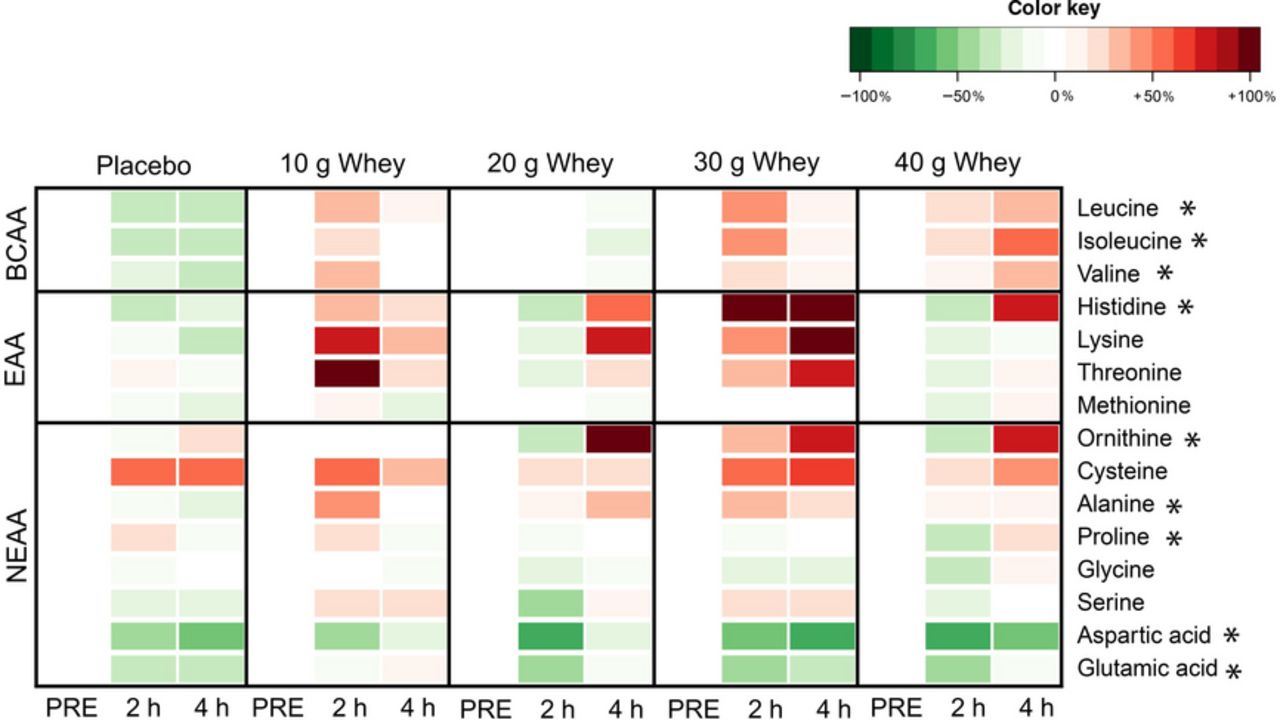 Fig. 1. Intramuscular amino acids. This figure is a heat map which shows groups means fold changes from the resting fasted condition. Green represents a decrease in amino acid content, white represents no change, and red represents an increase in amino acid content. *significant effect revealed by ANOVA P < 0.05.
What's interesting to note about the above figure is that there was no linear response in terms of amount of whey protein intake and intramuscular levels of amino acids. The authors do offer an explanation for this but it is beyond the scope of this review.
Another interesting figure from the study is shown below. It focuses on the change in intramuscular levels of branched chain amino acids following the different doses of whey protein.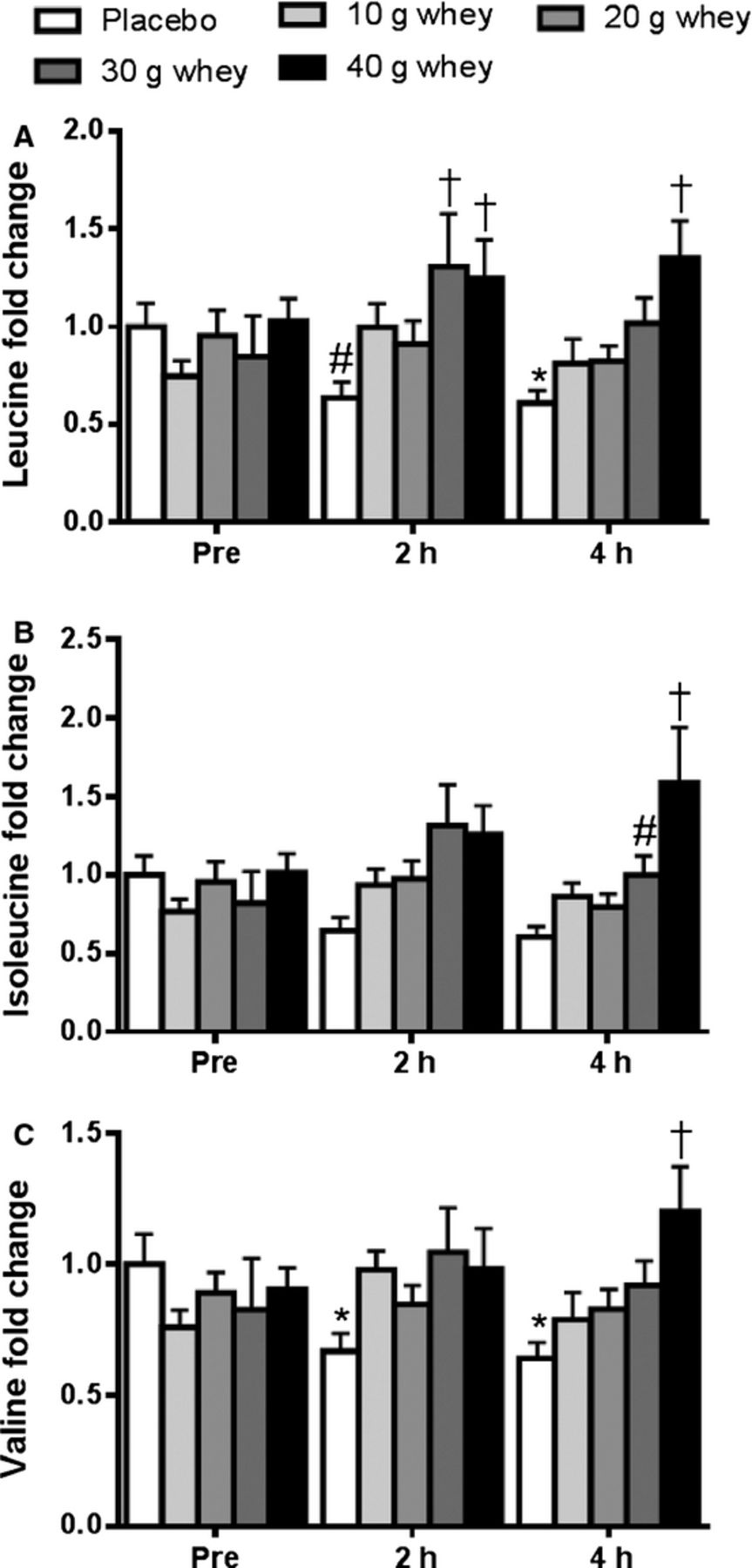 Fig. 2. Intramuscular branch chain amino acids. Fold changes in (A) leucine, (B) isoleucine, and (C) valine at rest, 2 h, and 4 h post resistance exercise. *significantly different from pre‐exercise within the same treatment P < 0.05. #trend toward difference from pre‐exercise within the same treatment. †significantly different from placebo condition within the same time point.
The figure shows there were strong correlations among intramuscular levels of BCAAs in response to resistance exercise and whey protein supplementation. Specifically, 2h following resistance exercise there was a linear correlation between intramuscular leucine and isoleucine, leucine and valine, and between isoleucine and valine. The authors suggested these findings indicate BCAAs are metabolized in a similar manner when consumed orally.
The main take away from the study is that following a single bout of resistance exercise in elderly men, there is a decrease in intramuscular BCAA concentrations during the post-exercise recovery period which can be prevented by whey protein supplementation. What's more the level of intramuscular BCAAs and the resulting signal of increased muscle protein synthesis is increased according to the dose of whey protein; right up to 40g. These findings underscore the importance of high level and high quality protein intake in elderly for preserving and/or increasing muscle mass.
D'Souza RF, et al. Dose‐dependent increases in p70S6K phosphorylation and intramuscular branched‐chain amino acids in older men following resistance exercise and protein intake. Physiological Reports. 2014;2:e12112.