International Protein M-Casein Review
International Protein is an Aussie company known for producing solid range of high quality nutritional supplements, products which have been used and endorsed by professionals and amateurs alike over the company's near fifteen year history.
Finally, in what many feel is an overdue move, International Protein has added a casein product, M-Casein, to their range. Let's take a look.
International Protein M-Casein Highlights
Nothing but Casein
Naturally high in calcium and phosphorus
Low in lactose, and gluten free
International Protein M-Casein Ingredients
M-Casein claims nothing but pure, unadulterated micellar casein in its protein fraction. International Protein has made a very simple and effective product which have been formulated without additives and fillers. The product is free from gluten, and very low in lactose, making it suitable for many people with intolerance or allergy.
International Protein M-Casein Effectiveness and Pros
Casein is a protein staple, and there is no question of its value. With a naturally high BCAA and glutamine content, it is great for muscle building and recovery, and the fact that the micellar structure clumps and releases amino acids slowly over as long as seven hours makes casein the perfect protein to maintain a positive nitrogen balance during sleep and recovery, or to keep you feeling full for hours.
The fact that International protein have chosen to go with a pure casein blend can be seen as an advantage. Many casein proteins are adulterated with cheaper and less effective filler proteins, like sodium caseinate. There are also many proteins on the market that are supplemented with extra amino acids. At the moment, parts of the industry are turning against this practice, so International Protein are right on target with a product that has high market appeal.
International Protein M-Casein Cons & Negatives
There aren't many downsides to this product. This is a pure, simple product, and it works. Some people do however prefer a casein product with all the bells and whistles – extra aminos, sleep aids and vitamin and mineral complexes are common inclusions which this product lacks. M-Casein is an honest product that fits in well with the other products in the International Protein range.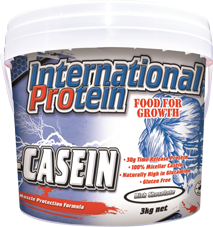 International Protein M-Casein Taste & Mixabilty
International Protein is known for the excellent work they do flavouring their products, and M-Casein is no exception. This product comes in classic chocolate and banana flavours, all of which suit the product. M-Casein has a thick, rich texture, which is pleasantly filling, and not as 'grainy' as some caseins on the market. The manufacturers suggest mixing M-Casein in half the usual amount of liquid for a thicker casein pudding. This is a delicious way to enjoy the product.
International Protein M-Casein Verdict
It's about time International Protein added a casein to their range, and M-Casein fits the bill in an impresssive way. The company has come out with a simple but well formulated, great tasting, high quality product that will provide benefit to beginners and serious trainers alike.