https://www.mrsupplement.com.au/international-protein-gourmet-wpi?variation=13673
International Gourmet WPI (2.27kg / 25 Serves Caramel Coffee)
International Protein
Supplements > Protein Powders > Whey Isolate (WPI)
https://cdn.mrsupplement.com.au/resources/imgs/products/international-protein-gourmet-wpi.1589750763908.png
http://schema.org/NewCondition
http://schema.org/InStock
AUD
https://www.mrsupplement.com.au/international-protein-gourmet-wpi?variation=13673
139.95
AUD
https://www.mrsupplement.com.au/international-protein-gourmet-wpi?variation=13674
International Gourmet WPI (2.27kg / 25 Serves Choc Hazelnut)
International Protein
Supplements > Protein Powders > Whey Isolate (WPI)
https://cdn.mrsupplement.com.au/resources/imgs/products/international-protein-gourmet-wpi.1589750763908.png
http://schema.org/NewCondition
http://schema.org/OutOfStock
AUD
https://www.mrsupplement.com.au/international-protein-gourmet-wpi?variation=13674
139.95
AUD
https://www.mrsupplement.com.au/international-protein-gourmet-wpi?variation=13672
International Gourmet WPI (2.27kg / 25 Serves Vanilla Jaffa)
International Protein
Supplements > Protein Powders > Whey Isolate (WPI)
https://cdn.mrsupplement.com.au/resources/imgs/products/international-protein-gourmet-wpi.1589750763908.png
http://schema.org/NewCondition
http://schema.org/OutOfStock
AUD
https://www.mrsupplement.com.au/international-protein-gourmet-wpi?variation=13672
139.95
AUD

Gourmet WPI
Simple, Clean, Delicious Protein
Fast Digesting Whey Peptides
Sweetener Free (No Sweetners)
Premium Natural Grass Fed Whey Protein
Added Digestive Enzymes
In Stock

(1)
Write a review
Product
Q&A's
Reviews
Add To Cart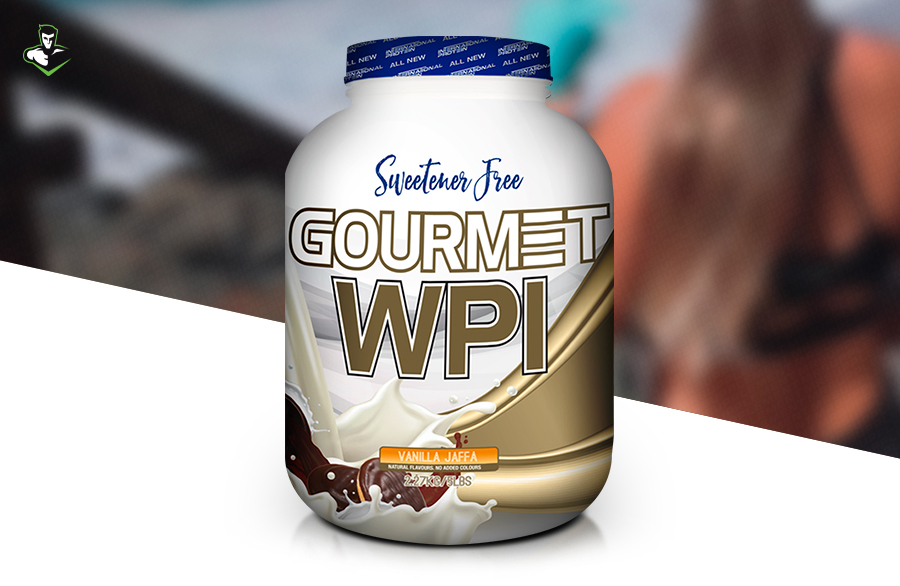 Using only Premium Grass Fed WPI, fast digesting whey peptides, natural flavours and digestive enzymes for enhanced assimilation and absorption, International Protein's Gourmet WPI is one of, if not THE cleanest and best tasting high protein supplement available today. In case you missed that, Gourmet Whey is sweetener free. All these delicious gourmet flavoured proteins are made without sucralose, stevia, aspartame, sucrose, glucose, maltitol or any other sugar substitute.
International Protein has been developing market leading, high quality, great tasting protein supplements for over 15 years. Our vast experience has enabled us to come up with the most delicious flavours, by carefully selecting only natural flavours that give natural sweetness and compliment the protein.
Delicious naturally flavoured Gourmet WPI tastes incredible even when mixed on water but it also blends perfectly with low fat milk, almond and coconut milk or can be mixed into other foods like yoghurt.
The WPI in Gourmet WPI is Sourced from Grass Fed undenatured WPI which is naturally high in bioactive peptides for muscle tissue synthesis. This nutrient packed protein is a rich source of all the essential amino acids and contains the highest concentration (22%) of Branched Chain Amino Acids (BCAA's), especially leucine of any protein source. BCAA's help facilitate muscle recovery after hard training or sport.
Q&A's
Ask a question about
International Gourmet WPI
Reviews

Excellent

Based on reviews collected by
&
Write a review

International Gourmet WPI
International Gourmet WPI
International Gourmet WPI
2.27kg / 25 Serves Vanilla Jaffa
Possibly the best tasting protein Ive tasted. Amazing quality as well
Collected via Trustpilot
Next Page
Contact Us