https://www.mrsupplement.com.au/inspired-dvst8-energy?variation=14682
Inspired DVST8 Energy (500mL x 12 Fairy Floss)
Inspired Nutraceuticals
Supplements > Pre Workout > Pre Workout RTD
https://cdn.mrsupplement.com.au/resources/imgs/products/inspired-dvst8-energy.1622419287802.png
http://schema.org/NewCondition
http://schema.org/OutOfStock
AUD
https://www.mrsupplement.com.au/inspired-dvst8-energy?variation=14682
59.95
AUD
https://www.mrsupplement.com.au/inspired-dvst8-energy?variation=14974
Inspired DVST8 Energy (500mL x 12 Grape Soda)
Inspired Nutraceuticals
Supplements > Pre Workout > Pre Workout RTD
https://cdn.mrsupplement.com.au/resources/imgs/products/inspired-dvst8-energy.1622419287802.png
http://schema.org/NewCondition
http://schema.org/OutOfStock
AUD
https://www.mrsupplement.com.au/inspired-dvst8-energy?variation=14974
59.95
AUD
https://www.mrsupplement.com.au/inspired-dvst8-energy?variation=14681
Inspired DVST8 Energy (500mL x 12 Lime)
Inspired Nutraceuticals
Supplements > Pre Workout > Pre Workout RTD
https://cdn.mrsupplement.com.au/resources/imgs/products/inspired-dvst8-energy.1622419287802.png
http://schema.org/NewCondition
http://schema.org/OutOfStock
AUD
https://www.mrsupplement.com.au/inspired-dvst8-energy?variation=14681
59.95
AUD
https://www.mrsupplement.com.au/inspired-dvst8-energy?variation=14975
Inspired DVST8 Energy (500mL x 12 Mallow)
Inspired Nutraceuticals
Supplements > Pre Workout > Pre Workout RTD
https://cdn.mrsupplement.com.au/resources/imgs/products/inspired-dvst8-energy.1622419287802.png
http://schema.org/NewCondition
http://schema.org/OutOfStock
AUD
https://www.mrsupplement.com.au/inspired-dvst8-energy?variation=14975
59.95
AUD
https://www.mrsupplement.com.au/inspired-dvst8-energy?variation=14973
Inspired DVST8 Energy (500mL x 12 Orange County)
Inspired Nutraceuticals
Supplements > Pre Workout > Pre Workout RTD
https://cdn.mrsupplement.com.au/resources/imgs/products/inspired-dvst8-energy.1622419287802.png
http://schema.org/NewCondition
http://schema.org/OutOfStock
AUD
https://www.mrsupplement.com.au/inspired-dvst8-energy?variation=14973
59.95
AUD
https://www.mrsupplement.com.au/inspired-dvst8-energy?variation=14680
Inspired DVST8 Energy (500mL x 12 Peach Mango)
Inspired Nutraceuticals
Supplements > Pre Workout > Pre Workout RTD
https://cdn.mrsupplement.com.au/resources/imgs/products/inspired-dvst8-energy.1622419287802.png
http://schema.org/NewCondition
http://schema.org/OutOfStock
AUD
https://www.mrsupplement.com.au/inspired-dvst8-energy?variation=14680
59.95
AUD
https://www.mrsupplement.com.au/inspired-dvst8-energy?variation=14683
Inspired DVST8 Energy (500mL x 12 Strawberry Champagne)
Inspired Nutraceuticals
Supplements > Pre Workout > Pre Workout RTD
https://cdn.mrsupplement.com.au/resources/imgs/products/inspired-dvst8-energy.1622419287802.png
http://schema.org/NewCondition
http://schema.org/OutOfStock
AUD
https://www.mrsupplement.com.au/inspired-dvst8-energy?variation=14683
59.95
AUD

DVST8 Energy
RTD Energy Cans, B-Inspired
200mg Caffeine Per Can for a Gr8 Buzz
Energy & Focus with Tyrosine, B-Vitamins, Beta Alanine & more
Large 500ml Can Size with Zero Sugar
Four Delicious Flavours

(1)
Write a review
Product
Q&A's
Reviews
Add To Cart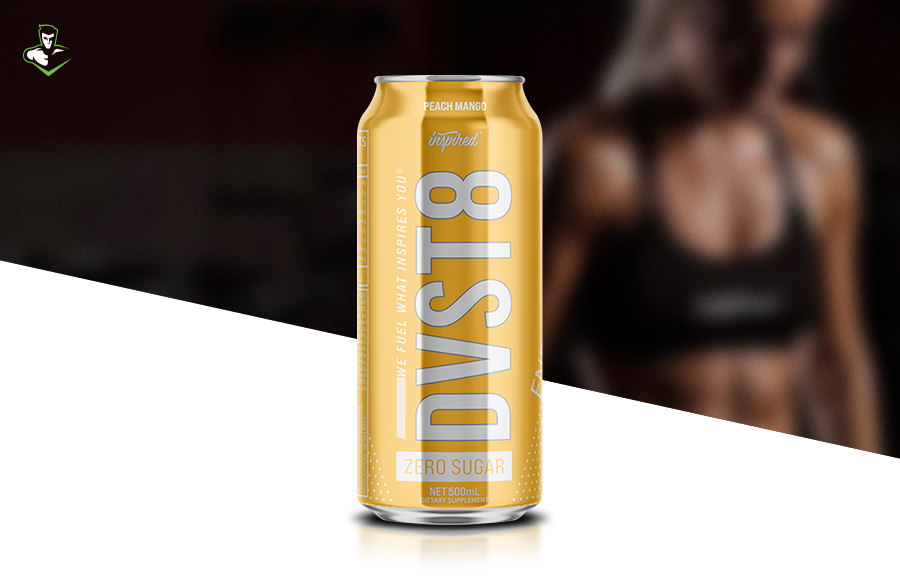 Focus, Buzzed or In-the Zone, that's how we'd describe Inspired Nutraceuticals DVST8 Energy RTD Cans. On the back of thier sucessful range of stimulant based powders Inspired have gone one step further & made that feeling even more convenient.
DVST8 RTD Can Ingredients
Everything you need in an energy drink and more comes in DVST8's Zero Sugar Pre Workout RTD Can. Beginning with 200mg of caffeine anhydrous to give you that nice energised feeling. Couple that with a huge 3200mg of beta alanine, 1000mg of betaine anhydrous, B vitamins, plus l-tyrosine & you have have an energy driink the likes of which, have never been available before in Australia before.
For more information on these fantastic ingredients be sure to view the nutritional panel on this page.
DVST8 Can Flavours
Whilst performance is important it's truly the flavours in DVST8 RTD cans that keep it's loyal following coming back for more. Available in your choice of great tasting fairy-floss, lime, peach-mango or strawberry-champagne. These are all fantastic but which really is the best flavour of DVST8 cans? You decide, we think they are all great.
DVST8 Energy Cans Review
On review of Inspired Nutraceuticals Cans we can say, wiithout a doubt, that it's one of the best RTD formulas available in Australia. We base these comments on the ingredients which are really tailored for gym-goers and those doing anaerobic activities. The inclusion of large amounts of beta alanine & betaine really do make the formula unique and shall act to increase workout performance. The moderate amount of caffeine & B-vitamins also shall support mental clarity, yet it is not so strong as to keep you awake if using prior to or during a pm workout.
The taste as we have said above is fantastic and with everything considered believe DVST8 Energy Drink can exceed the expectations of even the hardest critic. For further unique Mr Supplement customer reviews be sure to click the reviews tab on this page.
Q&A's
Ask a question about
Inspired DVST8 Energy
Reviews

Excellent

Based on reviews collected by
&
Write a review

Inspired DVST8 Energy
Inspired DVST8 Energy
Inspired DVST8 Energy
500mL x 12 Fairy Floss
DVST8 energy cans are great value. 500ml per can you see they're bigger then most others. Lots of beta alanine in the formula so I only used it as a pre workout. The fairy floss flavour was sweet.
Collected via Trustpilot
Next Page
Contact Us