https://www.mrsupplement.com.au/inspired-custard-casein?variation=14521
Inspired Custard (907g / 23 Serves Banana)
Inspired Nutraceuticals
Supplements > Protein Powders > Casein Protein
https://cdn.mrsupplement.com.au/resources/imgs/products/inspired-custard-casein.1614053440240.png
http://schema.org/NewCondition
http://schema.org/InStock
AUD
https://www.mrsupplement.com.au/inspired-custard-casein?variation=14521
69.95
AUD
https://www.mrsupplement.com.au/inspired-custard-casein?variation=14380
Inspired Custard (907g / 23 Serves Boysenberry)
Inspired Nutraceuticals
Supplements > Protein Powders > Casein Protein
https://cdn.mrsupplement.com.au/resources/imgs/products/inspired-custard-casein.1614053440240.png
http://schema.org/NewCondition
http://schema.org/InStock
AUD
https://www.mrsupplement.com.au/inspired-custard-casein?variation=14380
69.95
AUD
https://www.mrsupplement.com.au/inspired-custard-casein?variation=14379
Inspired Custard (907g / 23 Serves Choc Banana)
Inspired Nutraceuticals
Supplements > Protein Powders > Casein Protein
https://cdn.mrsupplement.com.au/resources/imgs/products/inspired-custard-casein.1614053440240.png
http://schema.org/NewCondition
http://schema.org/InStock
AUD
https://www.mrsupplement.com.au/inspired-custard-casein?variation=14379
69.95
AUD
https://www.mrsupplement.com.au/inspired-custard-casein?variation=14378
Inspired Custard (907g / 23 Serves Choc Hazelnut)
Inspired Nutraceuticals
Supplements > Protein Powders > Casein Protein
https://cdn.mrsupplement.com.au/resources/imgs/products/inspired-custard-casein.1614053440240.png
http://schema.org/NewCondition
http://schema.org/InStock
AUD
https://www.mrsupplement.com.au/inspired-custard-casein?variation=14378
69.95
AUD
https://www.mrsupplement.com.au/inspired-custard-casein?variation=14377
Inspired Custard (907g / 23 Serves Chocolate Donut)
Inspired Nutraceuticals
Supplements > Protein Powders > Casein Protein
https://cdn.mrsupplement.com.au/resources/imgs/products/inspired-custard-casein.1614053440240.png
http://schema.org/NewCondition
http://schema.org/InStock
AUD
https://www.mrsupplement.com.au/inspired-custard-casein?variation=14377
69.95
AUD
https://www.mrsupplement.com.au/inspired-custard-casein?variation=14381
Inspired Custard (907g / 23 Serves Strawberry Sundae)
Inspired Nutraceuticals
Supplements > Protein Powders > Casein Protein
https://cdn.mrsupplement.com.au/resources/imgs/products/inspired-custard-casein.1614053440240.png
http://schema.org/NewCondition
http://schema.org/InStock
AUD
https://www.mrsupplement.com.au/inspired-custard-casein?variation=14381
69.95
AUD
https://www.mrsupplement.com.au/inspired-custard-casein?variation=14376
Inspired Custard (907g / 23 Serves Vanilla)
Inspired Nutraceuticals
Supplements > Protein Powders > Casein Protein
https://cdn.mrsupplement.com.au/resources/imgs/products/inspired-custard-casein.1614053440240.png
http://schema.org/NewCondition
http://schema.org/InStock
AUD
https://www.mrsupplement.com.au/inspired-custard-casein?variation=14376
69.95
AUD

Custard
Premium Custard Protein Powder, Great as a Night Snack
25g of Milk & Skim Protein
A Low 150 Calories Per Serve
Added MCT Oil for a Healthy Creamy Texture
6 Delicious Flavours
In Stock

(0)
Write a review
Product
Q&A's
Reviews
Add To Cart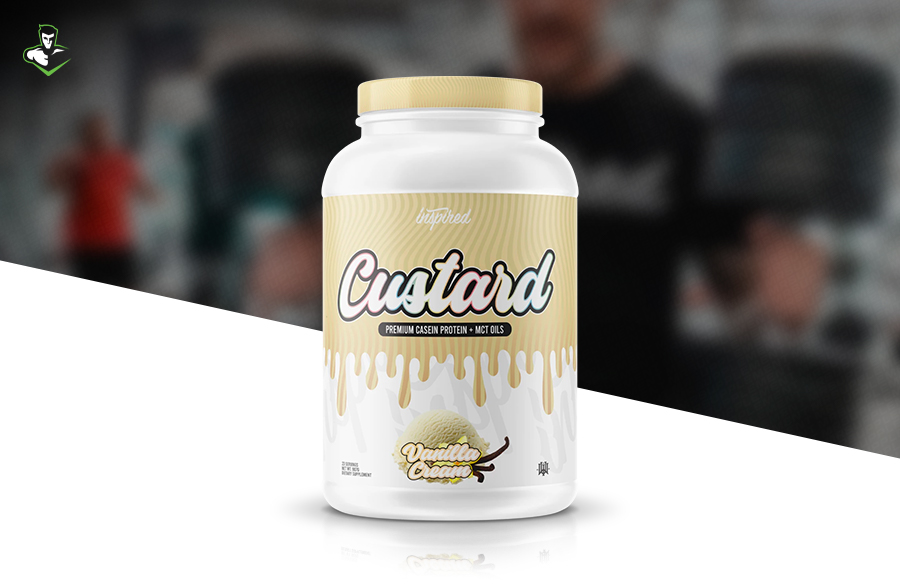 Inspired Nutraceuticals Custard is a premium, slow-release milk protein plus added MCT powder formulated as a custard to curb those sweet cravings. Great for consumption before sleep to support your muscle recovery and growth through the slow release EAA's.
Inspired Custard Flavours
Without a doubt the most noticable thing about drinking Inspired Custard is the delicious taste. Without over-stating we'd have to say this powder would be one of the best tasting proteins on the Australian market. It really is that tasty & comes in your choice of Vanilla Cream, Chocolate Donut, Choc Hazelnut, Choc Banana, Boysenberry & Strawberry Sundae.
What is the best flavour of Inspired Custard? They all in our opinion are fantastic & really you just can't go wrong.
Inspired Custard Benefits
Protein provides many benefits including the building of bone, muscle, cartlidge & skin plus the repair of muscle tissue. But the most important benefit of Inspired Custard would be to satisfy those sweet cravings most of us get (usually in the evening). With a protein that is not only good for you but one that tastes delicious. Forget the ice-cream, Inspired Custard is here.
Inspired Custard Review
A great tasting custard protein which for almost all users shall satisfy expectations whilst curbing those night-time cravings. Made from a combination of skim & milk protein with added MCT's Inspired Custard has a solid ingredient profile. For further verified customer reviews we recommend viewing the Review tab on this page.
Q&A's
Ask a question about
Inspired Custard
Reviews


Based on reviews collected by
&
Write a review

Contact Us