Inner Armour Impact NO Review
Canadian based Inner Amour have an extensive range of beginner friendly sports supplements. Their latest addition to the pre workout category is Impact NO, which is part of their Blue Line, a range of products geared more towards bodybuilders and weight lifters instead of athletes.
Impact NO Highlights
Well rounded formula with emphasis on nitric oxide and pump
Well dosed active ingredients
Available in three customer friendly sizes, including a trial size
Impact NO Ingredients & Doses
Inner Amour have been exceptionally transparent with their ingredients and dosing. Each two scoops (10 g) provide:
1.5 g Creatine HCl for strength
3.2 g Beta alanine for lactate buffering
1.8 g Arginine alpha-keto-glutarate (AAKG) for pump
200 mg Di-Arginine malate another pump ingredient
1 g Arginine HCl another pump ingredient
1 g L-carnitine for recovery and also pump
300 mg Caffeine for energy and focus
200 mg Rhodiola rosea extract for mental performance and mood
30 mg Niacin for energy metabolism
Impact NO Pros & Effectiveness
Impact NO is a well formulated pre workout supplement that is both effective and well dosed. Its first notable effect is the significant tingling from the wallop of beta alanine. Soon after that, the effects of caffeine and rhodiola extract can be felt. Energy is adequate but not overwhelming nor accompanied by a crash. Finally, when you are well into your workout, that's when the arginine (and various derivatives) kick in, with a noticeable increase in pump.
One of the most impressive things about Impact NO is how transparent the labelling is. Inner Amour have been great with their disclosure, with every single ingredient accounted for in the nutrition panel. This works well for informed consumers who like to know what they are taking, and it works well for Inner Amour who have a great formula to show off.
The product is also available in one of three sizes; 80 g, 150 g, 300 g. This is excellent for those who simply want to sample the product without having to commit to a full 300 g tub.
Impact NO Cons & Negatives
With a focus more on pump, customers who want a more intense delivery of energy may be left a little dissatisfied. However, this makes Impact NO a perfect choice for those who are relatively new to the pre workout category, especially if they only take a single scoop.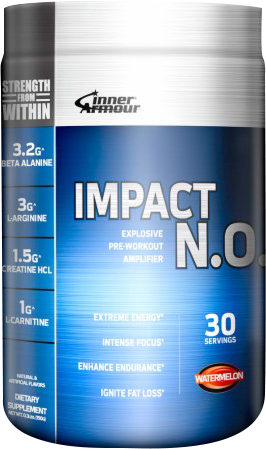 Despite being a very recent formulation, the pump ingredients in Impact NO are fairly oldschool. With more modern innovations such as citrulline and agmatine, it is curious as to why these were not included in the formulation in place of the various forms of arginine.
Impact NO Taste & Mixability
Impact NO is currently only available in a single flavour, watermelon, a welcomed changed to the industry standard of fruit punch. The good news is that most people would agree with us when we say the flavour of Impact NO is indeed pretty solid. Mixability is also commendable, with only a cup and spoon needed.
Impact NO Verdict
Inner Armour Impact NO is a fantastic and well-rounded pre workout with somewhat more of an emphasis on nitric oxide and pump. It provides a blend of well dosed ingredients suitable for beginners, and it will also please most people, with the exception of the diehard stim junkies. If you're on the fence, why not just try out the 80 g trail pack. The product will speak for itself.