Inner Armour Amino Volt
Inner Armour are an American supplement company that has spent the majority of 2014 repackaging many of their products and ensure they look up to date and still relevant in this expanding arena. One of the new products in the Inner Armour Blue Range is the new amino acid cocktail and intra workout known as Inner Armour Amino Volt.
Inner Armour Amino Volt Review & Ingredients
Amino Volt from Inner Armour will be a fairly simple blend of three different matrices of ingredients including:
Amino Acid & Branched Chain Amino Acid Mix (2.7g) – This complex contains a 4:1:1 ratio of BCAAs along with glutamine, glycine and citrulline malate.
Mental Focus & Hydration Complex (1.6g) – A collection of two ingredients including taurine and coconut water.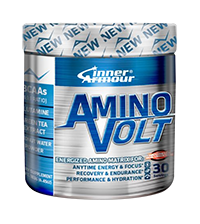 High Voltage Blend (265mg) – 3 key ingredients including caffeine anhydrous, green tea and nelumbo nucifera (which provides Higenamine).
Overall, the supplement provides an interesting amino acid cocktail which should help keep you alert during intense training sessions, whilst also supporting endurance and reducing muscle breakdown. The dose seems a little bit on the small side however and a double dose might be needed.
Inner Armour Amino Volt Release Date
Inner Armour's new Amino Volt should be released within the next couple of weeks and is slated to start appearing on shelves as early as late September 2014, if not earlier.