Hydroxycut Hardcore Elite Stim Free Review
Muscletech's flagship fat burner supplement Hydroxycut Hardcore has had another version released recently. The new Hydroxycut Hardcore Elite Stim Free was made specifically to cater to two expanding supplement markets; those who want to avoid the use of stimulants or are in their off cycle and those who want to use a pre-workout and a fat burner, but don't want to overload themselves on stimulants by doing so. Let's take a look at this latest fat burner and how effective the stim free ingredients are.
Hydroxycut Hardcore Elite Stim Free Highlights
Stimulant free fat burner with smooth energy support
Help support metabolism and improved mental clarity
Easily stackable with pre-workouts and other stimulant containing supplements
Hydroxycut Hardcore Elite Stim Free Ingredients & Dosage
The new Muscletech Hydroxycut Hardcore Elite Stimulant Free version is a mixture of 8 different active ingredients all with transparent dosing information listed. These ingredients include:
L-Carnitine L-Tartrate (500mg)
Green Coffee Extract (200mg)
Kudzu Extract (150mg)
L-Theanine (100mg)
Longan Extract (50mg)
Astragalus (25mg)
Grains of Paradise Extract (15mg)
Cayenne Pepper (5mg)
Each 2 capsule serving of Hydroxycut Hardcore Elite Stim Free contains 1,045 mg of active ingredients with each bottle containing 50 servings and a limit of 4 capsules or 2 servings per 24 hour period.
Hydroxycut Hardcore Elite Stim Free Pros & Effectiveness
To really understand the effectiveness or lack thereof of the fat burner, let's take a closer look at each of the ingredients and whatt hey do:
L-Carnitine L-Tartrate – Most of the recent L-Carnitine L-Tartrate research has looked more at its ability to support recovery from exercise1 rather than its fat burning ability. While carnitine itself has the potential to act as a fat loss ingredient thanks to its role as a transporter of fatty acids to be used as energy, the 500mg used is a little on the low side.
Green Coffee Extract (GCE) – An ingredient which has had a lot of research surrounding its ability to support weight loss. Moderately effective, green coffee extract's main mechanism of effect is through one of the main active compounds known as chlorgenic acid, of which there should be at least 120mg worth. The GCE used is 45% chlorgenic acid, which equates to 90mg per serving. As such, for best effects, 2 servings per day of Hydroxycut Hardcore Elite Stim Free should be taken.
Kudzu Extract – Also known as Pueraria thomsonii, this plant has been used in traditional Chinese medicine for its cleansing abilities to help with hangovers and overindulgence of foods and drinks. However, recent research has shown it to be able to activate receptors involved in lipid or fat metabolism as well as glucose metabolism2. Previous industry research has also suggested that kudzu extract may reduce visceral fat, which is the unhealthy fat surrounding organs. The main active compound are the isoflavones present in the extract, of which 100mg was the amount used in previous studies. It's unknown just how much isoflavones are in the extract used in Muscletech's latest fat burner.
L-Theanine – An amino acid which is commonly found in green tea, theanine is best known for its ability to support cognition reduce the perception of stress, making it an ideal supplement to help support periods of stress such as intense exercise or during diets. L-Theanine is often used at doses of 100-200mg, which is within range of what's used.
Longan Extract – A delicious tropical fruit, the studies on longan extract and its fat burning potential is still in its early days. One animal study3 was able to help attenuate weight gain with an increased calorie diet, however no other studies on fat and weight loss have been conducted.
Astragalus – A herb used in Traditional Chinese Medicine, astragalus may support mechanisms which control fat metabolism and may help support reduced weight gain with similar amounts of food. However no recommended doses have been suggested in the studies.
Grains of Paradise – A common herb found in West Africa, Grains of Paradise is also known as Aframomum melegueta. Belonging to the ginger family, grains of paradise may help to support increased metabolic rate, but only in a select proportion of people. The suggested dose is around 10mg which is provided by the Muscletech Hydroxycut Hardcore Stim Free.
Cayenne Pepper – A common ingredient in many fat burners and with some good studies showing its effectiveness4, there just isn't enough cayenne pepper in the capsules to make any significant difference.
Hydroxycut Hardcore Elite Stim Free Cons
From the above examination of ingredients, it seems that many of the ingredients are still in its infancy of research, meaning little evidence to support their fat burning or weight loss abilities. Many of the ingredients are also slightly underdosed and would require a maximum 4 capsule serving in order to provide effective amounts.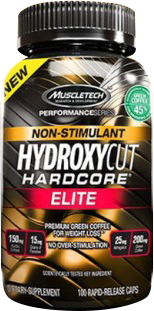 Hydroxycut Hardcore Elite Stim Free Taste & Mixability
Muscletech Hydroxycut Hardcore Elite Stim Free is currently only available in capsule form, however may be reformulated into powder.
Hydroxycut Hardcore Elite Stim Free Verdict
The idea of a stimulant free version of this flagship fat burner was a good one, considering the rise in trainers wanting supplements without stims so they could more easily stack it with the stronger pre-workouts coming out. While the idea was there, the ingredients don't quite live up to the supplements reputation. Many of the ingredients are under researched and under dosed, making for a supplement which might please newcomers to the fat burner category, but not for long time users. We know Muscletech can make a good stim free fat burner, as was the case of Hydroxycut SX-7 Stim Free, so hopefully they'll be able to give this a fix. Unless you're new to fat burners, I would just stick with the Hydroxycut Hardcore Elite regular version.
1. Ho JY, Kraemer WJ, Volek JS, Fragala MS, Thomas GA, Dunn-Lewis C, Coday M, Häkkinen K, Maresh CM. 'l-Carnitine l-tartrate supplementation favorably affects biochemical markers of recovery from physical exertion in middle-aged men and women.' Metabolism. 2010 Aug;59(8):1190-9. doi: 10.1016/j.metabol.2009.11.012. Epub 2009 Dec 31.
2. Shen P, Liu MH, Ng TY, Chan YH, Yong EL. 'Differential effects of isoflavones, from Astragalus membranaceus and Pueraria thomsonii, on the activation of PPARalpha, PPARgamma, and adipocyte differentiation in vitro.' J Nutr. 2006 Apr;136(4):899-905.
3. Yang DJ, et al. Antiobesity and hypolipidemic effects of polyphenol-rich longan (Dimocarpus longans Lour.) flower water extract in hypercaloric-dietary rats. J Agric Food Chem. (2010)
4. Shin KO, Moritani T. Alterations of autonomic nervous activity and energy metabolism by capsaicin ingestion during aerobic exercise in healthy men. J Nutr Sci Vitaminol (Tokyo). (2007)