Latest Research - Effect of High Fat Dairy on Blood Pressure
A new study using a population-based design with a large sample size has hinted at a possible inverse relationship between consumption of high-fat dairy and non-fermented dairy and hypertension. The cross-sectional study which included a total of 5616 adults found that higher intakes of high-fat dairy, non-fermented dairy and milk are associated with lower risk of hypertension, whereas higher consumption of yoghurt and cheese was associated with higher risk of hypertension.
But before everyone jumps on the dairy bandwagon, there are some important limitations and shortcomings of the study that bear highlighting.
High-Fat vs Low-Fat Dairy
To better understand the significance of the study's findings, it's important to know how dairy foods were classified into high-fat and low-fat. For starters, low fat dairy was comprised of low-fat milk, low-fat yoghurt, low-fat cheese, kashk (a traditional Persian milk-derived food) and doogh (a traditional Iranian milk-derived beverage); all of which contain less than 2.0% fat.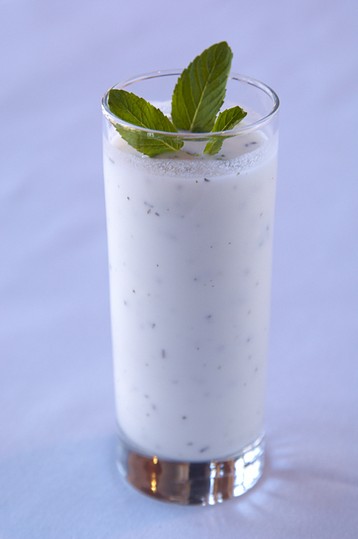 High-fat dairy on the other hand was comprised of high-fat milk, high-fat yoghurt, high-fat cheese, chocolate milk and ice cream; all of which contain over 2.5% fat. When it came to fermented dairy, this was comprised of yoghurt and cheese (and included both low- and high-fat types). Lastly, non-fermented dairy was comprised of milk (low- and high-fat), chocolate milk and ice cream.
What About Cream & Butter?
Astute readers might be wondering about other high-fat dairy items like cream and butter. It turns out this study used the United States Department of Agriculture (USDA) food classification guidelines, which don't classify cream, butter and cream cheese in the 'Dairy Group' because they have little to no calcium in them (despite being made from milk). This is a major exclusion of the study, given that these dairy foods are much higher in fat than the high-fat dairy foods mentioned above. Moreover, we are not told how much of these foods were in the participants diets. It' also worth mentioning that high-fat foods such as high-fat milk and high-fat yoghurt do not typically carry very much fat, even though total fat content may be over 2.5%.
Dietary Data Collection
Another important point to note about the study is the way in which the diet and diary intake was assessed. Dietary data from each subject were collected by a trained dietician using a validated semi-quantitative food frequency questionnaire with a total of 147 food items. Using this means of dietary analysis, participants were asked to designate their consumption frequency for each food item during the last year on either a daily, weekly or monthly basis. Energy and nutrient intakes for each participant where then calculated using the USDA food composition table. In the case of traditional Iranian foods that were not listed in the USDA food composition table, the researchers used Iranian food composition table. The major drawback with this method of dietary analysis and that it is highly prone to under recall/underreporting, plus individuals tend to underestimate the quantity of food eaten. So there is underreporting both from a qualitative and quantitative point of view. Food frequency questionnaires that are administered on a more frequent basis and involve a shorter period of recall are known to be more accurate.
High-Fat Dairy and Blood Pressure
Even allowing for the above short comings of the study, it's important to consider possible reasons why higher fat dairy foods may protect against high blood pressure. In their study, the Iranian researchers site evidence suggesting that high-fat dairy foods may mediate decreased hypertension by reducing the incidence/severity of insulin resistance. On the flip side, the authors also post the question of what effect the processing of dairy to produce low-fat varieties might have on the nutritional composition of the food.
While this study is not without its flaws, it does add to a growing body of evidence questioning the conventional link between intake of high-fat foods and the risk for chronic diseases such as obesity, high blood pressure and diabetes. For example, recent meta-analysis have shown that in comparison to subjects who consume lower amount of high-fat dairy, subjects who consume higher amounts are leaner over time, indicating that consumption of dairy fat has an inverse association with adiposity2.
Milk Consumption & Blood Pressure
One of the major findings to emerge from the study was a 21% lower risk of hypertension in the highest quartile of milk consumption compared with the lowest quartile. This is certainly not the first study to report such a finding, with hypotensive bioactive peptides (from casein and whey) known to inhibit the all-important angiotensin-converting-enzyme (a vasoconstrictor) and decrease the degeneration of bradykinin (a vasodilator) -both involved in the regulation of blood pressure. These are encouraging findings for the die-hard protein supplement users, which naturally contain many of these bioactive (blood pressure-reducing) peptides.
Mirmirman P, et al. High-fat dairy is inversely associated with the risk of hypertension in adults: Tehran lipid and glucose study. International Dairy Journal. 2014;43:22-26.
Kratz M, et al. The relationship between high-fat dairy consumption and obesity, cardiovascular, and metabolic disease. European Journal of Nutrition. 2013;52:1–24.