High Egg Intake Safe in Type 2 Diabetes
The current Australian National Heart Foundation guidelines recommend a maximum of 6 eggs per week for healthy people and those with type 2 diabetes. For individuals working in the Australian egg industry, it's reasonable to expect they might see these guidelines as somewhat restrictive. After all, for those that really love their eggs, 1 a day could be hard to stick to.
With this is mind, the Australian Egg Corporation recently provided a research grant for a group of Australian researchers to undertake a randomised controlled study aimed at determining how a high-egg diet (2 eggs/d for 6 days/wk) compared with a low-egg diet (<2 eggs/wk) affected circulating lipid profiles, in particular high-density lipoprotein (HDL) cholesterol, in overweight or obese people with prediabetes or type 2 diabetes.
The trial, which involved researchers from the University of Sydney and the Royal Prince Alfred Hospital was one of the best quality 'egg' trials to date. It ran over 3 months and included a total of 140 participants who had been diagnosed with prediabetes or type 2 diabetes according to the American Diabetes Association Guidelines.
Participants in the high-egg diet were instructed to eat 2 eggs/day at breakfast for 6 days/wk (i.e. 12 eggs/week). While subjects in the low-egg group were directed to consume <2 eggs/week and match the protein intake of the high-egg group at breakfast with 10g lean animal protein (meat, chicken, or fish) or other protein-rich alternatives such as legumes and reduced fat dairy products.
What's more, participants were also given a booklet as a guide to the specific types of foods and quantities to be consumed with particular emphasis on replacing foods containing saturated fats with foods containing monounsaturated and polyunsaturated fatty acids to improve diet quality and maintain energy intake over the 3 months of the dietary intervention.
As one would expect, each diet was matched for energy and macronutrient content. Additionally participants were instructed not to change their activity level. Lastly to aid with compliance, participants in the high egg group were given their prescribed quota of eggs, and participants who consumed the low-egg diet received a grocery voucher of equivalent value (i.e. $5/wk; $20/month).
The two tables below show the baseline characteristics of study participants as well as the baseline dietary intake.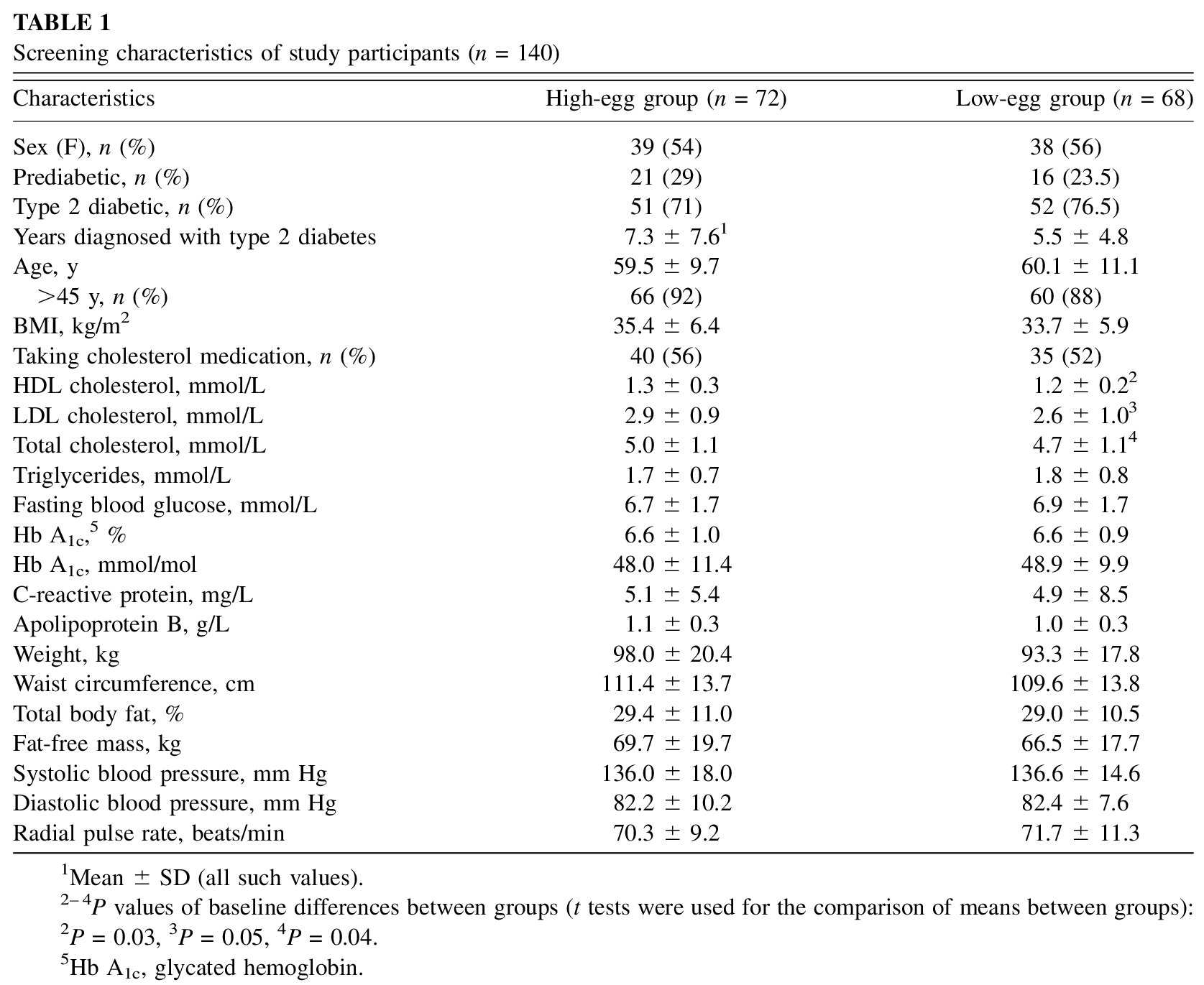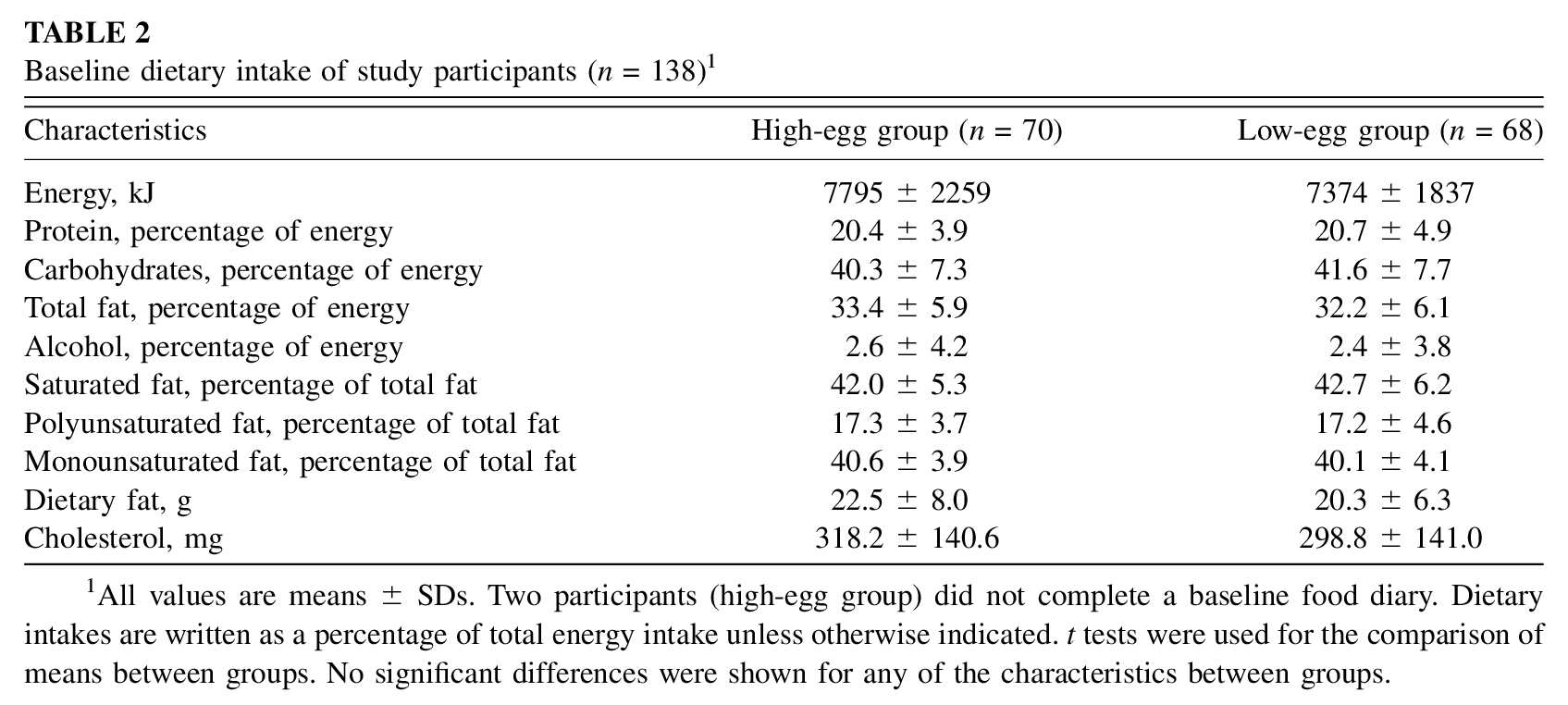 From these table above, it is easy to see that there weren't too many major differences in the subjects diets' and blood markers. Data on the baseline diet was derived from weighed 5-day (self-reported) food diaries, which included 4 week days and one weekend day. This happens to be one of the more robust ways of assessing diet compared with recall methods.
The primary measure the researchers were concerned with was changes in HDL cholesterol. Secondary measures included total cholesterol, LDL cholesterol, triglycerides, and apolipoprotein B as well as measures of blood glucose control.
As the tables below show, there were no significant changes in these measures. What's more, the participants in both groups were able to maintain their weight within 1kg of their initial weight, with no significant changes occurring over the 3 months.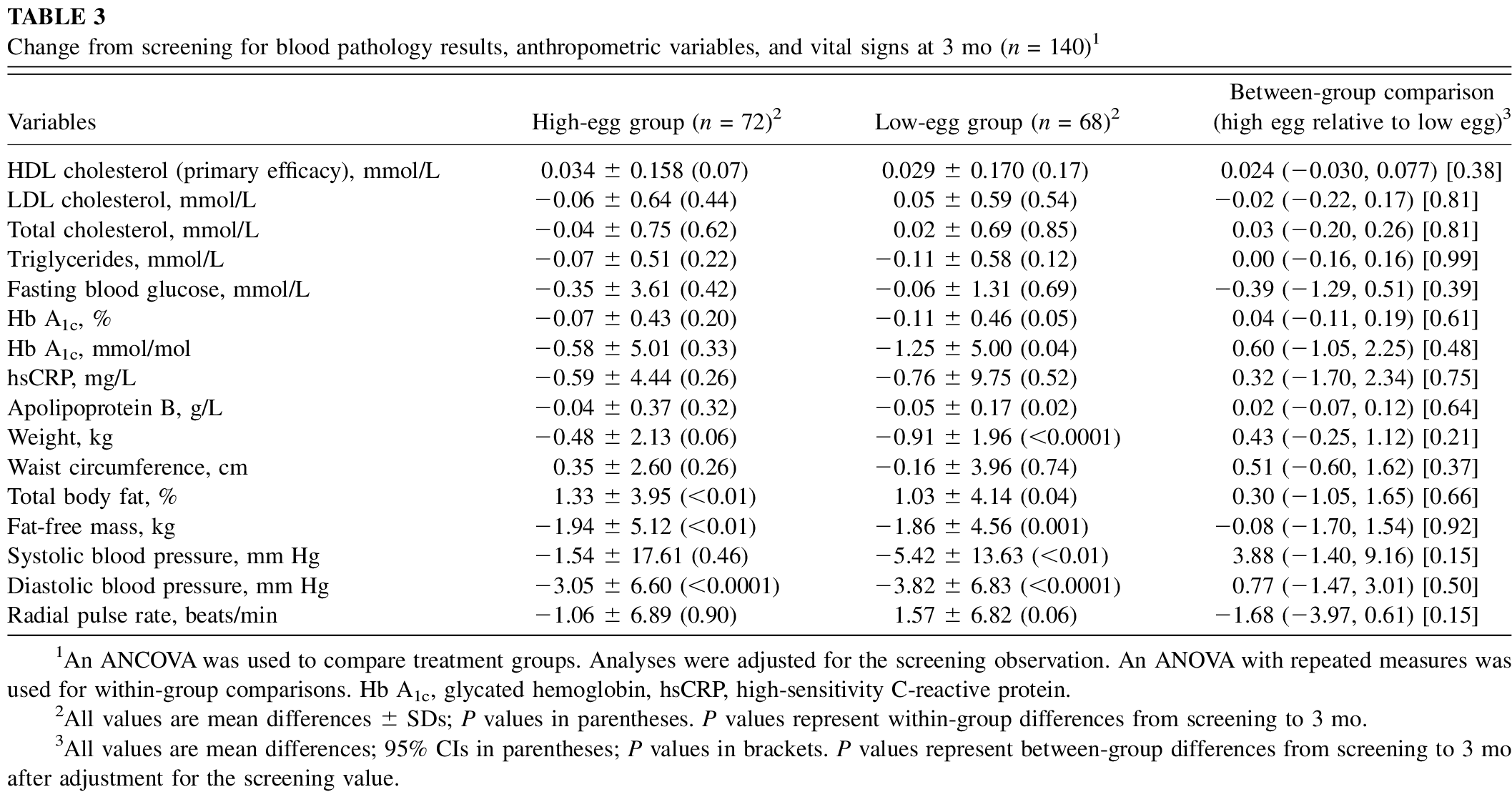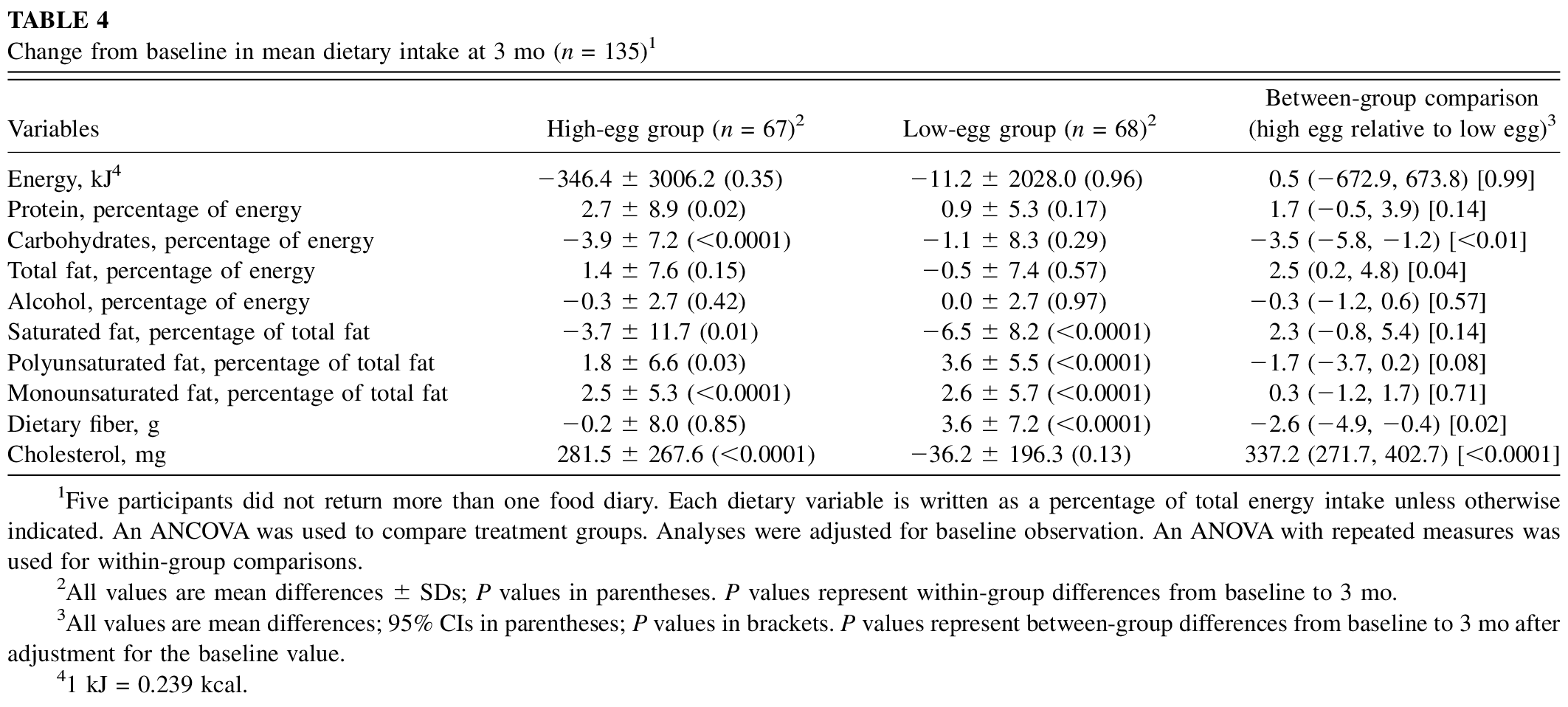 While most of their blood markers and dietary macronutrient composition did not change much, one significant difference between the two egg groups was that the high-egg group reported a significantly higher level of enjoyment of the foods they were eating and were less bored with their food choices. Additionally, the high-egg group reported significantly less hunger after breakfast and significantly greater satiety than the low-egg group. The suppressive effects of egg consumption on appetite is perhaps one of the most common anecdotal associations with egg consumption.
The results of this study provide sound evidence that high consumption of eggs in individuals with type 2 diabetes does not present any adverse health risks and may actually improve risk factors associated with cardiovascular disease. Together with previous research, this study reinforces the general notion that eggs are a healthy food that can be eaten regularly with little risk of adverse health affects.
Fuller NR, et al. The effect of a high-egg diet on cardiovascular risk factors in people with type 2 diabetes: the Diabetes and Egg (DIABEGG) study – a 3-month randomized controlled trial. American Journal of Clinical Nutrition. 2015;101:705-713.