Heavy Squats Improve Soccer Performance
When you break down a typical professional soccer match on a macro level, its consists of players running anywhere between 8-12 km per game, but on a micro level, it's the limited short high-intensity sprints that represent the crucial game-changing moments. Such sprints typically last 2-4 seconds and cover between 10-30m. What's more, studies tell us players can perform 17-81 sprints per game depending on their position and fitness. Together this accounts for up to 11% of the total distance covered during a match. It's not surprising then that multiple lines of research have proven sprinting ability is the key variable that separates top elite soccer players from the rest.
As such, in soccer circles there is a lot of interest in strategies to improve repeated short sprint ability. While multiple factors affect sprint ability, several conclusive studies suggest that strength is one of the key factors.
With this is mind, a soon-to-be-published study based out of the UK (one of the most fanatical soccer nations in the world) set out to explore if the implementation of a simple in-season leg weight training program performed twice a week over six weeks in professional soccer players would improve short sprint ability over 5- 10- and 20m distances. While previous studies have shown increased leg strength conferred improved sprint ability in elite soccer players, these were achieved using pre-season training. It remained to be seen whether the same effects could be achieved when performing strength training in-season.
The study was designed so that the professional soccer players performed strength training twice per week with a high and low volume session each week according to game schedule. Weight load (i.e. %RM) was set as a percentage of the pre test (baseline) values for each player. The basic training program and exercise selection used in the study is set out in the table below. It's evident that both sessions were relatively light load compared to the average bodybuilding session.
Exercise

High Volume

(Sets/Rep's/Load)

Low Volume

(Sets/Rep's/Load)

Back Squat

4 / 5 / 85-90%

3 / 3 / 85-90%

Romanian Deadlift

4 / 5 / 85-90%

3 / 3 / 85-90%

Nordic Lowers

3 / 4-6*

3 / 3*

*Body mass (no external load)

 

 
This simple weight program was effective in improving 1RM back squat in the study group of 17 young (average age 18.3 years) professional soccer players. Average 1RM back squat went from 125.4kg pre study to 149.3kg at the end of the 6 weeks. Prior to this, the players had only been engaged in strength training for approximately one year, which was primarily focused on strength endurance. None of the players had been exposed to a high intensity/low volume approach as used in this study.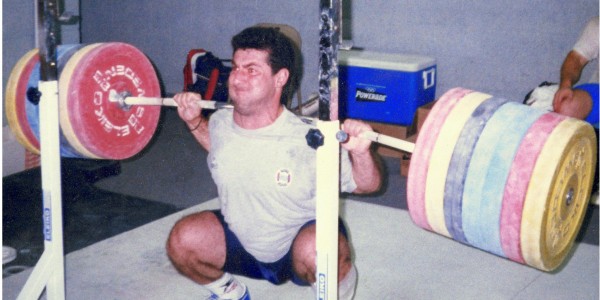 Improvements in back squat translated into improvements in all short sprints (i.e. 5-, 10- and 20m). This novel study shows that changes in maximal squat strength appear to be reflected in improvements in short sprint performance. This highlights the importance of developing maximal strength to improve short sprint performance and demonstrates that these improvements can be achieved during the competitive season in professional soccer players. The benefits of heavy squats are never ending it seems!
Styles WJ, et al. Effects of strength training on squat and sprint performance in soccer players. Journal of Strength and Conditioning Research. 2015. Published Ahead of Print.